Visa Policy for Andorra
Andorra Visa Policy is quite unique because this country is not part of the European Union or the Schengen Area, but its state still shares free movement agreements with the neighboring countries. That's why it might not be that difficult to visit this nation.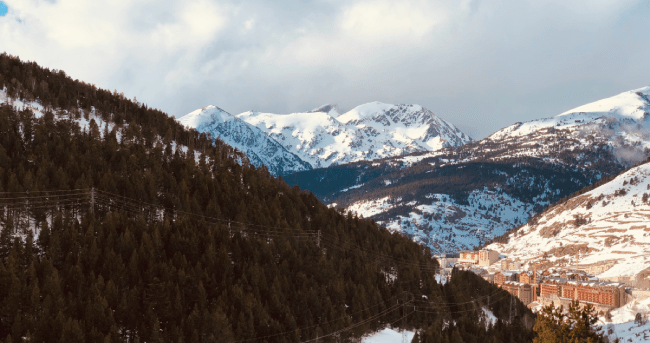 The Andorran government requires no visa requirements on its visitors and only asks for a passport or European Union national identity card for entrance. Nevertheless, since this country is available only via the Schengen countries of France and Spain, it might be necessary to obtain a Schengen Visa or at least enter the Schengen area first. Bear in mind that the Schengen visa rules can be regarded to apply de facto upon arrival. There are no airports for fixed-wing aircraft within Andorra's territory, but there are heliports in La Massana (Camí Heliport), Arinsal, and Escaldes-Engordany with commercial helicopter services.
For citizens of the European Union, a visa is not necessary to enter Andorra. This country has signed transit agreements with Spain and France, so that people from any EU state won't have to ask for any special permission. To enter or leave this country, the only requirement for EU citizens is a passport or an ID card. However, if the traveler is a citizen from a country that does not belong to the EU but belongs to the Schengen area, he or she must have a valid passport (not only an ID).
In the case of the rest of the citizens that are not part of the Schengen area or the EU, the visa requirements might change a little, but it tends to be easy to understand. Find more information about the different types of visas for Andorra and the Andorra Visa Policy, keep reading the information below.
Tourist Visa Policy for Andorra
If you're a citizen of a country that is not part of the EU but it belongs to the Schengen area, you must have a valid passport to enter Andorra as it is part of the Andorra Visa Policy. In case you're a citizen of a country that is not inside the Schengen area, you need to have a valid passport and a Schengen Multiple-entry Visa to cross the frontier between Spain and France, nations you'll have to go through to visit Andorra.
If you're a citizen of a non-EU country that does not need a Schengen visa to travel to Europe, the only document required is a valid passport. Please be aware that the passport must not expire once you arrive in this country.
Do not forget that Andorra is not part of the Schengen area, which is why a multiple entry visa may be required to re-enter the Schengen area when leaving Andorra, at least if you're not part of the Schengen visa-free countries.
Foreign travelers looking to stay in Andorra for more than 90 days require a Residence Permit.
Get more information about the Andorra Visa Policy or Apply for your document here
Schengen Visa
The Schengen Visa is a visa that allows an intended stay in the Schengen area for a duration of no more than 90 days in any 180 day period. It is also known as a 'short stay visa' to enter the Schengen Area. This visa is also necessary for those international transit areas of airports of the Schengen States ("airport transit visa").
This visa belongs to the Andorra Visa Policy, and it is the only special requirement for foreign travelers in case they do not belong to the Schengen Visa-Free program. Generally speaking, this visa allows you to stay in any of the Schengen States during the same trip, within the validity of the visa. However, this document is not valid if you wish to remain in a Schengen country for over 90 days, take up employment or establish a business, trade, or profession.
Please be aware that to visit Andorra, you'll probably need a Schengen Visa unless you're part of the Schengen Visa-Waiver Program.
A Schengen visa obtained by any of the Schengen Area member states allows free movement to the whole Schengen Zone regarding the European Union Schengen members as well as the EFTA Schengen members, up to its validity and period limitations. Depending on the type of visa issued by the certain embassy/consulate of any Schengen country there are several restrictions that apply to the particular visa in accordance with the nature of traveling.
You should also notice that the type of Schengen Visa can also change a lot depending on your travel purposes. We recommend you visit the nearest embassy to see what Schengen Visa you need to visit Andorra.
The following countries DO NOT need a visa to enter Schengen, therefore, they can also visit Andorra only by having their valid passports:
Albania
Andorra
Antigua and Barbuda
Argentina
Australia
Bahamas
Barbados
Bosnia and Herzegovina
Brazil
Brunei
Canada
Chile
Colombia
Costa Rica
Dominica
El Salvador
Georgia
Grenada
Guatemala
Holy See (Vatican City State)
Honduras
Hong Kong S.A.R
Israel
Japan
Kiribati
Macao S.A.R
Malaysia
Marshall Islands
Mauritius
Mexico
Micronesia
Moldova
Monaco
Montenegro
Nauru
New Zealand
Nicaragua
North Macedonia
Palau
Panama
Paraguay
Peru
Saint Kitts and Nevis
Saint Lucia
Saint Vincent
Samoa
Serbia
Seychelles
Singapore
the Solomon Islands
South Korea
Taiwan
Timor Leste
Tonga
Trinidad and Tobago
Tuvalu
Ukraine
the United Arab Emirates
the United Kingdom
the United States of America
Uruguay
Vanuatu
Venezuela
Health Declaration
The Andorra Health declaration is a traveling screening that certifies the health status of the traveler who wants to enter the country. Due to the coronavirus outbreak, this paper is obligatory for almost any foreign visitor, including some countries that belong to the Schengen Area.
This health declaration IS NOT A VISA REPLACEMENT, it is only a health statement. At iVisa.com we can assist you in processing it so that it is quite easy to obtain it and you do not have to go to the embassy.
Get more information about the Andorra Visa Policy or Apply for your document here
Other Visa Information for Andorra
As for other details related to the Andorra Visa Policy, it's important to mention that there's always Customs control on the border of this country.
Customs checks are carried out on the frontier, as there are limits to the amount of agricultural and industrial products you can take across this country. For more information about these limits, we recommend visiting the Andorra border and customs website, which contain the relevant addresses and opening hours.