Anguilla is a little island in the British West Indies where you are guaranteed to have the best holiday. The island offers wonderful places to pass the day taking in the sun, drinking cocktails, and enjoying your free time with your family during the vacation. Choose between Shoal Bay and Little Bay, which both boast fantastic views and unforgettably smooth beaches. The clear, blue water surrounding Anguilla is perfect for swimming, diving, and snorkeling, which makes it the ideal location for young children and families who love to let off steam in an outdoor setting.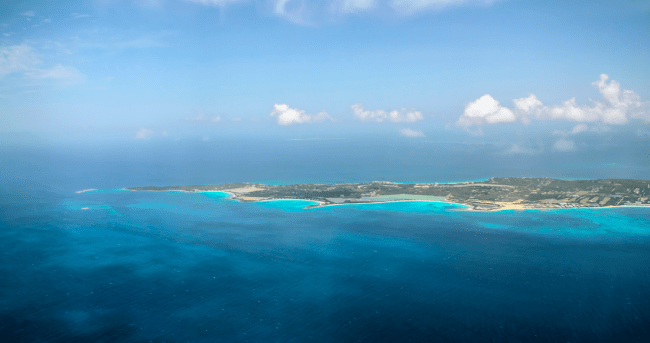 Trying out local dishes is another great way to get a feel for this tiny 26-mile long island. Known in the region as one of the culinary hotspots, you're sure to fall in love with one of the many seafood and fish recipes that fill the menus in restaurants. Due to its size and location, most meat has to be imported so that's why you're bound to discover a lot of seafood. Rum punch is a popular drink, and you can even find it on the ferry between other islands. American citizens often flock to Anguilla, which has a strong British influence thanks to its designation as a British Overseas Territory. Speaking the local language isn't an issue, which is why Americans enjoy visiting this nation so much.
With the recent world events, you may already know that Anguilla has been closed to international visitors in order to preserve its low Coronavirus numbers. But that doesn't mean you can't visit soon. Restrictions are in place until the end of October, and in order to get there, you must first apply for permission with the authorities and complete a Health Declaration. That's why iVisa.com is the best option to get all that you need to travel there. Find out how citizens of USA can enter Anguilla during Coronavirus
Frequently Asked Questions
How can the citizens of the United States enter Anguilla during Coronavirus?
If you're wondering how citizens of the USA can enter Anguilla during Coronavirus, the first place we recommend you to look for the most up to date facts and figures is iVisa.com. For entry purposes, you need to have evidence of a negative Coronavirus test which was carried out 3-5 days before your flight. You also must have completed a Health Declaration which provides details about the state of your health and full contact details. Upon arrival, you'll be testing again before undergoing a 10-14 day quarantine.
How can citizens of the United States enter Anguilla if they already have a test result?
If you have just received the results of your Coronavirus test in advance of your trip to Anguilla, and your results were negative, then it's time to start celebrating because you can take the next available plane and travel with peace of time. If, on the other hand, the result was positive, even if you do not suffer any symptoms, you will still not be able to enter Anguilla. Speak to one of the knowledgeable iVisa.com team members using the chat feature to find out more about how citizens of the USA can enter Anguilla during Coronavirus with testing.
Can US citizens enter Anguilla without travel insurance?
Having travel insurance is very important for visitors wanting to travel to Anguilla and anywhere in the world. Generally, it is recommended to have coverage in the event of an accident, Zika infection, or any other emergency you may have. Under the present circumstances, it is vital to have decent coverage that will keep costs to a minimum in the event that you fall ill and are hospitalized with Coronavirus whilst abroad. For more information go to iVisa.com. Having health insurance is how citizens of the USA can enter Anguilla during Coronavirus.
Do I need a COVID vaccine or vaccination certificate to enter Anguilla?
No, you don't. As of today, COVID vaccination passports or certificates are not a mandatory to enter Anguilla. Now if you are a Covid vaccine certificate holder, the quarantine period will be 7 days and you won't need proof of health insurance. Since information may change quickly, we advise you to follow up on the latest Anguilla travel updates and/or contact your local embassy.
Do I need to take a PCR COVID-19 Test before traveling to Anguilla?
COVID test prior to arrival: PCR within 72 hours or antigen within 48 hours before departure.
COVID test after the arrival: Travelers who were vaccinated more than 6 months prior without a booster dose and unvaccinated travelers will be tested on arrival.
Do I have to quarantine when I get to Anguilla?
Quarantine requirements: 5 days for unvaccinated travelers.
Quarantine exemptions: Fully vaccinated travelers.
How long can citizens of the USA stay in Anguilla?
Under the current rules, American citizens can initially apply to stay in Anguilla for one month. It is possible to extend this stay month-by-month for a maximum of six months every year. The outcome of your stay applications will depend on your individual circumstances. Use the Visa Checker Tool to find out how long you can stay in any country in the world, or check out the blogs that detail how citizens of the USA can enter Anguilla during Coronavirus.
Is it safe to use iVisa.com?
In the era of advanced technology, it's now possible to do many more applications and paperwork online than ever before. With the growth of this industry, there's also been a rise in cases of identity theft and data phishing. We are as concerned about these threats as you are, which is why you can rest assured that the team at iVisa.com takes document security extremely seriously. You'll never find a hacker who is skilled enough to break down our firewalls. The best place to look for feedback is our previous customer reviews. Check them out and start your Health Declaration now that you know how citizens of the USA can enter Anguilla during Coronavirus.
Where can I read more information?
If you're still not clear about how citizens of the USA can enter Anguilla during Coronavirus, we are more than happy to help explain the ins and outs. Head on over to iVisa.com for a treasure trove of the most relevant information, with visa prices and processing costs all clearly laid out for you. The team is also available round the clock to talk online through the chat function about how citizens of the USA can enter Anguilla during Coronavirus.