Maybe you've landed here while having never heard about Anguilla. Or, then again maybe you're keen on figuring out how to get there in the quickest and easiest way possible. Regardless of how you've arrived here, this easy-to-digest guide to Anguilla Travel Requirements will help get you there.
Anguilla is a British territory in the Eastern Caribbean, a short 20-minute boat ride north of Saint-Martin, and directly east of Puerto Rico. Surrounded by miles of white sandy shores and lined with the proverbial tropical island palm trees, it's not difficult to perceive how the mesmerizing, sapphire blue ocean entices travelers from all over the globe.
It's not all that hard to have your Anguilla Travel Requirements organized through iVisa.com either. So read through our FAQs to help you get started with the process and you may just find yourself on a white sandy beach with the cooling waters lapping at your toes sooner than you think.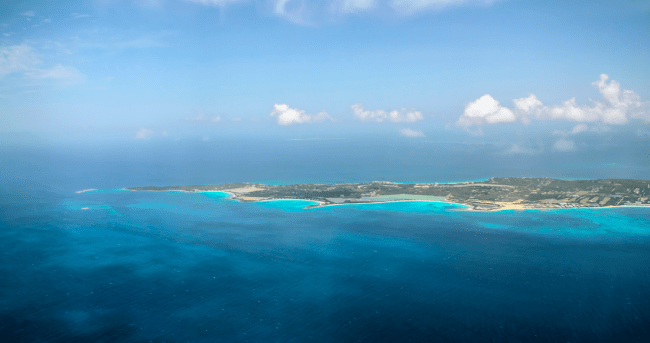 Frequently Asked Questions
What are the COVID-19 requirements for entry into Anguilla?
With COVID-19 requirements frequently changing, we suggest you check our Anguilla Product page in order to get up to date information on your next trip to Anguilla.
What is the Anguilla eVisa and how do I apply for it?
As part of your Anguilla Travel Requirements, the Anguilla eVisa is an entry permit that allows entry for business or pleasure while the options for single or multiple entries of up to 90 days.
So the first thing you need to do is check to see if your country needs a visa to enter Anguilla, by utilizing our Visa Checker Tool to see what e-Visa options you need.
Then complete the application form, and once you've paid the fees our team will handle your request and send a confirmation email and an application locator code to you via email. We may reach out in the event that we need additional information for your Anguilla Travel Requirements.
Once the eVisa is approved you will receive it via email. You should keep an electronic and printed copy of the visa to show on arrival to Anguilla.
What documents do I need to apply for the Anguilla eVisa?
To obtain your Anguilla eVisa you'll need:
A valid passport that will remain valid for at least 6 months after the date of entry.
A valid email address, as you will receive your documents via email.
A credit/debit card for payment.
What are the costs and the processing times for the visa to Anguilla?
If you use iVisa.com to process your application for your Anguilla Travel Requirements we have three options that will fit any budget and it will only take around 10 minutes of your time to fill out the form online.
The Anguillan government fees are as follows (these fees are included in our total service fee):
Single Entry eVisa – USD 140
Multiple Entry eVisa – USD 250.
If you're ready to get started on your journey to Anguilla, apply for the Anguilla eVisa now.
Can I trust iVisa.com?
Obviously! We've assisted an enormous amount of travelers with their Anguilla Travel Requirements and we can make it easy for you too!
Assuming you actually need some more persuading head over to our user reviews section and check out what our clients are saying about our services at iVisa.com.
You still have questions and you need someone to talk to?
Go ahead and connect with our customer service team. They're available 24/7 through our website to answer any of your questions.
iVisa.com Recommends
What's on that bucket list of yours?
Swimming with whales. Snorkeling with Testudines or a bungee jump off of a very tall bridge?
If you've ever dreamt of riding a horse along a deserted beach then this is a bucket list moment. Even if you didn't think Anguilla had horses!
The owner of Seaside Stables, Tonia, has been at this labor of love for over 25 years having moved to the Caribbean many years ago from the UK. Remember the exclusivity extends to the fact that these are private stables and not freely available to the general public except by appointment only.
In the event that you haven't ridden a horse, don't stress. The vast majority of Tonia's visitors are first-time riders. No rancher experience is necessary! And as you become acclimated to your horse you will be guided en route to Cove Bay by either Tonia or one of her older children. Cove Bay is one of Anguilla's calmest and largest beaches, making it the ideal spot for horseback riding.
As you meander at a gentle pace down to the water's edge you will feel nothing less than safe and secure while Zoe, Tonia's oldest who continually checks on you, guaranteeing that all beginners are blissful and content.
There is something surreal about riding a horse on Cove Bay, so wide and unadulterated is the beach, with Anguilla's magical blue sky above, sweeping and clear... going by horse down to the ocean's edge simply feels right, and normal.
So go and tick that off your bucket list!