The flag representing Anguilla features a dolphin in its design. It is the only flag with this feature which makes it easy to spot. If you are wondering why they chose a dolphin take a look at the waters surrounding this gorgeous island. There are thirty-three beaches all with soft white sand and crystal clear waters. This is a large attraction for most of the world including citizens of Italy.
You'll be happy to know that all thirty-three of the beaches in Anguilla are open to the public so you have thirty-three opportunities to step into these beautiful Caribbean waters where you can partake in boat tours, scuba & snorkeling, fishing tours, ride speed boats, windsurf, kayaking or the most utilized activity in Anguilla, swimming with the dolphins. All of these activities can be easily accessible to you if you are using iVisa.com.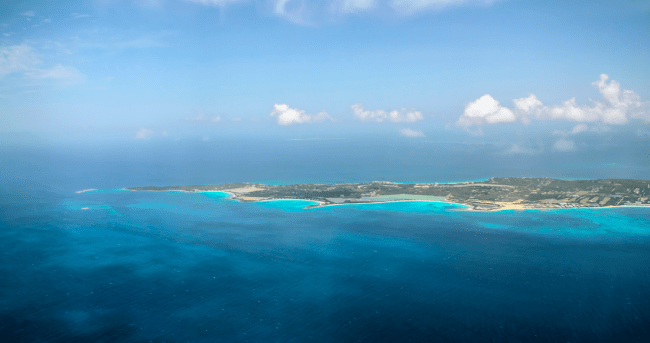 The Coronavirus has prevented many people from being able to access these vacation pleasures however Anguilla has announced that it will reopen its borders for international tourism starting on August 21, 2020, for citizens of Italy. If you have found yourself asking can citizens of Italy Travel into Anguilla during the Coronavirus? Simply stated, the answer is absolutely yes! However since we at iVisa.com understand that you may need more information than that, we have provided this article to give questions and answers so that you can begin planning your trip to the beautiful island of Anguilla!
Here is everything you need to know about traveling to Anguilla.
Frequently Asked Questions
Who All Can Enter Anguilla?
People from all countries are welcome to visit Anguilla. Everyone, that is, who is eligible for a travel visa. Check entrance information for your country on iVisa.com by selecting Italy as your home country.
Before arriving in Anguilla all potential visitors must receive pre-approval through the Travel Authorization document provided on iVisa.com. Before applying you must submit a negative PCR test result within 5 days from submission. Travelers must also provide evidence of travel insurance that covers COVID-19.
It is as simple as it sounds and you can confirm this via customer reviews here.
Must I Take a COVID Test or Go Into Quarantine Upon Arrival?
All travelers will be required to take a COVID test when they arrive in Anguilla. After the test, they will be required to self isolate in their approved accommodations for a period of ten days. After ten days, a new test will be submitted and if negative the traveler will be allowed to explore the island freely.
Don't limit yourself to just one island. For more options on places to explore start at iVisa.com.
Do I need a COVID vaccine or vaccination certificate to enter Anguilla?
No, you don't. As of today, COVID vaccination passports or certificates are not a mandatory to enter Anguilla. Now if you are a Covid vaccine certificate holder, the quarantine period will be 7 days and you won't need proof of health insurance. Since information may change quickly, we advise you to follow up on the latest Anguilla travel updates and/or contact your local embassy.
Do I need to take a PCR COVID-19 Test before traveling to Anguilla?
COVID test prior to arrival: PCR within 72 hours or antigen within 48 hours before departure.
COVID test after the arrival: Travelers who were vaccinated more than 6 months prior without a booster dose and unvaccinated travelers will be tested on arrival.
Do I have to quarantine when I get to Anguilla?
Quarantine requirements: 5 days for unvaccinated travelers.
Quarantine exemptions: Fully vaccinated travelers.
What's Open in Anguilla?
There are accommodations that can be found on the Anguilla official website. These locations are completely open and available. You will also have access to Anguilla's public transportation which is fully running. There are also many restaurants open and available with limited operating hours.
You will be happy to know that there are many boutiques, shops, and other local activities waiting for you.
Can I trust my information with iVisa.com?
Absolutely! You will be happy to know that the staff at iVisa.com take every precaution we can to make sure that your information is protected.
Where Can I Get More Information?
All of the information that you are needing is located at iVisa.com if you prefer one on one assistance you can contact us via our chat feature or reach out via email at [email protected] Our representatives are available to you twenty-four hours a day and are waiting to assist you with any questions that you may like can Citizens of Italy Travel into Anguilla During the Coronavirus? or any others.
A great trip is at your fingertips. Let iVisa.com get you the information you need to get started.