British travelers will often go to any length for a bit of sun. Perhaps it's because the weather that graces the small nations that make up the British Isles is notorious for being mainly wet, all year round. You'll notice this most when the sun does actually appear in England, and local residents whip off their shirts and roll out their rusty barbeques to take advantage of the extra vitamin D.
The recent pandemic and worldwide lockdown have had a toll on British citizens. The usual summer holidays to Spain and Greece were delayed, if not canceled and restrictions have meant that any attempt to soak up the rays in the park with friends in the park or on the beach have been put on hold too. Between quarantine rules and working from home, we know that many British people are desperate for a getaway so that they can relax, forget about the economic repercussions of the past 6 months and finally top up their tan.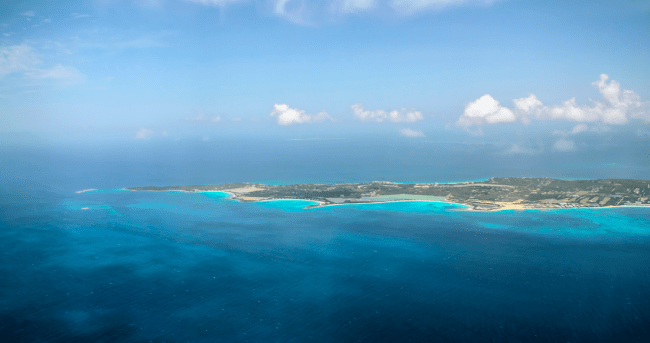 Anguilla is a stunning island in the eastern Caribbean, and its eclectic culture combined with a hearty pinch of British background makes this Overseas British Territory, the perfect place for citizens of the United Kingdom to visit. of the British which gave it a distinct
You might think that traveling has become more difficult recently so the team at iVisa.com is ready to reassure you that simply isn't the case. While it's true that you have to meet various requirements just to board a plane, once you know how citizens of the United Kingdom can enter Anguilla during Coronavirus you'll be confident that it's a breeze. For all the important information you need, check out the titillating sections below that we put together just for Brits. We'll cover the vital questions so you're well informed. With iVisa.com's help, your dream Anguillan holiday is just a few clicks, forms, and tests away from being a reality.
Frequently Asked Questions
Why is iVisa.com the best place to start planning my vacation to Anguilla?
If you're a keen traveler, or even just like getting away once every so often, then iVisa.com is here to help you. iVisa.com is a document-processing company with the objective of helping travelers reach their dream destination with the minimum of fuss. Anguilla doesn't have to be a fantasy vacation, because with iVisa.com your trip is our priority. In no time you'll be laid out on Rendezvous Bay Beach or feeling the sand trickle between your toes on Sandy Island.
Is Anguilla open to foreign tourists?
Commercial flights to and from Anguilla are currently very limited, which means that until the end of October you may only be able to board a flight if you're a resident of Anguilla or have prior approval from the relevant government authorities. Stay up to date with all the latest Anguilla news about how citizens of the United Kingdom can enter Anguilla during Coronavirus.
How can I obtain approval to enter Anguilla?
Entering Anguilla is permitted only if you have a government-sanctioned approval. You can obtain this by completing the Health Declaration. Thanks to the expert team at iVisa.com, you can now fill out this easy and simple form on the website, and within a short time, you'll have the validated permission you need to get your trip off to a flying start. Don't delay, find out how citizens of the United Kingdom can enter Anguilla during Coronavirus.
Do I need a COVID vaccine or vaccination certificate to enter Anguilla?
No, you don't. COVID vaccine certificates are not mandatory to enter Anguilla. However, fully vaccinated travelers are exempted from testing requirements.
Since information may change quickly, we advise you to follow up on the latest Anguilla travel updates and/or contact your local embassy.
Do I need to take a PCR COVID-19 Test before traveling to Anguilla?
COVID test prior to arrival: PCR within 72 hours or antigen within 48 hours before departure for unvaccinated travelers.

COVID test exemptions: Children under 5 and fully vaccinated travelers.
Do I have to quarantine when I get to Anguilla?
Quarantine requirements: There are no quarantine requirements.
What will the Health Declaration ask me about?
The Anguilla Health Declaration will ask applicants about their current health status, countries visited recently and will require the addition of personal details like your address, email address, and contact details. This ensures that the authorities can get a hold of you quickly if they need to contact you about Coronavirus. This form is an essential part of how citizens of the United Kingdom can enter Anguilla during Coronavirus.
What about Coronavirus testing?
The Health Declaration is just the first step of your journey to Anguilla. You are also required to submit evidence of a negative Coronavirus test, which must have been completed 3-5 days before your flight. Then, upon arrival, you will be subject to a further test to confirm that you're still not harboring the virus. A 10 - 14-day quarantine will follow, which can be carried out in a government-run facility or government-approved location like a hotel. These restrictions are some of the toughest in the world but will create a safe and virus-free environment for you to enjoy your time away with your loved ones. Make sure you understand how citizens of the United Kingdom can enter Anguilla during Coronavirus before setting off.
Is iVisa.com safe to use for my Anguilla Health Declaration?
iVisa.com boasts the highest firewalls and best quality security systems on the market, because as a document processing company, the team recognizes the importance of protecting your data and our loyal customers. Read some of their reviews to find out how satisfied they are.
Where can I learn more?
Make your way over to the iVisa.com website for a wealth of up to date information, easy to complete forms, and clearly displayed details about prices and waiting times. You can also try out the Visa Checker tool to see what you need to visit any country in the world, and check out many other blogs besides how citizens of the United Kingdom can enter Anguilla during Coronavirus.