Just north of Saint Martin and northwest of St. Kitts is the gorgeous island of Anguilla. Known for their easygoing atmosphere and absolutely magnificent beaches and waters it makes sense that this is a treasured location amongst tourists. Citizens of France can enjoy this eel-shaped island that is surrounded by white beaches and clear waters.
Wildlife on Anguilla includes land reptiles, sea turtles, lobsters, and goats, the latter of which are everywhere! There are many bird species, including the national bird and the turtledove; the island is also a popular stop for migratory birds. A stop for these animals because outside of hurricane season the weather is almost perfect. For more information on this perfect weather location and others visit the iVisa.com main page.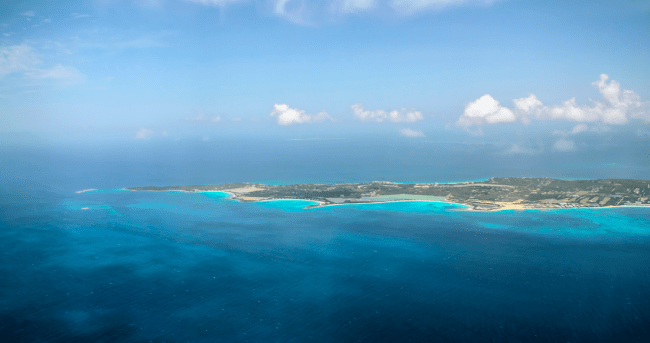 The Coronavirus prevented a lot of travel into this area but on August 21, 2020, the borders were reopened with the invention of the Anguilla Pre-approval Authorization document. Local officials are taking the necessary precautions to make sure that the residents of their country are protected and safe during this pandemic and after a successful turn of events within their own borders are allowing foreigners to enter with the creation of this Anguilla Pre-approval Authorization. It will assist in preventing the spread of the Coronavirus within the island so they can maintain the health of the citizens while allowing the travel industry to regain its strength.
Let's continue reading to see how citizens of France can experience this island during this time.
Frequently Asked Questions
Can All Countries Enter Anguilla?
Luckily people from all over the world are welcome to visit Anguilla. Everyone, that is, who is eligible for a travel visa. Use iVisa.com and select France to check your eligibility.
Please note that before arriving in Anguilla you must have pre-approval provided by the Anguilla Pre-approval Authorization document provided on the iVisa.com website. Before applying you must submit a negative PCR test result taken within 5 days from submission. Travelers from France must also provide evidence of travel insurance that covers COVID-19.
Must I Take a COVID Test or Go Into Quarantine Upon Arrival in Anguilla?
All travelers will be required to take a COVID test when they arrive in Anguilla. After the test, they will be required to self isolate in an approved accommodation for a period of ten days. After those ten days, a new test will be submitted and if negative the traveler will be allowed to roam the island freely.
Don't limit yourself to one destination. There are many more options for roaming beautiful locations like Anguilla waiting to be discovered at iVisa.com.
Do I need a COVID vaccine or vaccination certificate to enter Anguilla?
No, you don't. As of today, COVID vaccination passports or certificates are not a mandatory to enter Anguilla. Now if you are a Covid vaccine certificate holder, the quarantine period will be 7 days and you won't need proof of health insurance. Since information may change quickly, we advise you to follow up on the latest Anguilla travel updates and/or contact your local embassy.
Do I need to take a PCR COVID-19 Test before traveling to Anguilla?
COVID test prior to arrival: PCR within 72 hours or antigen within 48 hours before departure.
COVID test after the arrival: Travelers who were vaccinated more than 6 months prior without a booster dose and unvaccinated travelers will be tested on arrival.
Do I have to quarantine when I get to Anguilla?
Quarantine requirements: 5 days for unvaccinated travelers.
Quarantine exemptions: Fully vaccinated travelers.
Is Anything In Anguilla Open?
You will be happy to know that there are many boutiques, shops, and other local activities waiting for you in Anguilla. This country thrives off the business from tourists and they show it by their amazing hospitality and the services they provide within the local hotels, restaurants, shops, and found along their beaches. You will also find proof of the pleasure in the hand made gifts that you will be happy to bring home to your family.
There are hotel accommodations that can be found on the Anguilla official website. These locations are completely open! You will also have access to Anguilla's public transportation system which is still running. There are also many restaurants open and available with limited operating hours.
Can I trust iVisa.com with my information?
Yes, you can! You will be happy to know that we at iVisa.com take your security seriously and guarantee its protection. iVisa.com was created for travelers by travelers so we use these services as well so its accuracy and security are important to us as well.
Where Can I Get More Information?
All of the information that you are needing is located at iVisa.com if you prefer more assistance you can contact us via our chat feature or reach out via email at [email protected]
You won't regret getting started with iVisa.com, we surely didn't!