Anguilla is one of those paradises in the Caribbean that is perfect for all types of travelers. After months of struggles with Covid-19, Anguilla is finally open for international travel. If you want to visit Anguilla for tourism, check the new health protocols that are a response to the Covid-19 pandemic.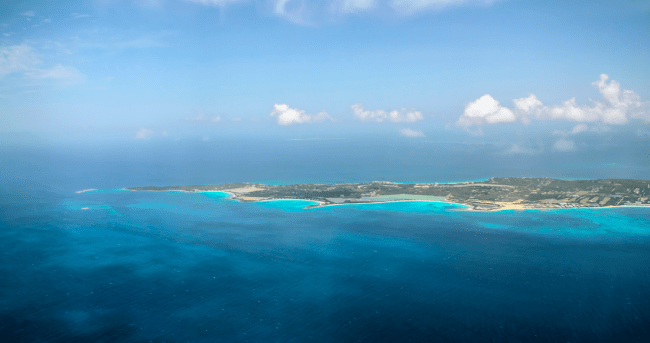 iVisa.com is already familiar with the Anguilla Pre-approval Authorization, the main entry requirement during Covid-19. All international travelers must complete the online application to obtain the Anguilla Pre-approval Authorization. Enjoy our simplicity, speed, and security. iVisa.com has everything you need.
Continue reading about the new health measures in Anguilla.
Frequently Asked Questions
Is Anguilla open for tourism?
Yes! Anguilla is welcoming international travelers after months of struggling with Covid-19. Now, Anguilla is allowing incoming visitors who have the Anguilla Pre-approval Authorization. This document will gather travelers' information, so the Anguilla government can keep track of them while on the island. Hopefully, this measure will stop the spread of Covid-19.
Do I need to take a coronavirus test before arrival?
You must take a coronavirus test before arriving in Anguilla. Take the test within 3 to 5 days before departure and show the negative results upon arrival. The test must be PCR, and visitors must have medical insurance that will cover Covid-19.
Upon arrival in Anguilla, you need to take another coronavirus test. You must wait in your accommodation until you get negative results.
Ready for the Pre-approval Authorization? Then go to the electronic form.
Do I need to quarantine in Anguilla?
Yes! The Anguilla government requires that you undergo a mandatory quarantine for about 10 days or until they receive negative results from their Covid-19 test.
After this period, you can enjoy all the tourism activities they want! Go for your Anguilla Pre-approval authorization.
Do I need a COVID vaccine or vaccination certificate to enter Anguilla?
No, you don't. As of today, COVID vaccination passports or certificates are not a mandatory to enter Anguilla. Now if you are a Covid vaccine certificate holder, the quarantine period will be 7 days and you won't need proof of health insurance. Since information may change quickly, we advise you to follow up on the latest Anguilla travel updates and/or contact your local embassy.
Do I need to take a PCR COVID-19 Test before traveling to Anguilla?
COVID test prior to arrival: PCR within 72 hours or antigen within 48 hours before departure.
COVID test after the arrival: Travelers who were vaccinated more than 6 months prior without a booster dose and unvaccinated travelers will be tested on arrival.
Do I have to quarantine when I get to Anguilla?
Quarantine requirements: 5 days for unvaccinated travelers.
Quarantine exemptions: Fully vaccinated travelers.
How long is the Pre-approval authorization valid for?
The Anguilla Pre-approval Authorization is valid for up to 90 days after arrival from the issue date. The document allows a Single Entry to Anguilla.
Traveling for tourism during Covid-19 is possible! Visit Anguilla today!
What information is required?
Fill out the online application with personal details, medical conditions, and information about the trip to Anguilla. Also, gather the following items:
A passport.
A valid email address to receive the travel documentation.
Payment methods, choose between a credit/debit card or a Paypal account.
Do you have any questions about the requirements? Connect with our support agents.
What are the processing times and fees?
Travelers can continue dreaming about Anguilla by choosing how quickly they want the Pre-approval Authorization:
Standard service, pay only

USD 420.00

, and wait

5 days

for your health document.
Rush service, go faster for a fee of

USD 435.00

and a waiting time of

3 days

.
Super Rush service, for the quickest alternative, you can pay

USD 460.00

and only wait

2 days

.
What is the process?
The process is simple:
Complete the online application with truthful information and pick a processing time according to your preference.
Check the information in the application and proceed to pay with a credit/debit card or a Paypal account.
Attach any documents required.
After you finish these three steps, iVisa.com will send you an email with the Anguilla Pre-approval Authorization. Keep it with you when entering Anguilla so you can have a smooth entry and enjoy the tourism activities around the island. Remember to follow all the health protocols to keep you safe from Covid-19.
Is iVisa.com trustable?
Completely trustable! iVisa.com has been working with travel documents for years, and our customers have experienced excellent results. Read about what our clients have to say in the opinions sections and learn more about iVisa.com.
Travel for tourism to Anguilla! Start the Pre-approval authorization.
Where can I get more details?
Go to the application page and discover more information about the Anguilla Pre-approval Authorization. We detailed all the steps to enter Anguilla if you are traveling for tourism.
Get in touch with our customer service in case you have questions. They are available 24/7.
Focus on the pristine beaches in Anguilla and let iVisa.com handle the rest!