Old World explorers and colonists discovered incredibly vast, rich, and exciting new territories in South America.
First among them were from Spain and Portugal, bringing with them new foods, spirits, and religion.
Jesuit influence is evident throughout much of South America in universities, churches, and self-sufficient estancias, which means "residence" or "small farm" in English.
Jesus Maria, a Jesuit estancia founded in 1618, quickly became specialized in making wine for export. Of note among their creations is the Lagrimilla de Oro, which was famously one of the first American wines exported to Europe and served on the table of Spanish kings.
The centuries-old colonial tradition of wine-making is alive and well throughout Argentina, especially in high-altitude regions where year-round warmth and semi-arid climates are uniquely suited for producing wine and olive oil.
Remember if you are Canadian you will need to pay the Argentina Reciprocity Fee to enter the country.
Chinese Citizens can also apply for the English: Argentina Electronic Travel Authority (ETA) / Spanish: AVE - Autorización de Viaje Electrónica online.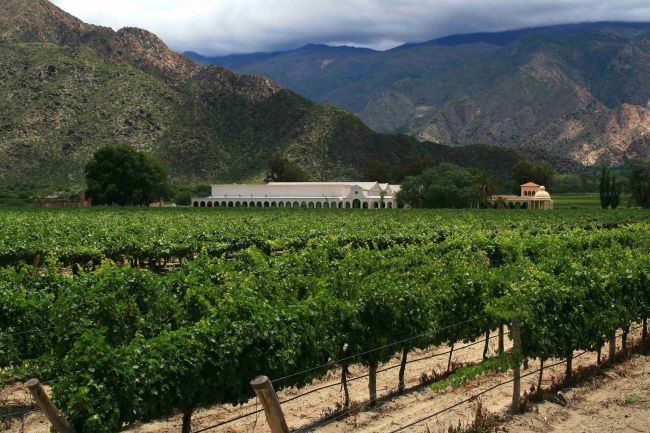 Mendoza's Famous Wines
The city of Mendoza is the capital of the Argentine province by the same name, situated on the eastern side of the Andes Mountains, founded in 1561 by Pedro del Castillo of Spain. In 1994, a vintner by the name of Nicolas Zapata planted the world's first known Malbec vineyard at an altitude greater than 5000 feet. His family, and others in the area, produces world-class wine sought after by wine enthusiasts from all over the globe.
Visit Mendoza in early March to catch the world-famous Fiesta Nacional de la Vendimia, or Grape Harvest Festival. And there's more to Mendoza than incredible wine; beautiful modern and colonial architecture adorn the city throughout, and there are also lush sub-tropical gardens, such as General San Martín Park, and major football (soccer) and rugby teams for sports fans.
The Secret Wines of Tucumán
Tucumán is one of the smallest provinces in Argentina, but its wine has quickly become some of the country's best.
Vintners in this high, semi-arid valley region of the Andes Mountains are lately becoming as well known as their more popular counterparts in Mendoza, San Juan, and La Rioja. Bodega Posse wineries have emerged in Tucumán as a premier Malbec producer.
A favorite among their exported wines is the Julio Julian, a tasty dinner wine with a light blend of fruit, licorice, and vanilla flavors and a mild acidic tang.
Cool White Wines of Cafayate
Just north of Tucumán lies a region called Cafayate, in the Calchaquies Valley. This magnificent high-elevation valley where fresh snowmelt enriches the rich expanse of agricultural land is especially suited to viniculture.
The region, similar to Tucumán, is somewhat off the beaten path but well worth a visit for wine tasting, but also hiking, camping, and sightseeing. Tourism is growing in the area, and wine tasting is among the most popular activities.
Wine tasting maps are available from just about any store or winery. Don't miss Cafayate's signature white wine, the Torrontes.