Argentina is a vast and varied country, featuring majestic mountain ranges, beautiful museums, and lush winemaking regions. A trip to Argentina can cover the entire gamut of activities, so whether you are looking to lounge by a beach or experience an urbane South American metropolis like Buenos Aires, once you acquire your visa Argentina Tourist ETA you will undoubtedly find something to do.

iVisa is designed to get you on your way with minimal hassle. In this article, we will explain to you why it is so easy to get your Argentinian eTA online.
Frequently Asked Questions
How is the Argentinian eVisa process?
A visit to a country with as many potential activities as Argentina is, without doubt, an exciting prospect. However, obtaining a visa is a decidedly less thrilling prospect.
Traditionally, obtaining a visa to visit a country such as Argentina was a long, arduous process mired in bureaucratic red tape. Wait times were excruciating as forms were sent from travelers to government officials and back again using the mail, and forms would get lost or misfiled, leaving travelers unsure if they would be able to obtain a visa in time to make their trip.
However, Argentina recently implemented the Argentina ETA program that allows travelers to receive their visas online, significantly reducing the wait time required and helping travelers remain confident that they have all the necessary paperwork in place to visit the country.
While the program is a massive improvement over the previous system, there are still a few issues that can keep travelers from successfully completing their visa applications correctly, and that's why iVisa can be very helpful.
Why iVisa can help me get my Argentinian ETA?
The governmental eVisa site is written in confusing English, and some of the resources that travelers need to prepare for their trip are entirely in Spanish.
That's where services such as iVisa can help you. iVisa is an independent visa provider, and for a small fee will streamline the visa application process, double-check all of your information to ensure smooth processing, and remain available for any help you may need leading up to your trip and while you are abroad.
You should consider that iVisa accepts forms of payment that the government isn't able to, such as American Express, MasterCard, Pay Pal and even different types of currency. iVisa even maintains a 24-hour chat and phone support system, so you can get the questions you need to be answered solved anytime, from anywhere in the world.
How can I know if I'm eligible for an Argentinian ETA?
You can check this information by using iVisa's Visa Checker Tool. All you have to do is to pick your nationality in the drop-down menu and choose Argentina as your destination country. This way, you'll immediately know if you can apply for an eTA or AVE or not.
What is an Argentinian AVE (ETA)?
The Argentina Electronic Travel Authorization (ETA or AVE, which is Spanish for Autorización de Viaje Electrónica) is a document offered by the Argentinian Government that allows certain travelers to enter this country legally. This document is just a simple authorization more than a visa itself.
What documents are required?
You don't need a long list of documents to apply for your ETA. You only have to provide the following:
A valid passport ID
A Passport scan
A valid e-mail address
USA Visa (if you're from the US)
Credit or debit card account, or PayPal.
What is the price of the Argentinian ETA?
Before knowing the total price, keep in mind that the cost of the visa itself is USD $200.00. However, it can be tricky and difficult to apply for this visa by yourself, especially if you need to take a trip to an Embassy. That's why iVisa brings you three alternatives for you so you can choose any of them according to how soon you want your visa.
The following processing times are based on Indian Passport Holders, but they work to have a general idea of the prices:
Standard: You'll get your ETA in

16 days

by paying

USD $273.99

(including visa cost).
Rush: This time, you'll receive your ETA in

13 days

which is less time than the previous option, but you'll have to pay

USD $333.99

.
Super Rush: This is the last option you can choose, and obviously is the fastest and the most expensive. It costs

USD $401.99

, but you'll obtain your visa in only

10 days

.
If you want to check the prices according to your nationality, click here.
How long is the Argentinian ETA valid for?
Your ETA expires 90 days after issued, and it allows you to stay in Argentina for 90 days in Total. Remember that you also receive Multiple Entry.
How can I apply for the Argentinian ETA?
You can easily apply for the ETA following these three steps:
The first step is to fill in your general information. You also need to choose the processing time of your preference.

The Second step is to review with detail the information in step one and proceed with the payment.

The third step is to complete any other documentation upload required. This part will always depend on personal circumstances.
If you're ready to apply, then click here to start your online form. After you are done with it, then you'll only have to wait for your ETA to arrive. Remember that if you need assistance, iVisa has a fantastic support service available 24/7.
How does this ETA look like?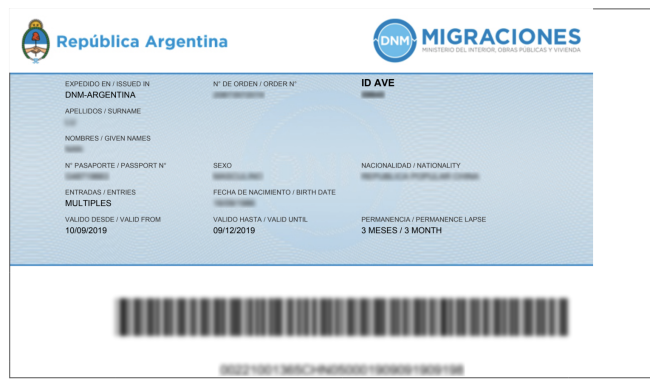 Where can I find more info?
Do you still have questions about the Argentinian ETA? If you have them, then don't rush, you can check this page to read more FAQs about the Argentinian ETA.
And if you prefer to contact our service customer center directly, then you can easily do it by clicking here.