Best Restaurants to Visit in Mendoza, Argentina
Mendoza is a wonderful city to visit thanks to its colorful history and the beautifully diverse culture, but if you love wine, Mendoza becomes a can't-miss stop for anyone visiting Argentina.
And like any good wine region, there are many wonderful restaurants serving food designed to pair with all of the wonderful wines you'll have an opportunity to try on your visit. Make sure you have your paperwork and Visa to Argentina Reciprocity Fee sorted out before traveling. Here are some of the best restaurants you will find within the city of Mendoza.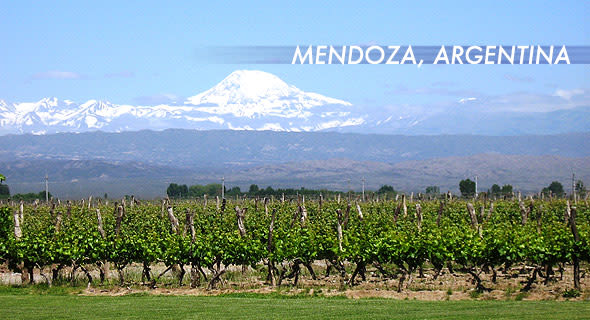 Ocho Cepas
Occupying a beautifully restored colonial house that is only a stone's throw away from some of the finest hotels in Mendoza, Ocho Cepas is a wonderful place to visit. One of the most intriguing things about Ocho Cepas is that you can have a totally different experience based on which part of the restaurant you want to sit in. You can either enjoy the Argentinian climate from the front patio, experience the hustle and bustle of the main floor or enjoy a much more intimate experience in the upstairs seating area. Ocho Cepas is known for the wonderful grilled meat and fish that they specialize in, with items such as rib eye steak and black hake coming in as the most popular. The restaurant also features a wide variety of smoked meats and an appropriately extensive wine list with wines from local wineries. The restaurant in moderately priced and open for dinner from 6:30 pm to 12:30 am.
Siete Cocinas
One of the best-known restaurants in Mendoza, Siete Cocinas primary mission is to serve foods that represent all seven region of Argentinian cuisine. You can either enjoy the seven-course meal that moves across the seven different regions, or pick and choose from the extensive menu. The restaurant is placed in a large, open space with an open kitchen so you can really see all the work that's going into your dinner. The restaurant is on the higher end of the price spectrum, and is only open for dinner from 8:30 pm to 2:00 am.
Azafrán
Another well-known culinary destination, Azafrán's menu is designed with wine pairings as the central priority. World class sommeliers can help guide your experience as you sample delicacies such as tenderloin steak with prawns and a sweet chili sauce, wasabi mash and a soy reduction. If you travel to Mendoza to get the most out of the regions wine, then make sure Azafrán is at the top of your list. Be prepared, your visit might put a dent in your wallet, but it'll be worth it. Azafrán is open from noon until 12:30 am.