The Ministro Pistarini International Airport (Code: EZE) is also known as the Ezeiza International Airport and is located approx 25 kilometers south-southwest of Argentina's capital city, Buenos Aires.
This is Argentina's largest airport with flights to Europe, North America, Asia, and Africa.
The airport consist of 3 different units:
Terminal A, the ground floor of Terminal B serving international flights, immigration, shops, currency exchange, etc.

Terminal B, serving carriers Aerolineas Argentina (international and domestic flights) and Austral (domestic flights).

Terminal C, serves small regional airlines.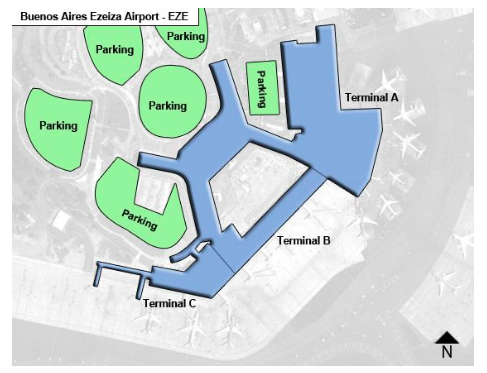 Here are our tips for a stress-free arrival to the airport:
Remember that prior to departure, your airline/cruise ship check-in agent will ask to see your proof of payment for the Argentina Reciprocity Fee if you are a citizen from Canada and Australia so make sure you have a hard copy with you, you can pay the fee here: www.ivisa.com.
If you are a Chinese citizens then you can also get your Electronic Tourist Authorization (ETA) online, see here for more details. Some nationals may require an official embassy issued visa so we suggest that you check visa requirements here to see different options available to you.
It should take less than 5 minutes to verify all your details with an Immigration Officer and to receive your entry stamp into Argentina. We suggest that you print copies of all the documents you have regarding your trip such as hotel reservations, returning flights/itineraries, etc. After you go through immigration, there will be a short walk to pick up your luggage. If you like you can use a cart if you a lot of luggage.
IMPORTANT: The yellow fever vaccination is not required for visiting Argentina though we suggest that you consult your medical doctor in time to get vaccinations for your trips such as Hepatitis, Typhoid, Rabies, and TB.
ZIKA: Outbreaks have been reported in various countries in South America. Zika results in birth defects in babies born to women who were infected with the Zika virus so it is advisable not to travel if you are expecting. Please check the following link for more details regarding this: Zika Virus in Argentina.
Final tips:
Check the stamp in your passport as this indicates how long you can stay in the country, overstaying in Argentina is not recommendable. You can get you into a lot of trouble, paying fines and unnecessary stress.

If you need transport from the airport, we suggest you use Argentina Transfers. You may also use inexpensive public buses but they are not always reliable and safe. Taxi booths are also located outside all terminals, we advise travelers to use pre-booking service instead of verbally agreeing with a fare. Journey time to the city center of Buenos Aires should be around 45 mins in a car.