Ancient unique artwork
Argentina artwork awaits once you pay the Reciprocity Fee Online for Argentina and get a visa. We're not talking about viewing a museum filled with local artists' work either.
It's time to go caving! An unusual adventure can be had if all your 't's are crossed and 'I's Any questions you may have about where or how to pay your Reciprocity Fee Online can be answered on our user friendly site https://www.visatoargentina.com/
Depending on which country you are traveling from will determine how much the fee will end up costing you. But it's a small price to pay for what is on the other side of the journey.
Open your mind and sight by touring the Cave of Hands or Cueva de Las Manos as it is also known. No, this isn't a cave full of literal hands but rather ancient paintings of thousands of human limbs.
Archeologists believe the cave was painted by Patagonia's first ancestors, the Tehuelche people, around 10,000 years ago. The physical cave is said to have been formed by a flowing river in the area.
Settlers in the area, who were likely hunter and gatherers, used their hands as a form of exquisite artwork to tell stories. Using natural minerals, these artists painted with iron oxides, kaolin, and manganese mixed with another substance for longevity.
These incredible depictions of South America's early ancestors remain intact today and continue to receive visitors. This isn't a casual stroll from a hotel room, it takes a bit of exploring to get to. In fact, our suggestion is to take an excursion by people who are familiar with the area. It´s located 100 miles south of Perito Moreno.
The road is rough, dirt and depending on the weather, difficult. If you are wanting to try an excursion by locals, try Estancia Cueva de Las Manos. Day trips during the week run a little over $30 USD per person. This group takes you through the 13 mile canyon by either Jeep or horseback. Those are really the only two options for getting to the site.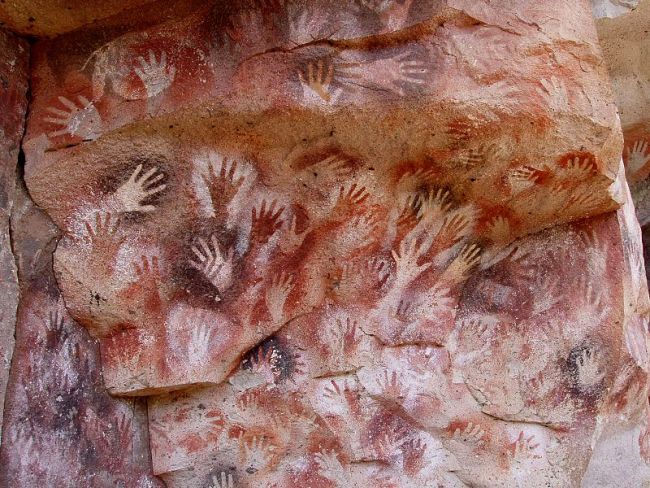 If you are the type of person who is passionate about ancient artwork or archeological sites, this is a trip to take. You can feel the past when you walk in, gazing upon these beautiful hands.
Smell the legacy left behind and imagine what these ancestors were trying to tell us. You can't find this in every city. Simply be. Use all your senses to engage in what could be an amazing experience.