Argentina
Art Meets Engineering with Floralis Generica in Argentina
Gifts are wonderful surprises, especially when it involves paying for something, like the Argentina Reciprocity Fee online service. What could be better than paying for adventure? Perhaps the plane ticket and hotel too but let's not be greedy.
Travelling to Argentina begins with desire, followed by planning and finally booking the trip. If plan it right, you could technically ask for part of it for a birthday or Christmas present. Why not, right? Ask Santa Claus to bring cash down the chimney for your trip. We concur to this idea! Once you have made the request, we hope someone who loves you will grant your wish.
When they do give the gift of earth wandering, we can help make it happen. Take a peek at this fantastic site and get the Argentina Reciprocity Fee easy and safe and find out how simple getting there really is.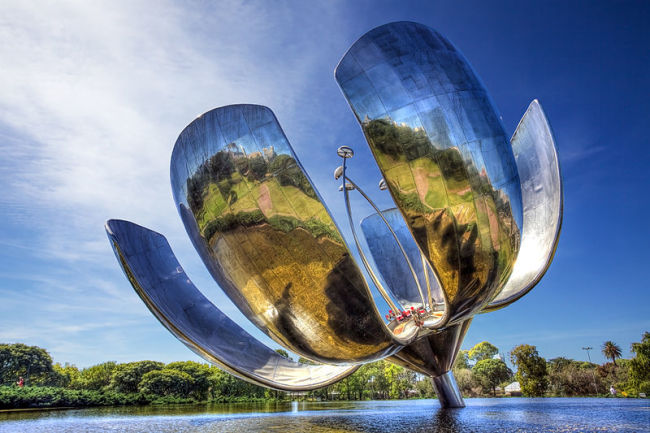 Buenos Aires has been known to spice up life with the creation of Tango and the sweet sounds of music bustling throughout the streets. Looking for art in the capital city is not as difficult as you might think, that is if you have paid the Argentina Reciprocity Fee. Nothing's free anymore.
Buenos Aires has a thriving art scene, from street artists to sculptures on display. Like abstract art? Head over to Recoleta Cemetery and take a quick walk toward the man-made marvel of Floralis Generica.
A combination of art and engineering, this one of a kind sculpture not only creates a beautiful sight but also moves. Given to the city as a gift from one of Argentina's most prestigious architects, Eduardo Catalano just after the turn of the millennium.
Depending on the time of day you view it, this metal and aluminum flower could be opened or closed. Symbolic of how flowers live and die, a program adjusted for the seasons, opens these massive petals in the morning and closes them at sunset.
Six petals reflect waters shimmering below. Pathways coming from several directions, provide each visitor a different and unique viewing point. No spot are identical as the Floralis Generica slowly changes during the day. At night, the flower emits a red glow when closed or at least it used to.
When the structure was installed in 2002, one of the petals was put in incorrectly and never fixed. Since 2010, Eduardo changed it to remain permanently open. Over the last year, Floralis Generica had underwent construction for repairs and improvements.
The intent is to one day be able to return the flower to its opening and closing schedule. We hope this happens as it makes for a wonderful contrast to the city. Not to mention the use of engineering and art is impressive to any onlooker.