When you travel to Armenia, you may have multiple options when it comes to getting an Armenia visa depending on your nationality. As long as you are eligible, you can get an Armenia visa on arrival at the airport in Yerevan. More specifically, if you travel to Armenia via the Zvartnots International Airport in Yerevan, you can get a visa at the visa on arrival counter.
However, there's an easier way to obtain an Armenian visa without waiting in a long row at the airport or going to an embassy, and that's by applying for an eVisa. Learn more about this excellent option with the information below.

Frequently asked questions (FAQs)
How do I know if I can get an Armenian Visa?
That's pretty simple. iVisa puts at your disposal a Visa Checker Tool. Once you enter this page, you have to choose your nationality from the drag-down menu on the left, and then select Armenia as your destination in the menu on the right. The result will tell you precisely what you need to know.
Is there a better alternative to an Armenia visa on arrival?
As a matter of fact, there is. According to Armenia's visa policy, all nationalities that are eligible for a visa on arrival also qualify for an Armenia e-Visa. It means that you can apply for your travel document online before departure. That way, you do not have to stand in line on arrival to get your visa.
What do I need to apply for an Armenia e-visa?
The requirements for an Armenia eVisa are easy to fulfill. Plus, you may already have some of the necessary things. Here is what you must put together before you start the online application process:
Valid passport – make sure that the passport remains valid for at least another 6 months from the arrival date in Armenia. It should also have one blank page.
Digital photo of yourself – the picture needs to be taken in the last 3 months.
Travel dates
Information about your accommodation in Armenia – a hotel booking confirmation is enough. If you stay with friends/relatives, a simple letter will suffice.
E-mail address – you receive your Armenia visa via e-mail in PDF format.
Payment Methods – iVisa accepts credit or debit cards, but you are free to use PayPal as well.
How long does it take for my application to be processed?
It depends on which option you choose for your application. When you apply for an Armenia eVisa with iVisa, you get to pick the timeframe in which your application is processed. Here is what you can opt for:
Standard -

7 business days

Rush -

5 business days

Super Rush -

3 business days
How long is the Armenia e-visa valid for?
It depends on which type of visa you want to apply for. The short-term Armenia eVisa is valid for 90 days after arrival, while the long-term visa has a validity of 180 days after arrival.
What are the processing times and fees?
This will depend on your nationality and how fast you want your eVisa. We can give you an average total price and processing time based on Indian Nationals, so you can have an idea of what to choose with iVisa:
Standard Processing Time - You'll get your eVisa in 7 business days by paying USD 27.00.

Rush Processing Time - You can get your Armenian eVisa in 5 business days as long as you pay USD 47.00.

Super Rush Processing Time - This is the most expensive choice, but also the fastest one. You'll get your eVisa in only 3 business days, but you'll have to pay USD 67.00.
How many entries do I get with an Armenia e-Visa?
Both the short-term and the long-term eVisa grant you Single Entry.
How can I apply for the Armenian eVisa?
iVisa created an effortless process to get the Armenian eVisa, so you don't have to waste time in a long row at the airport. Nevertheless, if you need help, you can contact iVisa's customer support 24/7.
To get your eVisa with iVisa, all you have to do is to follow these steps:
First, fill in the initial form with your personal information. In this part, you also have to select a processing time.

Second, review your form and proceed with the payment. We stress a lot to review the information you give because one mistake could invalid your eVisa.

Third and last, upload the last documents required to proceed with your application. After you are done, click on the submit button and let iVisa finish the rest of the process.
As you can see, getting an Armenian eVisa involves minimal effort. You can read more about it on this link.
How long can I stay in Armenia with an eVisa?
Once more, it depends on which Armenia eVisa you opt for. The short-term eVisa allows you to stay in Armenia 21 days Per Entry, while the long-term eVisa allows you to stay 120 days Per Entry.
When should I apply for this eVisa?
It's recommended to apply for this visa at least 3 days before the departure date.
Do I need a vaccination certificate?
Yes, you'll probably require a Yellow Fever Vaccine. You can confirm this information here.
How does the Armenian eVisa look like?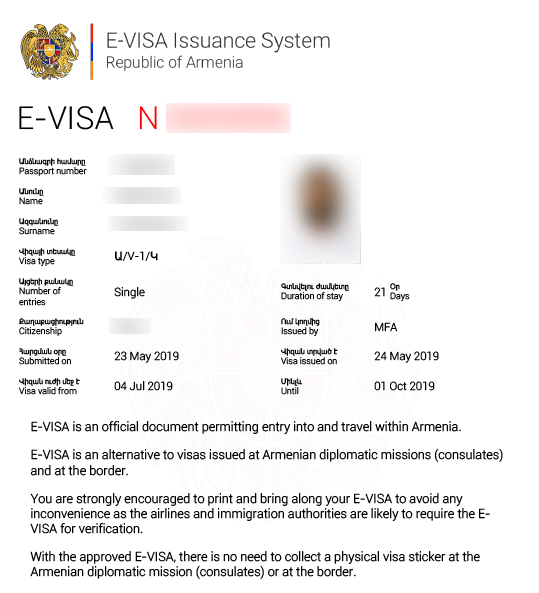 Where can I find more information?
Don't stress too much if you still have questions about the Armenian eVisa, you can contact iVisa's customer service center to get special attention. The service can be reached via online chat or phone 24/7, and it is entirely free of charge.
You can also read more FAQs on this page.
The bottom line is that while you can obtain an Armenia visa on arrival at the airport in Yerevan, we recommend the online application process. It takes less of your time, it implies less effort, and you can apply at any hour of the day. Plus, there are no lines for you to stand in.