Canadian citizens who plan a trip to Australia for business or tourism purposes do not have to worry about getting a visa. This is because as a Canadian citizen, you are eligible for an Australia ETA. This travel document is available for you online and iVisa facilitates the process of obtaining it. With iVisa's help, you can have it in as little as 30 minutes.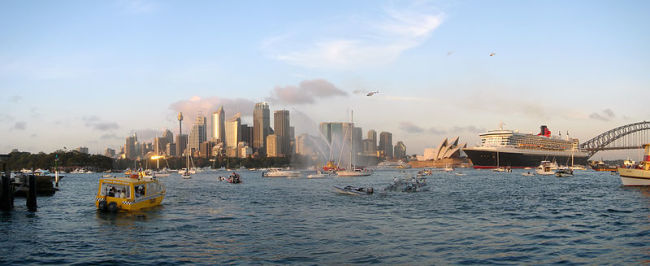 Australia ETA for the citizens of Canada – requirements
One of the best things about an Australia ETA is that the online process for acquiring it is not as demanding as the process of getting a visa at the embassy. You need very few things, and they are easy to put your hands on. You must put together the following:
Valid passport – all applicants must hold a valid passport that maintains its status for at least another 6 months from the date of arrival in Australia. Make sure to check its expiry date before you apply. If you do not comply, your application will be denied.

E-mail address – since this is an online application process, the confirmation for your Australia ETA arrives via e-mail in PDF format. The authorization is electronically linked to your passport. You do not have to print it out. But if it makes you more comfortable, you can have a copy on you when you leave.

Means of online payment – you cannot pay with cash for an online application process, which is why you should use a method that allows you to pay online. iVisa accepts credit or debit cards, but you can also use PayPal.
Australia ETA for the citizens of Canada – processing time and fees
The amount of money you spend on your Australia ETA depends on how fast you want it to be ready. During the application process, you will be asked to choose a processing time option. iVisa gives you three of them so that you can opt for the one that is most convenient for you. They are as follows:
Standard processing – most applicants go for this option because it is the cheapest. It is also the slowest, but your application is processed within 24 hours. As for the cost, you are charged just USD 55.00.

Rush processing – if you want your Australia ETA a little faster, you can opt for this choice. Your electronic authorization is ready within 4 hours, and the fee is USD 85.00.

Super Rush processing – the fastest option is also the priciest. However, you will receive a confirmation of your ETA in only 1 hour since the submission of your application. The cost of this option is USD 120.00.
The contents of the application form
For you to know what to expect when you access the application page, we will describe, shortly, the application form. But before we get to that, we want you to know that iVisa's customer support is at your disposal 24/7 and completely free of charge should you need assistance along the way. Do not hesitate to contact us.
The form created by iVisa is broken down into three parts:
The first part takes care of basic information about yourself, but you also need to provide some details about your trip and passport info. It is at this point when you have to select a processing time as well.

The second part consists of payment and revision.

While the third wants you to upload the documents that support your application. After you complete that task as well, you are free to submit your request. iVisa will handle all the bureaucracy from that point on.
As you can see, the process of getting a Australia ETA for the citizens of Canada is an incredibly easy task when you apply online with iVisa.
The ETA is valid for 1 year after issued, and you can use it to travel to Australia for Multiple Entry. You can stay there for up to 90 days Per Entry.