The Australian passport is one of the most powerful in the world according to official information in The Henley Passport Index. The Australian passport is ranked number 9, the same as Canada, which means that Australians have it easy when it's time to travel. As an Australian citizen, you have access to many countries without a paper visa, but that doesn't mean that you can enter just like that. You might need documents like an eTA, eVisa, or a Visa on Arrival to enter, depending on the destination country, of course.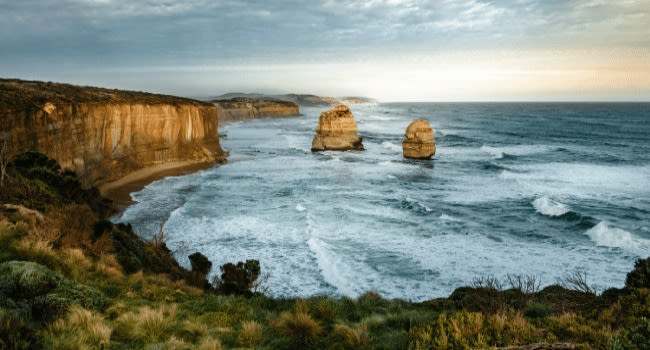 Having an Australian passport allows you to enter 185 countries visa-free. In other words, the Australia Passport Visa Free Countries include these 185 nations. You don't need a paper visa to visit them, but you might need an eVisa or Visa on Arrival. These types of documents allow you to enter these countries for 30, 60, 90, or even 180 days.
Some countries ask Australian passport holders to use a program named visa on arrival. By using this visa-waiver program, Australians must have permission to enter the destination country, but they can receive this permission on arrival. In other words, as an Australian citizen, you don't have to go through an application process before traveling there because you can obtain the visa on arrival at the airport.
The visa on arrival is a stamp or sticker that the officer will place into your passport so that you have valid permission to enter the country. However, we always recommend having the passport on hand in case it needs to be verified by the officers in the country. As for the number of countries that ask Australians to have a VOA, there are 44.
Australians can also get the eTA, which means electronic travel authorization. The ETA is a visa-waiver program for Australians who may enter certain countries without a visa. An eTA is electronically attached to a traveler's passport and it offers a simple way for migration officers to trace the travel to and from the country. This document can be used for years or until the passport expires, whichever happens first. 4 countries ask for this authorization: Canada, American Samoa, New Zealand, the U.S., and Sri Lanka.
With the eTA, you don't need anything else. The process to get this document is very simple, and the best part of it is that at iVisa.com we can offer it to you within a few minutes.
What if my desired destination is not on the list?
Planning a trip should be a stress-free process, but there's nothing more disappointing and stressful than learning you need a visa to enter your dream destination! Getting a visa is always a headache, but that can change by using iVisa.com! We are experts at assisting you so that you can get the travel documentation you need easily and effortlessly. Plus, we offer the following benefits:
Online forms with an easy-to-understand language. We inform you about your travel documents in clear language so that you can avoid the difficult language used in Government forms.
Team of experts ready to review your documents. We'll examine your entire application to guarantee it is error-free.
100% government compliant photos. We also offer a photo service to get exactly the right photo from the comfort of your home. You won't need to do anything else apart from taking a selfie with certain recommendations! Our experts will ensure it meets the correct requirements for your visa type.
Guidance every step of the way. We also have a customer service crew ready to help you on your application journey! They're available 24/7.
Don't let a visa requirement stand in your way. Use our Visa Checker to see if you need a visa and let us assist you every step of the way.
List of Australia Passport Visa Free Countries
You probably want to know what the Australia Passport Visa Free Countries are, which is why we're ready to show you the entire list below. Keep in mind that 185 countries allow the visa-free entry of Australians, but this number might differ a little nowadays due to the coronavirus pandemic.
Albania
Andorra
Antigua and Barbuda
Armenia
Bahamas
Barbados
Belarus
Belgium
Belize visa-free
Bolivia
Bosnia and Herzegovina
Botswana
Brazil
Bulgaria
Burkina Faso - Visa on Arrival
Cape Verde - Visa on Arrival
Colombia
Comoros - Visa on Arrival
Costa Rica
Cote d'Ivoire (Ivory Coast) - Pre-Enrollment
Croatia
Cuba - Tourist Card
Cyprus
Czech Republic
Denmark
Djibouti - eVisa
Dominica
Dominican Republic
Ecuador
Egypt - Visa on Arrival / eVisa
El Salvador
Estonia
Eswatini
Ethiopia - Visa on Arrival / eVisa
Finland
France
Gabon - Visa on Arrival / eVisa
The Gambia
Georgia
Germany
Greece
Grenada
Guatemala
Guinea eVisa
Guinea-Bissau - Visa on Arrival / eVisa
Guyana
Haiti
Honduras
Iceland
Iran - eVisa
Iraq - Visa on Arrival
Ireland
Italy
Jamaica - eTA
Jordan - Visa on Arrival
Kenya - eVisa
Kiribati
Kosovo
Kyrgyzstan
Lebanon - Visa on Arrival
Lesotho
Liechtenstein
Lithuania
Luxembourg
Madagascar - Visa on Arrival / eVisa
Malawi - Visa on Arrival / eVisa
Maldives - Visa on Arrival
Malta
Mauritania - Visa on Arrival
Mexico
Moldova
Monaco
Montenegro
Morocco
Mozambique - Visa on Arrival
Myanmar Burma - Visa on Arrival / eVisa
Namibia
Nepal - Visa on Arrival
Netherlands
New Zealand
Nicaragua
Nigeria - Pre-Visa on Arrival
North Macedonia
Palau - Visa on Arrival
Palestinian Territories
Panama
Paraguay - Visa on Arrival
Peru
Poland
Portugal
Romania
Rwanda - Visa on Arrival / eVisa
Saint Kitts and Nevis
Saint Lucia
Samoa - Visa on Arrival
San Marino
Senegal - Visa on Arrival
Serbia
Seychelles - Tourist Registration
Sierra Leone - Visa on Arrival
Singapore
Slovakia
Slovenia
Somalia - Visa on Arrival
South Africa
South Sudan - eVisa
Sri Lanka - eTA
St. Vincent and the Grenadines
Suriname - eVisa
Switzerland
Tajikistan - Visa on Arrival / eVisa
Tanzania - Visa on Arrival / eVisa
Thailand
Togo - Visa on Arrival
Tonga - Visa on Arrival
Trinidad and Tobago - Visa on Arrival / eVisa
Tunisia
Turkey - eVisa
Tuvalu - Visa on Arrival
Uganda - Visa on Arrival / eVisa
Ukraine
United Arab Emirates - Visa on Arrival
United Kingdom - eTA
United States of America eTA
Uzbekistan
Vanuatu
Vatican City
Venezuela
Zambia - Visa on Arrival / eVisa
Zimbabwe
Take into account that even if don't have to apply for a paper visa to visit any of these nations, you might have to apply for a health declaration due to the current COVID-19 circumstances.
If you already have a country in mind, we invite you to check our Universal Travel Checklist and get ready for your next adventure!