Australia began the usage of the digital visa program back in 1996, and as of 2013, the current visa applies to many nationalities, and Hong Kongers are no exception.
The principle is straightforward. Hong Kongers can apply online for an Australian Visa and get it in a couple of minutes. The document is known as an ETA or Electronic Travel Authorization subclass 601. This document is valid for both tourism and business functions. In iVisa we'll offer you through this article all the details you need to know about the Australian ETA for Hong Kongers.

Frequently Asked Questions (FAQs)
Do I need a visa to enter Australia if I'm a Hong Konger passport holder?
You don't need exactly a visa to enter Australia since the document required is not the same as other visas abroad. What you need is an ETA.
What is an Australian ETA?
An Electronic Travel Authority (ETA) is an special document that provides authorization to travel to and enter Australia and is electronically linked to your passport.
This ETA can be used for tourism or business visitor activities such as attending conferences, making business inquiries or working with contractual negotiations.
How Long can Hong Kongers stay in Australia with the ETA?
Hong Kongers can remain in Australia for no more than 90 days Per Entry.
How long is the Australian ETA valid for?
This Australian authorization is valid for 1 year after issued.
Are there any restrictions to consider before applying to the Australian ETA?
Yes, there are important restrictions that you should consider before applying:
Business visitor activity: This means that you are not allowed to engage in any work other than a business visitor activity during your visit to Australia.

Your visit must not be greater than 90 days Per Entry.

Tuberculosis free: You must be free of tuberculosis at the time of travel to Australia.

No criminal conditions: You cannot have any criminal convictions.
What documents do I need to apply?
It's true that an online application is much easier than going to an Australian embassy but that doesn't mean you don't need some documents. It's better if you put them all together before filling in the form. However, iVisa asks very few things when it comes to documentation. Here is a list of what you need:
A valid passport when you board your flight and also when you visit Australia.

A credit/debit card (or a Paypal account) and an email address for confirmation.
Apart from these two things mentioned above, you will also be ordered to complete a personal questionnaire. It's nothing hard. You just need to state the reasons for your travel and a few other things. It's recommended that you answer the questions genuinely.
Once you have gone over this stage, you can proceed and complete the application form and get your e-Visa sooner than you think.
What are the processing time and fees for this ETA?
The reason the two aspects are discussed collectively is that one affects the other. The Australia ETA itself is free of charge, but you still have to pay for iVisa's services. As for that, they have three available processes. Here are your options:
Standard processing time -- which is the cheapest and most commonly used alternative. That's because the entire amount leads to USD 20.00. As for the length of time you need to wait for your application to be processed, it takes 24 hours to receive your ETA. Even though this is the smartest choice, 1 business day is not important.

Rush Processing period -- this alternative is a whole lot quicker compared to previous one. You will have your own Australia ETA in only 4 hours. As you can anticipate, you have to pay more this time, USD 50.00 being precise.

Super Rush processing period -- this option is the fastest iVisa provides. It only takes 1 hour to your application to be processed, and you'll be billed USD 70.00.
Remember that all the fees are included for each service. Now you just have to click here to start your application and get closer to visit Australia.
How does the Australian eVisitor work?
The ETA system in Australia was first introduced back in 1996, granting authorization to travel to this country. This digital authorization is electronically linked to your passport.
When checking in at the airport for your Australian-bound flight, the check-in staff can electronically confirm that you have the right to board the flight to Australia. The Australian ETA is available to citizens of over 50 countries.
The ETA Visa is an electronically-stored authorization made for travelers who want to know Australia for short-term tourism or business purposes. It replaces the famous visa label or stamp in a passport, and it shortens the time wasted with the old process that used to be necessary to get this stamp.
How long does it take to apply for an ETA?
You'll need no more than 10 minutes to complete the application form .
How can I apply for an ETA?
The application form is easy to comprehend and fast to complete. It is broken down into two simple steps:
The first thing iVisa website will ask you to do is fill in your personal information and choose the processing time.

The second thing that will ask you is to review step one and make the payment. After that, you just submit the application.
Getting an Australia ETA is one of the simplest things Hong Kongers can do. It requires very little time and effort, and you will be on the next plane out. It definitely beats going to an embassy for a consular visa, isn't it?
How does an Australian ETA look like?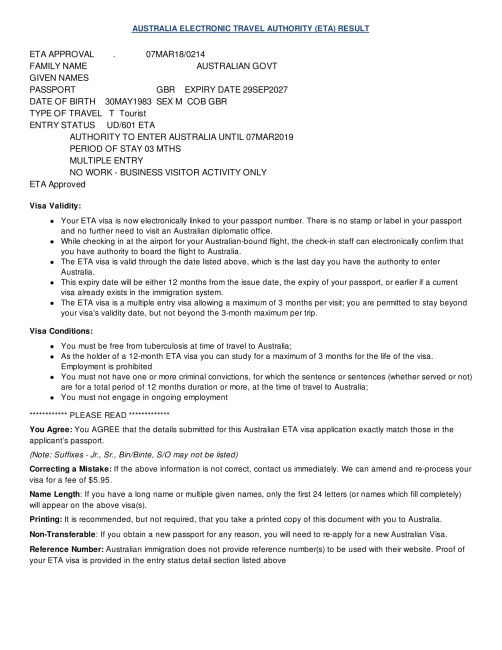 How do I know if my ETA is approved?
Once you submit your application, we will let you know you when your visa is read by email. This way, you don't need to deal with the embassy. We do it for you so you don't waste any second in vain.
Do I need an ETA for my children traveling to Australia with me?
Yes, you do. Everybody traveling to Australia must receive an ETA before departing, regardless of their age.
If I am only passing through Australia, do I need an ETA?
If you only stay within 8 hours in the transit lounge, and you have the proper documentation to remain there, then you won't need an ETA. However, for certain nationalities, a transit visa may be required. Please visit this website for more details.
Is it safe to use iVisa to get my ETA?
Yes, totally! Many people think that giving online information means that you can put it into risk, but that doesn't happen with iVisa. We provide you maximum safety for your personal data, and we spend a lot on the security of our database. Your personal information can be 100% safe. You can check what hundreds of happy customers say about us here.
I have more unresolved questions, where can I find more information about it?
If you still have questions to be answered about this ETA, click here and start chatting with one of our customer service representatives. You can also find more info and FAQs here.
Keep in mind that today, about 28% of Australia's population consists of immigrants, and that's because of the amended immigration policies from the last decade and a half. That's why it's not that weird to understand the decision to provide ETAs and e-Visas to many citizens around the world. If you're from Hong Kong, you're just one step ahead to visit this beautiful and exotic country.
Start your journey now! Click here to apply for an ETA and enjoy all the magic that Australia hides.