Traveling to Australia is easier than ever for Indian travelers. For tourism purposes, you can apply for an Australia Visitor Visa and have a wonderful time in Australia. Explore the incredible beaches, unique marine life, and relaxing atmosphere. Find out more about the entry requirements to have fun in Australia.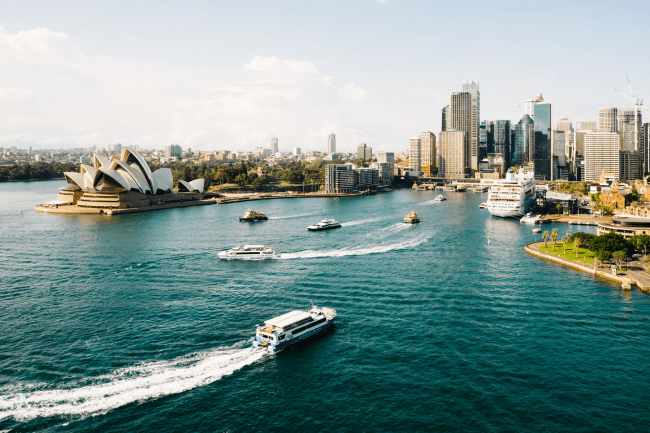 Enter Australia with the Australia Visitor Visa
The Australia Visitor Visa is available online with the help of iVisa. Indian passport holders can apply for this type of visa and enjoy a short-term stay in Australia. Start the process online and get your official document in your email after completing a few simple steps.
What is the Australia Visitor Visa?
The Australia Visitor Visa is the official document that allows you to enter Australia for tourism, visit friends and family, and do business. It permits Multiple Entry into the country and is valid for 3 years after arrival. It also allows a stay of 3, 6, and 12 months depending on your background and the review by immigration authorities. The visa will enable you to study in Australia for a maximum of 3 months. If you want to study for a longer period, you may need to apply for a student visa. In this case, you should contact the Australian embassy or consulate.
The Australian tourist visa could be yours as soon as you decide to start the process with iVisa.
How does the visa application process for Australia from India work?
It's simple! You can also apply from India or even if you're already in Australia. Just follow these three steps:
Step 1: Fill out the application form with your information and choose a processing time.

Step 2: Review your application and correct any mistakes. Pay for the service with a credit or debit card.

Step 3: Upload the required documents (if applicable) and submit your application.
The tourist visa will be yours after you complete these steps. You also need to comply with the Australia Visa requirements. You could also go through a phone call and a medical examination. Also, the Australian government will request your biometric information. Get your Australian Visitor Visa via email, and enjoy your trip to Australia.
Australia Visitor Visa fees for Indian citizens
Indian travelers can process their application through the following service:
Standard Processing Time: The experts will process your application in

30 days

for

USD $158.99

.
The price includes government and service fees. You won't need to pay anything else to get your valid Australian visa.
How long does it take to get an Australian visa from India?
The usual time to get your Australian Visitor Visa is 4 months, but you get the option to get it in just 30 days. iVisa has all the tools to help you with the tourist visa and change your visa status for the better.
Is it difficult to get a visa for Australia from India?
Not at all! You only need an internet connection and a few minutes to complete the online form to get your valid visa. Check the guide carefully after submitting your application, as you may need to provide supporting documents. You won't be required to attend an interview or visit an embassy. Still, you may have to take a phone call to explain your application in more detail.
What documents do I need when entering Australia?
Upon getting approval for your application, you will need your passport, which is linked to your Australian visa. Also, you should have your visa in hard or soft copy in case immigration authorities request it.
What are the requirements for an Australian tourist visa?
Please gather these items and start your application soon:
A passport with a minimum validity of 6 months. Scan the pages that have immigration stamps.

National ID scan or image.

Photo of the applicant. You can use our handy iVisa passport photo service to get your photo.

Supporting documents. Australian authorities could request further documentation, like financial documents, employment letters, itineraries, etc. This information will help you complete the application successfully.

Pay for the service with a credit or debit card.

An email address to receive the digital documents.
The confirmation email will have details about the next steps, including a phone call, medical exams, and biometric information. We will guide you through every step, so you will have your Australian visa soon enough.
Visit Australia
Australia is ready to welcome you. Check out the most fantastic places in Australia.
Bondi Beach
Tanned bodies, blond sand, and surfers—Bondi Beach offers that and more. It's only 15 minutes from the center of Sydney and is a great spot to enjoy Australia's beach culture. You could sunbathe, surf during breaks, or swim in the hot summer. In addition, Bondi hosts one of the oldest surf lifesaving clubs. Away from all the beach fun, you can stroll between Bondi and Bronte. It's a six-kilometer stretch, where you will find cafés and restaurants. On Sundays, you can visit the local markets and buy souvenirs.
Daintree National Park
Head to Queensland to see the Daintree National Park, composed of two sections, Mossman Gorge and Cape Tribulation. The first offers crystal water flowing over granite boulders, and the second is considered one of the most beautiful places in Australia. The park protects several ecosystems, including rainforests, beaches, and the Coral Sea. The biodiversity boasts over 18,000 plant species and many more animals, including crocodiles, cassowaries, and Bennett's tree kangaroo. Port Douglas is the base for most wildlife tours.
Travel restrictions due to COVID-19
Do I need to get the vaccine?
Currently, the Australian government doesn't request vaccines to enter the country. Still, you must follow the guidelines and be aware that these could change anytime.
Do I need to quarantine?
No quarantine or other health-related restrictions are required. Also, you no longer need to wear a mask during international flights to Australia.
Where can I get more information?
Get in touch with our customer service agents for more information about the Australian Visa and the online process, or contact us via email at [email protected]. Our agents can clear your doubts 24/7. Additionally, they will answer all your questions about the Australian visa types.