Similar to the U.S. ESTA, the Australia ETA is a travel paper that allows you to visit this country if you're under the Australian visa-free policy. This policy was introduced in 1996, and since then, some countries have been available to enter Australia without issues. Some of the nations that are eligible for this document are the United States, Canada, and France.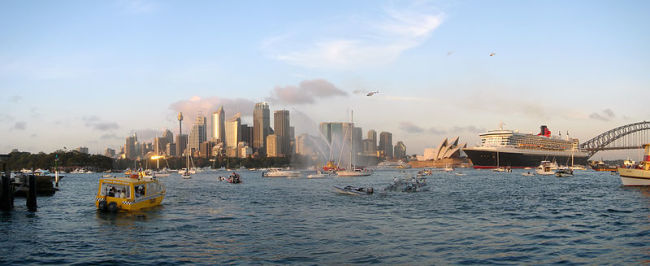 However, other countries are eligible as well. This document is not an obstacle to visiting Australia, especially when you can count on the services provided by iVisa.com. By using our online form, you can get closer to this destination without much effort. Our smooth and fast platform will get your ETA ready as soon as you need it.
But, we understand that you might want to know How to apply for an Australia ETA, which is why we've created this guide for you.
Frequently Asked Questions
What is an Australian ETA and where can I apply for it?
The Australian ETA is an electronically-stored authorization that authorizes you to enter Australia for a short-term period. You can visit for tourism or business purposes.
With this document, you can enter Australia as many times as you want within the validity period of 1 year after issued. The maximum length of each visit is 90 days Per Entry and you can apply for it on iVisa.com.
How can I see if I'm eligible for the Australian ETA?
You can see if you're one of the countries under the Australian ETA visa-waiver program by entering iVisa.com. We have a visa checker tool that allows you to see which travel documents you need to visit any country, not only Australia.
What requirements do I need to apply?
At this point, you surely checked whether you qualify for an Australia ETA or not. After all, eligibility is the first requirement. Other than that, you need to offer some information and items to get the application process started. Here is what you need on iVisa.com:
Valid passport: your passport must be valid for at least another 6 months from the date of arrival in Australia.
Means of online payment: since this is an online application process, you'll be required to make the payment online. For that, you can use a credit or a debit card, but iVisa.com accepts PayPal as well.
E-mail address: an Australia ETA is electronically linked to your passport, so you don't need to print out the ETA, but we use e-mail as a means of communication, which is why we ask for a valid email address.
How much does the Australian ETA cost?
iVisa.com's application form is broken down into two stages. The first stage is when you fill in the blanks with your personal information, travel details, and passport information, and in this part, you also have to choose a processing time. This is necessary so we can know how fast you want your Australia ETA. Just keep in mind that your choice determines the cost of your ETA, and these are your options:
Standard processing time: this is the slowest option iVisa.com has, but don't think that it takes days for your Australia ETA to be ready. In fact, your application is processed within

24 hours

. As for the fee, you'll be charged

USD 68.99

.
Rush processing time: if you are looking for something faster, this option may be what you want. Your ETA will be ready within just

4 hours

, but you will be charged

USD 111.99

.
Super Rush processing time: the fastest way to get your Australia ETA is this processing time. You will get it in just

1 hour

. Of course, it's more expensive as well. It costs

USD 161.99

.
How to apply for an Australian ETA?
The next thing you have to do is fill in the application form. We can guarantee that you won't have trouble with it. You'll probably finish it in 15 minutes. And if you do require assistance, iVisa.com has an excellent support service that is at your disposal 24/7.
To apply for your Australian ETA you have to do the following:
First, you have to fill in the form with your basic details and choose your processing time.
The second stage asks you to make the payment and review the information on stage one. The revision is more important than you think because a single mistake can cancel your Australia ETA. If you make a mistake, let us know and we will reissue an ETA with the correct information.
The last thing to do is attach your documents if necessary. Once you've checked that everything is in order, you can hit the submit button, and your job is done. iVisa.com takes care of the rest.
As you can see, it's quite easy to apply for an Australia ETA when you use iVisa.com as your visa service. Your effort is minimal, and the ETA arrives as fast as you need it to.
Why should I choose iVisa.com?
Because you deserve to have an effortless visa experience so you can enjoy your trip peacefully. At iVisa.com we know that traveling processes have become more complicated than ever, which is why we offer a reliable service that helps you with the paperwork.
Even with some obstacles as the COVID-19, traveling is still possible, but by taking baby steps. You don't need to stress with the bureaucratic systems that got more difficult now, you can get your peace of mind by choosing iVisa.com as your best option to process your travel documents.
Where can I find other information about the Australian ETA?
You might have other questions about the Australian ETA, so we invite you to check out our website on this link to read other questions or important tips. Don't forget to contact our super agents by chat if you need personal assistance.