You may have heard or read that some people travel to Australia using an ETA (subclass 601), and you wish to know what that is or if you can use that as well. Things are simple enough when it comes to an Australia ETA, and we will do our best to explain it to you.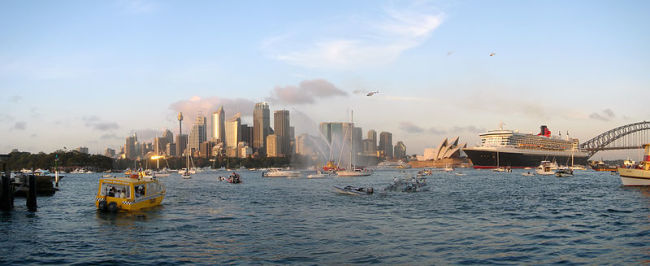 Frequently Asked Questions
What is an ETA (subclass 601)?
ETA stands for Electronic Travel Authorization. It is a digital document that is required for some nationalities who plan to visit Australia. The document is available online, and iVisa can help you get one if you are eligible.
Who can obtain an Australia ETA (subclass 601)?
As for the nationalities we were referring to above, we are talking about visa-exempt travelers. For example, if you are a UK citizen, you do not have to get a visa to travel to Australia. You must, however, get an ETA. To learn whether or not you qualify for an electronic authorization, you can use iVisa's Visa Checker. You can see it in the top right corner of this page. Click on the feature, select your country of origin and put Australia as your destination. You will get the information you need in just a second.
What are the fees and processing times for an Australia ETA (subclass 601)?
You got three options:
Standard processing time – this is the slowest option iVisa puts at your disposal, but do not think that it takes days for your [Australia ETA] to be ready. In fact, your application is processed within 24 hours. As far as the fee is concerned, you will be charged USD 20.00.

Rush processing time – if you are looking for something faster, this option may be what you want. Your ETA will be ready within just 4 hours, but you will be charged USD 50.00.

Super Rush processing time – the fastest way to get your Australia ETA is if you opt for this processing time. You will get it in just 1 hour. Of course, it is more expensive as well. It costs USD 70.00.
How to apply for an Australia ETA (subclass 601) online?
As mentioned above, iVisa can help you apply. All you need is a valid passport that remains valid for at least another 6 months from the date of arrival in Australia, an e-mail address, and a method of payment that allows you to pay online. Of course, you must fill in an application form as well.
The form is short and simple, and iVisa has excellent customer support if you need assistance.
There are two steps you need to complete.
The first one requires you to fill in the blanks with general information about you and your trip. You must also select a processing time for your application. Just keep in mind that the sooner you want your Australia ETA, the more you will be charged.

The second step consists of payment and revision. You need to be very careful about the the revision because a single error, that goes undetected, can invalidate your ETA. Make sure that you check the for before you submit it.
How long is this ETA valid for?
The validity of the Australia ETA is of 1 year after issued.
How long can I stay in Australia with this ETA? How many entries do I have?
90 days Per Entry is the maximum of days you can stay in the country. This is a Multiple Entry ETA.
What are the restrictions for the ETA?
There are some restrictions by having this ETA. They are as follows:
You cannot work
Your visit must not be more than 3 months (per visit).
You can't have tuberculosis (TB)
You can't have any criminal convictions.
How does this ETA look like?
Here's a sample: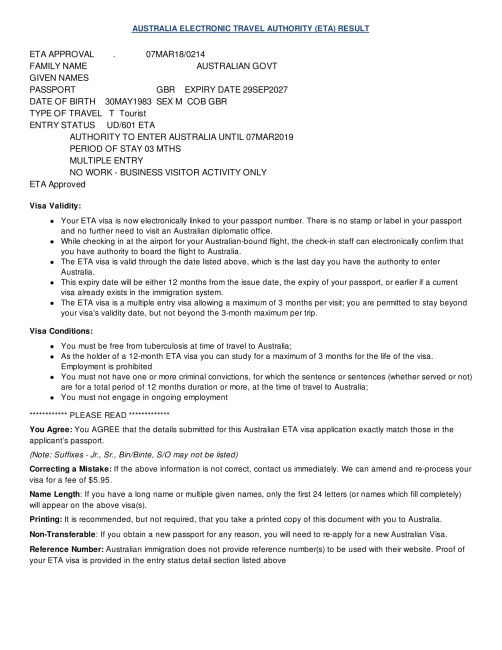 To sum up, an Australia ETA (subclass 601) is an electronic document meant for visa-exempt nationalities who wish to travel to Australia. If you qualify for such a document, iVisa can help you get it in just 1 hour. We will help you with all the hassles of the process!
If you need more information or more FAQs, click here.