Australia - Open for Tourism, here's what you'll need
Australia - Open for Tourism
84,250+ Travel Documents processed by iVisa
Trustpilot recommended. We lead the industry in innovation and reputation
Learn More: eVisitor
Apply Today for an Australia eVisitor Visa with us!
Last updated: April 2023
Welcome to our complete guide to applying for the Australian eVisitor Visa! If you plan to visit the land Down Under for leisure, business, or to see friends and family members, the eVisitor Visa is essential.
In this guide, we'll walk you through everything you need to know about the visa application process and provide helpful tips to ensure a hassle-free experience.
Let's dive in, or simply start your application now if you're ready to go!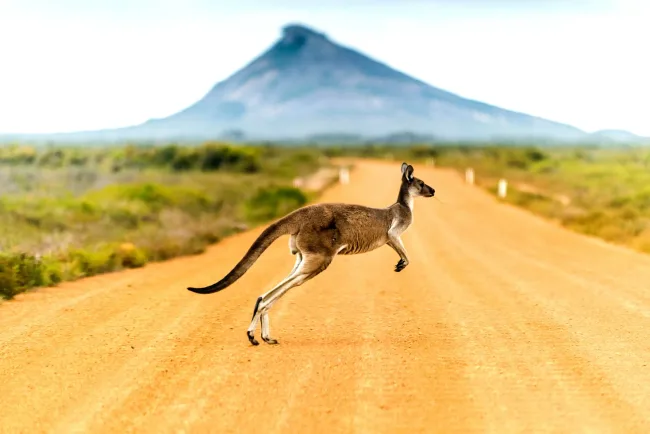 What is the Australia eVisitor Visa (Subclass 651)?
The eVisitor Visa Australia is an electronic visa (also called an eVisa) suitable for travelers entering Australia for short-term tourist or business visits.
The temporary visa is electronically linked to your valid passport, so there's no need to visit an Australian embassy or consulate to submit your application.
With this visa, you can:
Visit Australia as a tourist.

Go on a cruise. If your cruise is a round trip, the time you spend on the cruise counts as time spent in Australia.

See family members and friends.

Do business, such as negotiate a business contract, conduct activities related to an official government visit, or participate in a conference or trade fair.

Study or train for up to 3 months, in some circumstances.
With this visa, you cannot:
Work for or provide paid services to a person, business, or organization.

Sell goods or services to the public.

Enroll in more extended studies than three months (you'll need a Australia Student Visa instead).
Who can apply for an Australia eVisitor Visa (Subclass 651)?
The Australian eVisitor Visa is available to citizens of over 50 countries, including the United Kingdom, Iceland, Ireland, and most Schengen and European passport holders.
Not sure if you're eligible for the eVisitor Visa? Use our Visa Checker Tool and apply today!
Children and minors also need a visa to visit the country if eligible. You can apply together as a family by clicking 'Add another person' during the application process.
Which countries are eligible for the Australia eVisitor Visa?
You must be a citizen of and hold a valid passport from one of these eVisitor eligible countries:
| Andorra | Greece | Norway |
| --- | --- | --- |
| Austria | Hungary | Poland |
| Belgium | Iceland | Portugal |
| Bulgaria | Ireland | Romania |
| Croatia | Italy | Republic of San Marino |
| Cyprus | Latvia | Slovak Republic |
| Czech Republic | Liechtenstein | Slovenia |
| Denmark | Lithuania | Spain |
| Estonia | Luxembourg | Sweden |
| Finland | Malta | Switzerland |
| France | Monaco | United Kingdom – British Citizen |
| Germany | The Netherlands | Vatican City |
You cannot apply with the following:
A non-citizen passport, certificate of identity, or another travel document.

A British National Overseas, British Dependent Territories Citizen, British Overseas Citizen, British Protected Person or British Subject passport.
Australia eVisitor Visa validity: How long can I stay in the country?
Australian eVisitor Visas are valid for 1 year after arrival in the country. It's a Multiple Entry visa, so you can leave and re-enter Australia multiple times during that year.
Each time you visit Australia, you can stay up to 90 days Per Entry.
Complete your application 100% online!
Australia eVisitor Visa requirements
You must meet a few Australian government requirements to apply for this Australian visa. Check everything that will be required for your e-Visitor visa application below.
eVisitor Visa - Australia: Required documents for the eVisitor application
To make your online visa application as smooth as possible, make sure you have the following documents ready:
Passport details. Your passport must be valid for at least six months after you arrive in Australia. Scan passport pages, including the stamps

Supporting documents proving your travel purposes, such as a hotel reservation or tour booking.

A credit or debit card to pay the government visa fee and our service fee.

Email address to receive the eVisitor Visa confirmation.
Australian eVisitor Visa: Character requirements
You must also prove you're a genuine visitor and meet some character requirements. You may not be eligible for the eVisitor Visa if:
You have a substantial criminal record.

You've been convicted of, had a charge proven for, or found guilty of a sexually based crime involving a child.

You've been convicted of escaping from immigration detention or for an offense that you committed

You're or have been a member of a group or organization, or had or have an association with a person, group, or organization that the Minister reasonably suspects of being involved in criminal conduct, such as people smuggling, people trafficking, genocide, a war crime, a crime against humanity, a crime involving torture or slavery, or a crime that is of serious international concern, whether or not you have been convicted of such an offense.

Your past and present criminal record or general conduct show that you are not of good character.

You're subject to an adverse security assessment by the Australian Security Intelligence Organisation.

You're the subject of an Interpol notice, from which it is reasonable to infer that you're a direct or indirect risk to the Australian community.

You're or have been convicted of a domestic violence offense or have ever been subject to a domestic violence order.
Do you have a clean record? So you don't need to worry. Remember, when applying, declare all criminal conduct if you've engaged in any, truthfully answer all questions, and provide all requested information.
Australia eVisitor Visa: Health requirements
The Australian government also has concerns regarding visitors' health status. To meet the health requirements, you must be in good health without any disease or condition that:
causes significant healthcare and community service costs to the Australian community, or

is likely to limit the access of Australian citizens and permanent residents to healthcare and community services that are already in short supply. We refer to this as "prejudicing access."
Australia eVisitor Visa: Financial requirements
Regarding finances, you must have sufficient funds to:
support yourself while you're in Australia

leave Australia at the end of your stay
Requirements for children traveling to Australia
Remember that minors also need a visa to travel to Australia. Additionally, travelers under 18 years of age who are applying for a visa and traveling with only one parent or legal guardian (or without either of them) must provide evidence that both parents or legal guardians consent to their travel to Australia.
Entry requirements for visiting Australia
Upon arrival, you must present the following documents to enter Australia:
Valid passport
Valid visa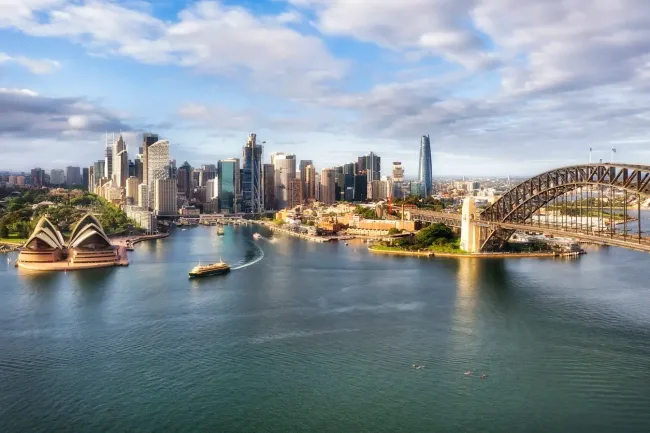 How to apply for an eVisitor Visa Australia
We do the hard work for you! With our smooth visa application process, you'll get your visa for Australia quickly, so you can focus on the fun part: planning your trip!
Complete your eVisitor Visa application online in three easy steps:
Step 1: Complete the online form with your personal and travel details.

Step 2: Double-check your information and choose your preferred processing time. Then, pay the visa fees online on our secure platform.

Step 3: Upload the supporting documents and submit your eVisitor visa application form.
Keep an eye on your email inbox, where you'll receive confirmation of your Australian visa once approved. Get ready to explore Australia!
Australia eVisitor Visa Processing time
By applying with us, you have three processing time options, and you can choose the one that suits your needs best. The time frame may differ according to your nationality. UK passport holders have the following options:
Standard processing time: It takes just 4 days to process the eVisitor Visa.

Rush processing time: You'll receive the eVisitor Visa in only 2 days.

Super Rush processing time: This fast option allows you to get the Australian eVisitor in only 24 hours.
Australia eVisitor Visa: Fees and Cost
Good news! The eVisitor Visa for Australia has no government fee! By applying with us, you'll just pay the service fee, which varies according to your preferred processing time and your nationality. UK passport holders have the following options:
Standard processing time: USD $37.99

Rush processing time: USD $66.99

Super Rush ´processing time: USD $116.99
What can I do if my Australia eVisitor is denied?
You can appeal the decision at the Administrative Appeals Tribunal (AAT) if your Australian visa is denied. If you want to reapply, you must declare any past rejections or cancellations of your visa, which might affect your eligibility for future visas.
Can I extend my Australia eVisitor Visa?
Unfortunately, you can't extend this Australian Visa to stay longer in the country. You must leave Australia and apply for a new visa.
Do I need the Australia Visitor Visa to transit in the country?
In this case, you'll need an Australia Transit Visa (Subclass 771). This visa allows you to transit through Australia for up to 72 hours while traveling to another country. A transit visa is required even if you fly out on the same plane and airport where you arrive or stay in the transit lounge and don't leave the airport.
Benefits of applying with us
100% government compliant: Your application will be carefully reviewed by our iVisa experts to ensure it meets all Australian government standards and avoids issues.

Saves time: Don't waste time queuing for visa appointments or deciphering government rules. You can get your visa to visit Australia from the comfort of your home in a simple process via our website or iVisa app.

Straightforward application process: We provide a platform that allows you to save your progress and complete the form at your own pace. We offer a more concise and simple application form than the government website.

Unlimited support: Throughout the application process, our iVisa experts are always available to answer any questions you may have.
Apply online and let us do all the hard work for you!
Other available Australian visas
Besides the eVisitor Visa, several other documents, such as the Australia ETA and other tourist visas are available. Here are the differences:
Australia ETA: This is an electronic travel authorization, similar to the eVisitor Visa, but available to other countries. You can also apply for the ETA 100% online, but it's slightly more expensive.

Australia Visitor Visa: This Australian Tourist Visa is meant for travelers not eligible to apply for the eVisitor Visa or the ETA. An embassy visit and extra documents may be required to apply.

Australian Working Holiday Visa: British citizens can apply for this visa to enter Australia if they want to travel and work there. It allows travelers between 18 and 30 years of age to stay for up to 12 months and work in the country. It's ideal for a gap year, long holidays, exploring the country on a backpacking trip, short-term studies, or short-term work.
Remember, the eVisitor Visa also allows short-term studies for up to three months (not work). So if you're looking for a short training or study program, go for the eVisa instead.
Australia Student Visa: This visa is for UK students who want to study (temporarily) in Australia. To apply, you must be accepted into an Australian educational institution.

Australia Permanent Residency Visa: The visa application process to live permanently in Australia varies according to the reason for immigration. For example, you want to join a spouse, find work, or other purposes.
If you need help determining which document you're eligible for, use our handy Visa Checker Tool or read further information on the Australian Department of Home Affairs website.
COVID-19 regulations to enter Australia
Currently, all visa holders can travel to Australia without needing a travel exemption, as long as they hold a valid visa and meet all standard border entry requirements. There's no need to show a COVID-19 vaccination certificate or a negative PCR test result.
However, we recommend rechecking all regulations a few days before your trip on the government website or with your airline, as things may change quickly.
More questions about the Australia eVisitor Visa?
Please contact our customer service team if you have questions about the Australia eVisitor Visa or any other online travel document. We're always available via online chat and email at [email protected] to help make your travel easier!
Required Documents to Apply
A current valid passport, with at least 6 months of validity.

Supporting documents of a compelling reason.

A credit/debit card or a PayPal account
Important Instructions
The Australia Visitor Visa (Subclass 651) is a multiple-entry visa for travelers that want to visit Australia for tourism purposes or to visit friends and family.

This Australia Visitor Visa is valid for 1 year and lets you stay for up to 3 months at a time.

You can not work with this visa, and you can not study for longer than 3 months.

You don't need any COVID-19 vaccination proof to go to Australia; masks are no longer mandatory on international flights.