Visiting Austria might seem like an expensive destination because of the numerous museums one wants to visit, and the variety of opera show costs. Even going for a cup of coffee and a slice of traditional sacher torte can be quite expensive, and yet, the numerous options prove to be a fit for any budget.
A traditional piece of cake might be expensive, but because of the great diversity of gastronomy in Austria, you can find café's and bakeries that offer you their twist on cakes. They might not all be the same, but they give you a good sense of what the history and noise about these treats are all about.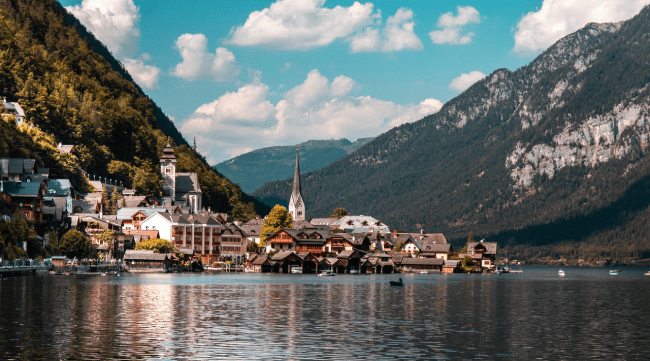 And yet, with the number of visitors continuously growing, the Schengen states have established that an ETIAS authorization document is required for all citizens arriving from Schengen visa-exempt countries. ETIAS will work as a pre-screening process to ensure that incoming foreigners are not a security threat to the states.
Additionally, you will need to verify if Austria or any other host country is currently requesting a Health Declaration Form from your country of citizenship. If it is, then you will need to seek the document before starting your journey.
The following questions will help you understand the Austria ETIAS process and costs, as well as information on how iVisa.com can help throughout the application.
FREQUENTLY ASKED QUESTIONS
What does ETIAS involve?
ETIAS is a digital travel authorization that nationals of Schengen visa-exempt countries will soon be required to present in order to visit the Schengen region. It will work as a pre-screening method of the incoming foreigners and help to keep the Schengen states secure, reduce immigration, and eliminate terrorism.
The passenger-only needs an ETIAS if they are traveling for business, travel, or medical visit reasons for a short stay of no more than 90 days.
What is the Austria ETIAS application process?
All of the Austria ETIAS application process is done online and can be finished quickly by following three simple steps.
1.Begin by filling out the ETIAS application questionnaire. You should include all essential information as shown on a biometric passport, which is: first name, last name, date of birth, place of birth, and maybe even maiden name. And select the processing time you want your application to go with.
The questionnaire will also request that you give some details related to your education, work experience, medical history, and criminal records. Finally, you must include the first Schengen country you'll be visiting during your travels.
2.You must then, revise that the information from above is correct, and there are no writing errors. You will then make the online payment for the ETIAS fee.
3.Once you have finished, you need to submit your form and wait for results.
What is the average Austria ETIAS validity?
The ETIAS validity does not have a specific duration for all travelers. It can be valid during the period of your planned trip or for up to 3 years. The final result depends on your ETIAS application and how the system reads and processes your information. During the duration of your ETIAS, you are allowed to visit the Schengen countries with the multiple entries option.
What documents are needed to apply?
By being an accessible and straightforward process, the Austria ETIAS application form only asks of the applicant a biometric passport, an email address, and a digital form of payment.
There are some considerations to keep in mind about the passport and application:
Your passport should be machine-readable. This refers to the lines below your main picture that has numbers and letters.
If the passport has an electronic chip it could be an advantage, but not a crucial factor.
Have prepared a clear digital photo if requested to upload to the system.
Do minors pay for the ETIAS?
For foreigners visiting the Schengen region, nationals of Schengen visa-free countries are required to enter with an approved ETIAS document. This authorization is necessary for every citizen of those countries and no matter their age. The price could be cheaper or free for travelers under the age of 18 and over the age of 70.
What does the Austria ETIAS cost?
The cost of the ETIAS will not be a financial debt and is accessible to all applicants from different countries. When it starts working, the ETIAS application fee will be about €7 each time you apply. There will be some modifications if you want to request a faster processing speed to get your results quickly.
Can I reapply if my ETIAS is denied?
In the case that your application process is denied, you will get a notification mentioning the factors that led to that final decision. With this information, you can decide to appeal the results or reapply for the ETIAS after correcting any errors mentioned in the rejection message.
How safe is it to make my ETIAS payment with iVisa.com?
iVisa.com understands that trusting a digital website with your personal details and payments is challenging. But, on iVisa.com, our customer details are highly secure.
The platform uses the most reliable security software to protect websites and databases and the information within them. Your information will be protected by high-security measures and used only for your ETIAS application process with iVisa.com.
You can review some of our clients' comments about our services here.
Who can I contact for more details on ETIAS?
To address any additional questions regarding the Austria ETIAS, you can send us an email for assistance. You will also find more information on the iVisa.com Website.