With a broad spectrum of activities on offer, be it outdoor sports or a trip to one of the many culturally rich historical sites, Austria leaves all your senses feeling satiated. Whatever your area of interest, this beautiful country has something to offer for everyone. Continue reading to find out about how you can create an application for Austria ETIAS - an online authorization that can be obtained in a matter of minutes with iVisa.com.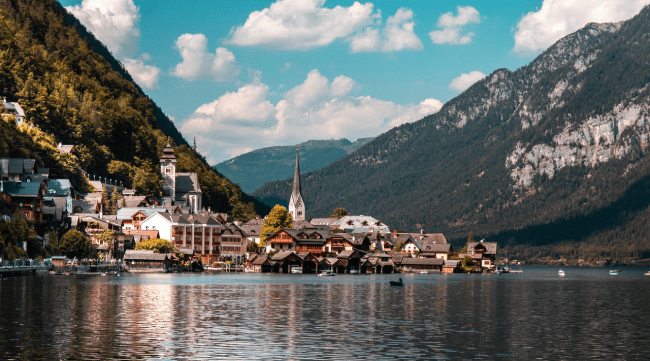 Get your itinerary ready while we take you through some of the questions you might come across when filling out iVisa.com's online form. We're here to help you take note of all the tips and tricks, and safely check-mark all the documents required to get the ETIAS. So go ahead, invest a few minutes, and go through our FAQs listed below.
Frequently Asked Questions (FAQs)
WHAT IS THE AUSTRIA ETIAS AND WHY DO I NEED IT?
The European Travel Information and Authorization System or ETIAS was created by the EU Commission to ensure the security of the external borders of the European continent, and prevent any and all possible threats. The American ESTA, Canadian, and Australian eTA are all similar travel authorization systems.
Keep reading to understand more about how to get the ETIAS for Austria.
I AM FROM MONTENEGRO, DO I NEED THE ETIAS?
Yes, you do! This ETIAS travel authorization document will be issued and valid for 3 consecutive years and will allow you to visit Austria for business, medical or transit purposes and is required if you are a citizen of one of the 62 countries listed that require this particular authorization. Montenegro is one of these countries.
To see whether you can apply for the Austria ETIAS, check out iVisa.com's Visa Checking Tool which opens up as you enter the iVisa.com website.
HOW CAN I APPLY FOR THE ETIAS?
At iVisa.com, we take it upon ourselves to guide you through the steps in an easy and efficient manner - in just three simple steps!
#1:Fill out the online application form by answering some selectively chosen questions, and picking the procedure time you prefer (more on this further down).
#2:Confirm the information you previously entered in Step 1. Next, use your credit/debit card or Paypal account to pay the processing fees.
#3:Finally, you have to upload the documents required in relation to your nationality and hit send!
Let us take care of the rest. Do you feel ready to get started? Click here to begin your online application.
WHAT DOCUMENTS WILL I NEED FOR ME AND/OR MY CHILDREN?
The only major document you will need to apply is a valid passport.
Every visitor will need to present a travel authorization upon their arrival in order to enter. For minors, only the legal guardian can apply for ETIAS and family members of EU citizens from other countries must submit - proof of relationship, residence card, and other background information.
However, try to make sure that you have the following in addition to your passport:
An electronic passport chip on the passport– not mandatory, but would provide an advantage
A valid email address
A credit/debit card or Paypal account to pay the fees.
Have more questions? Ask our customer agents ASAP!
WHAT ARE iVISA.com'S PRICES & PROCESSING TIMES?
Here is some information about the same so you can have a better idea in mind while creating your application:
Standard Processing Time: this is the least expensive option available and the one generally taken up by travelers who are not in a rush.
Rush Processing Time: according to this method, you will be able to receive your document much faster than the standard time at a slightly higher fee.
Super Rush Processing Time: this alternative is the fastest of all the processes. We will push your request to the top of the queue, for a service fee higher than the Rush, but one that allows us to process your documents as quickly as possible.
Want more information about our payment processes? Click here to know more.
IS IT SAFE TO USE IVISA.com TO GET MY ETIAS?
100%! iVisa.com has a completely trustworthy and reliable system, built using modernized technology that protects your information and avoids any and all unauthorized access to it. You can rest easy knowing that all the details you enter on this website are safe.
Don't believe us! Check out our customer reviews and see for yourself!
I HAVE MORE DOUBTS, WHERE CAN I GET THEM ANSWERED?
If you've come this far, you're already set to get your documents and applications in place. However, if you still have any other questions in mind - we are happy to help! Contact us with any doubts via chat, or learn more details about this process by checking iVisa.com's webpage.
There you have it. You're ready to go! Plan your trip with us by filling out the ETIAS form and let us take care of the rest of the mundane details.