Austria is frequently listed as one of the best places to live in Europe, and we agree!
Safe, clean, and affordable, this small country has an intricate and interesting history; but also surprises the traveler with its contemporary art, cutting-edge architecture, and innovative cuisine.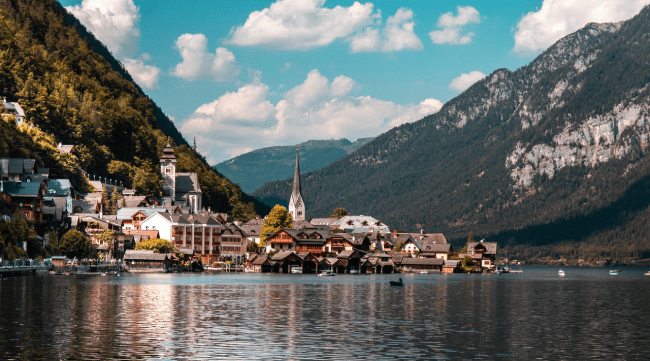 Do not stop reading this article because you will learn a lot about Austria ETIAS.
The country of Austria is a unique mix of the old and new. While it preserves its rich cultural and eloquent past, the standard of life has evolved. If you are looking to experience Austria and its pristine beauty, we at iVisa.com would like to make this happen for you, hassle-free!
Check out the online form iVisa.com's online form and keep reading the FAQs to learn how to fill it out.
Frequently Asked Questions (FAQs)
WHAT IS AN ETIAS?
Austria has introduced an EU visa waiver scheme which will require non-Europeans to apply in advance for a travel authorization.
European Travel and Information Authorisation System or ETIAS is like a visa but easier. It will be a reality from 2022 onwards. You can take a look at more ETIAS info here.
WOULD A CITIZEN OF PANAMA NEED AN ETIAS TO TRAVEL TO AUSTRIA?
Yes. ETIAS is a new necessity for citizens from countries exempt from the Schengen visa. The non-EU citizens who plan to travel to Austria will need an ETIAS visa waiver to enter Austria and the entire Schengen Zone.
The good news is that the ETIAS application process is quick and easy. You will be able to access this from home, so there is no time wasted making appointments and standing in lines at an embassy or consulate!
Citizens of Panama must get an ETIAS to visit Austria. Keep reading in order to understand how or check out the iVisa.com application form.
WHAT IS THE APPLICATION PROCESS?
iVisa.com has a super simple process that will not take you long to complete. You just have to follow these 3 steps:
Step 1: fill in the online form and choose the processing time that you want
Step 2: review the information to avoid any mistakes and then make the corresponding payment (credit/debit card or Paypal account)
Step 3 upload your documents and submit your online form.
To know more about eligibility criteria click here: iVisa.com's Visa Checking Tool or visit the iVisa.com homepage.
WHICH DOCUMENTS WOULD I REQUIRE TO APPLY FOR AN ETIAS?
Apart from the basic background questions regarding your nationality, the only things you will need are:
Passport scan: this must be visible and must have a valid date.
A photo: if you use iVisa.com photos, you will have a perfect photo.
E-mail address: provide an email that you use frequently.
Want to apply for an ETIAS? Click here: Click here to fill out
TIME AND EXPENSES INVOLVED IN THE PROCESS?
We have three payment options depending on your need for assistance and budget. They are:
Plan 1: The "Standard" - basic services for a moderate waiting period.
Plan 2: The "Rush" - a quicker option for a relatively higher price.
Plan 3: The "Super-Rush" - useful for immediate journeys that require a fast-tracked process.
For more information, feel free to contact one of our operators.
DO I HAVE TO WAIT TO RECEIVE THE ETIAS?
Just about 15 minutes!
However, this happens only when everything goes smoothly in your online application and you have all the documents needed.
In the case of any dispute, it will be resolved within 2 weeks at the most. Take a look at the iVisa.com ETIAS form to see how easy it is yourself.
HOW LONG IS MY ETIAS VALID FOR?
Once you receive your ETIAS, it will be valid for 3 years.
So try to use your ETIAS in the established time to avoid any inconvenience.
Apply now and get to know Austria firsthand!
IS IVISA.com SAFE?
iVisa.com has the most secure and reliable systems in place to protect your information while easing the hassle of the usual application processes. We have a long time processing different types of documents and making the dreams of many travelers come true.
You can check the reviews of our customers.
HOW CAN I KNOW MORE?
In case you do have any other questions in mind here is what you can do:
Apply now for your Austria ETIAS with us!