Austria has been a member of the United Nations since 1955 and joined the European Union in 1995. It plays host to the OSCE and OPEC and is a founding member of the OECD and Interpol.
Austria's cuisine is derived from that of the Austro-Hungarian Empire. It is famous for its well-balanced variations of beef and pork and countless variations of vegetables. There is also the "Mehlspeisen" Bakery, which created particular delicacies such as Sachertorte, "Krapfen" which are doughnuts usually filled with apricot jam or custard, and "Strudel" such as "Apfelstrudel" filled with apple, "Topfenstrudel" filled with a type of cheese curd called "topfen", and "Millirahmstrudel".
Austria is the land of the lakes. Many of them are formed from Pleistocene Epoch--thousands of years ago. It formed when the glacial erosion scooped out of the mountain lakes in the central Alpine district, mostly around the Salzkammergut district. The largest lake in the west is Lake Constance. The marshy Neusiedler Lake is the largest in the East region.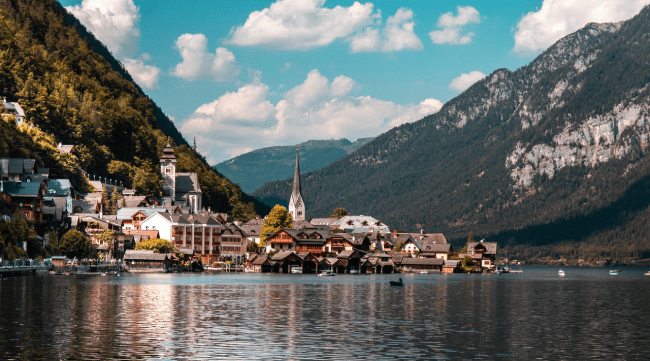 You will need a Visa if you are from Qatar and are planning to visit Austria. The following FAQs will help you to understand all about Austria Schengen Visa for Citizens of Qatar.
iVisa.com makes the application process easier. You can click here Austria Schengen Visa for Citizens of Qatar for more info.
Frequently asked questions
I have a Qatar passport, do I need a Visa to visit Austria?
If you are from outside of Europe, you will require a Visa to visit Austria. This applies to Qatar citizens as well. You can find more info Austria Schengen Visa for Citizens of Qatar on how you can start your application process.
What are the documents required to apply?
To apply for Austria Visa you will need the following documents:
A valid passport that has at least 6 months of validation.
Your email address through which you will receive your Visa.
Your professional photo iVisa.com professional service can help you to get one.
valid payment options like, Paypal or Debit/credit card to pay fees.
How do I process my Visa?
You have to follow the following steps to fill out your application:
First, fill out all your details in the iVisa.com application form. Choose a processing time that is suitable for your travel needs.
Second, Make sure all the details you entered are correct, after verifying you can pay the fees online using Paypal or debit/credit card.
Third, The last step is to scan and upload your passport and other documents. Click on the 'submit' button.
What are the processing times and prices?
At iVisa.com you will find three options to process your application form.
Standard processing time– This is a standard option that will allow you to receive your Visa at an affordable cost.
Rush processing time – Through the Rush processing option, you will receive your Visa very fast. But the price is a bit more expensive than standard service.
Super rush processing time– As the name suggests, it is the most expensive option. But You will receive your Visa asap.
Click on Austria Schengen Visa for Citizens of Nigeria for more info.
Is it safe to use iVisa.com to get my Austria Visa?
Yes, it is very safe and reliable to use iVisa.com as your service provider. We have a strong database that protects all your info. You can also look at the customer reviews that will tell you the quality of work we do for our customers.
I have more unresolved questions, where can I find more info?
You can contact our customer service for any further questions or doubts. Our customer service is available 24/7 to help you.