Austria is a classical stop when visiting Europe. You can visit the spectacular Vienna Hofburg (Austria's Imperial Palace), which has 2,600 rooms and was home to Emperor Joseph II from the powerful Habsburg family. This special site has 19 courtyards that you can walk around if you decide to visit Austria.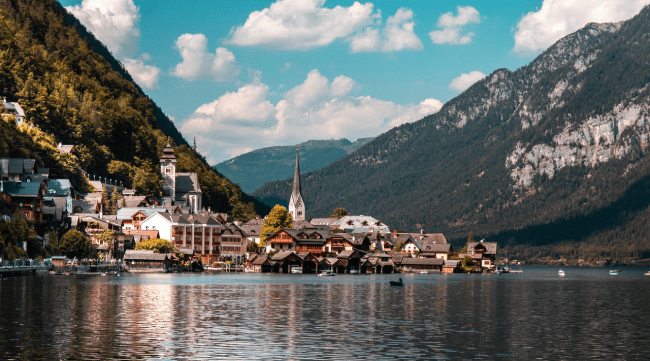 The European Union is implementing a new electronic system call ETIAS and travelers who want to visit Austria will have to comply with this entry requirement. Countries exempt from a visa to the Schengen area will need to acquire an ETIAS.
We are sure you want to visit Austria, for this reason, iVisa.com has the ETIAS process in its platform. Get this simple, fast, and reliable process with iVisa.com and start your journey!
Continue reading about Austria ETIAS.
Frequently Asked Questions (FAQs)
What is an ETIAS?
ETIAS is the European Travel Information and Authorization System. This is the new entry requirement for citizens traveling to Schengen countries that are not required a visa. Canada is among the 62 countries that don't need a Schengen visa, therefore, citizens of Canada will be required an ETIAS.
The main reason to implement ETIAS is safety. Due to high crime rates and illegal immigration, the EU wants to collect further information from travelers with ETIAS, as this could stop illicit activities.
It's time to travel to Austria! Begin the application.
Is ETIAS a visa?
No, ETIAS is not a visa. A visa demands a more complicated process, from appointments at the embassy to extensive paperwork. ETIAS is easy, you only need an Internet connection and complete a 100% online form. iVisa.com makes it even easier, you can explore the application here.
As well, travelers who don't require a visa to the Schengen space are the ones who need an ETIAS. This is the case of Canadians who require an ETIAS if they want to visit Austria or any other Schengen country.
Go to the application page and start with iVisa.com!
How many countries can I visit with ETIAS?
ETIAS is valid for the 26 countries part of the Schengen agreement which includes Austria. We recommend going to the iVisa.com's Visa Checker in case you are wondering if all the countries on your trip are Schengen.
Any doubts about this? Get in touch with the support team.
How long is the Austria ETIAS valid?
The ETIAS can be used for 3 years and you can have as many trips as you want. But you can stay a maximum of 90 days in a 180-day period.
Austria can be your next destination, start applying here!
What info do I need for Austria ETIAS?
The electronic questionnaire will request details about name, address, date of birth, parents' information, etc. You could be asked about criminal records, health conditions, and previous trips to risky countries. Be honest with your answers, as these will be cross-checked with other international databases.
The next requirements are relevant too:
The scan of your passport with a clear view of your picture and info.
A valid email address, so you can get the ETIAS electronically.
Payment options, iVisa.com provides two alternatives for payment, whether you use a Paypal account or a credit/debit card.
Which are the waiting times to get ETIAS?
iVisa.com knows that time is important, so you can choose between the next options:
Standard service, the most common service to acquire your ETIAS.
Rush service, if you are in a hurry, then get a faster service.
Super rush service, almost no waiting time for the highest price.
Not sure what to choose? Contact customer service to give you the best advice.
What is the process for the Austria ETIAS?
First, answer all the questions in the electronic form. Then pick a waiting period (Standard, Rush, or Super Rush). Second, review your form in case you made some mistakes and correct them. Proceed to pay with a credit/debit card or using a Paypal account. Attach the documents required, like the scan of your passport.
After these three steps, you will receive your ETIAS! Go to the application page and start now!
What will I receive in my email?
Providing a valid email address in your application is very important because iVisa.com will send the ETIAS document to that email. After receiving the email, keep it safe or print it so you can show it to immigration officers upon arrival. EU immigration has the final decision for your admission; for this reason, iVisa.com recommends having all the correct ETIAS documentation when entering the Schengen area.
How safe is ETIAS with iVisa.com?
It's 100% safe. iVisa.com counts with top-notch systems and teams are constantly getting training about safety procedures, therefore, iVisa.com works with the highest safety guidelines. Go to our customers' reviews and see the satisfaction around iVisa.com's services.
I have some questions, who should I contact?
Contact the support team that is available 24/7. We will answer questions about ETIAS or any other travel document you might need.
Apply now and get your Austria ETIAS!