In an era of new travel regulations, you must have a few questions in mind like "Can I drive through Austria COVID?" Here, you can find the information that applies to your questions. Austria currently restricts the entry of most travelers arriving from outside the European Union to reduce the spread of COVID-19. The entry ban includes travelers arriving from the United States. There are a lot of COVID restrictions, but you can transit through Austria without stopping or unnecessary delay.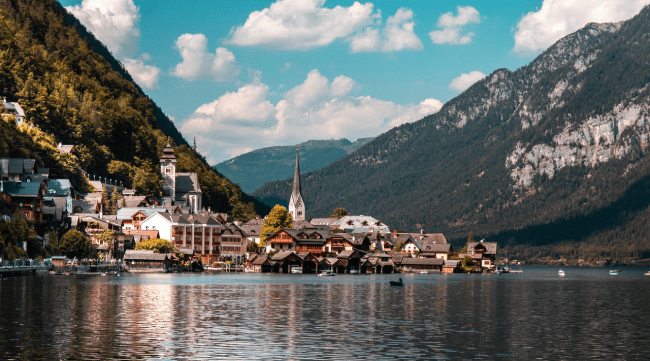 The COVID restrictions apply according to your purpose of travel. Some entry requirements are a negative PCR SARS-CoV-2 test result, Pre-Travel-Clearance, and more. Get your travel documents processed in time with iVisa.com. Keep on reading this article for more information on your question "Can I drive through Austria COVID?
How can I get the Austria Pre-Travel Clearance with iVisa.com?
Visit the application page on the iVisa.com website.
Fill in some basic information about yourself and your trip.
Select a processing option.
Our experts review your application and let you know if there are any problems.
You will receive the document via email.
Print or display the travel document at the airport in Austria.
Get your Austria Pre-Travel Clearance with iVisa.com.
Frequently Asked Questions
Can I drive through Austria COVID times?
You can drive through Austria during COVID, making no stops and unnecessary delays. They implement the COVID restrictions according to the purpose of the visit. Regular commute and entry for particular considerable reasons are exempted from mandatory testing and quarantine. Visit iVisa.com's webpage for more details on "Can I drive through Austria COVID?"
Do I need a COVID vaccine or vaccination certificate to enter Austria?
No, you don't. As of today, COVID vaccination passports or certificates are not a mandatory to enter Austria. Now if you are a Covid vaccine certificate holder, you won't need to present a negative PCR test nor to follow a quarantine if you are traveling from a "country with low incidence rate". Since information may change quickly, we advise you to follow up on the latest Austria travel updates and/or contact your local embassy.
What do you mean by an Austria Pre-Travel Clearance?
You must register electronically in advance and obtain a pre-travel clearance (PTC) before arrival in Austria. You will have to show the PTC (digital or a hard copy) at the border. You do not require this document for transit alone. Visit the application page on iVisa.com's website for more information on Austria Pre-Travel Clearance (PTC).
How much does it cost to get Austria Pre-Travel Clearance?
iVisa.com charges a small fee for its service. It provides three options to choose from:
Standard processing option: This option is the cheapest , so you will be charged accordingly.

USD 20.00

-

24 hours

.
Rush processing option: This option is faster; your application is available much faster than the option above and it's a little more expensive

USD 35.00

-

8 hours

.
Super Rush Processing option: This is the fastest option, and it allows you to get your documents ASAP. But this is the priciest option

USD 60.00

-

4 hours

.
Visit the application page for more information on Austria Pre-travel clearance.
What are the requirements to get the Austria Pre-Travel Clearance?
You need certain items to complete the application form. They are as follows:
Valid passport: to complete the application form.
Payment method: You can use a credit or a debit card to pay the application fee or PayPal.
Email address: the final document will be sent via email. If you need more details on Pre-travel clearance, visit iVisa.com's application page.
What are the steps to complete the application process?
iVisa.com offers a simple application process. Just follow these steps.
First, fill the application form here. Then choose your processing time to your convenience.
Second, verify and double-check the information sent. Make payment through PayPal or cards available.
Third, upload the required documents online.
If you need help, you can contact our customer support team. They are available 24/7.
Where to find more details on Austria Pre-Travel Clearance?
If you need further information on Austria pre-travel clearance, visit iVisa.com's webpage. If you need personal assistance, contact our customer support agents. You can also contact us via email at help@iVisa.com.
Is it safe to use iVisa.com?
Your information is made secure by using advanced software. iVisa.com has a team of professionals to handle your information. Check out the comment section for more details.
Apply now with iVisa.com.
iVisa.com Recommends
Austria is a country that is as well known for its scenic beauty as it is for its cultural activities. Situated in the Alps, it is a very popular place with skiers and hikers, but it is also a country that gave the world an important musical heritage, ranging from the classical composer Mozart to the Strauss waltzes and the Von Trapp family whose story was told in The Sound of Music. Located in Hohe Tauern National Park, the spa town of Bad Gastein is well known for its Belle Époque buildings surrounded by mountains and fog-free air. At 3,000 feet above sea level, visitors flock to Bad Gastein to breathe the pure mountain air, soak in its hot springs and partake of spa treatments. Bad Gastein also is popular with outdoorsmen, who like to ski in the winter and hike or bike mountain trails in the summer. Carinthia's biggest lake, Worthersee, is one of Austria's most famous summer destinations. It appeals not only to those who want to canoe across the lake, but also spelunkers who will want to check out several caves, including Griffen Stalactite Cave, which is considered Austria's most colorful cave. Those who enjoy visiting cathedrals won't want to miss the Cathedral of Gurk, which dates back to the 12th century, while vintage car enthusiasts may enjoy a visit to Gmund, the birthplace of the Porsche.
Start your application for the Austria Pre-Travel Clearance now you know the answer to your concerns relating to can I drive through Austria COVID.