Are you traveling to a country and transiting through Austria? You must be worried about questions like can I transit through Austria during COVID? Yes, you can transit through Austria as per the latest announcement. However, every visitor entering the country must have a Pre-Travel Clearance Form before their trip.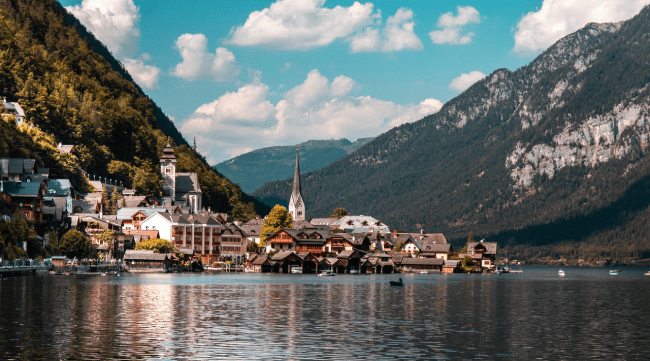 To obtain a Pre-Travel Clearance Form, you can contact iVisa.com and take advantage of our amazing services. We have a team of experts who are available 24/7 to assist you at every step of the application.
What is the procedure to obtain a Pre-Travel Clearance Form with iVisa.com?
With iVisa.com, you just have to follow a simple procedure to obtain a Pre-Travel Clearance Form:
Go to our webpage and fill out an Application Form with your information.
Choose the processing speed.
Our experts will review your application and ask for modifications if needed.
Take a print of your received e-copy of your document or use it as it is.
Our services are perfect for those who are busy with their daily chores and don't have time to apply.
Why is it important to apply in advance?
Applying in advance is important to get a perfect error-free document on time even if you forget about it. We just need your travel dates and we will get your document ready by then.
Can I transit through Austria during COVID? If you need more information about that you can go through the section given below:
Frequently Asked Questions
What is a Pre-Travel Clearance Form?
A Pre-Travel Clearance Form is a travel-related document that has been mandated by the government of Austria for every visitor entering the country to keep a track of them. You have to provide the details of your recent contacts, trips, and current health status. Can I transit through Austria during COVID? Yes, you can!! Explore More.
Which risk category is my country?
Safe countries: Andorra, Belgium, Bulgaria, Croatia, Cyprus, Czech Republic, Denmark, Estonia, Finland, France, Germany, Greece, Hungary, Iceland, Ireland, Italy, Latvia, Liechtenstein, Lithuania, Luxembourg, Malta, Monaco, Netherlands, Norway, Poland, Portugal, Romania, San Marino, Slovakia, Slovenia, Spain, Sweden, Switzerland, Vatican City, Australia, Canada, Hong Kong, Jordan, Kuwait, Macau, New Zealand, Qatar, Rwanda, Saudi Arabia, Singapore, South Korea, Taiwan, Uruguay and Vietnam.

Virus variant countries: Botswana, Eswatini, Lesotho, Mozambique, Namibia, South Africa and Zimbabwe.
Do I need a COVID vaccine or vaccination certificate to enter Austria?
No, you don't. As of today, COVID vaccination passports or certificates are not mandatory to enter Austria. Now if you are a Covid vaccine certificate holder, you don't need this document and you won't need to present a negative PCR test nor to follow a quarantine.
Accepted vaccines are BioNTech/Pfizer, AstraZeneca, Johnson & Johnson, Moderna, Sinovac and Sinopharm.
You are considered vaccinated:
if you have received both doses of AstraZeneca, Pfizer, Moderna, Sinopharm, or Sinovac; OR
starting on the 22nd after your one Johnson & Johnson dose; OR
if you have had a COVID infection and have received one vaccination dose (proof of past infection required)
Do I need to take a COVID-19 PCR test before traveling to Austria?
COVID test prior to arrival: PCR within 72 hour for unvaccinated travelers
COVID test exemptions: Children under 12 and travelers with a certificate of vaccination or recovery from COVID-19 are exempt from testing requirements.
Do I have to quarantine once I arrive in Austria?
Quarantine requirements: 10 days for unvaccinated travelers and travelers without proof of recovery from non-safe countries
Quarantine testing: Day 5 PCR to end quarantine early
Quarantine exemptions: Travelers coming from safe countries who can show proof of negative test/vaccination/past infection are exempt, along with travelers from non-safe countries with proof of full vaccination/recovery. Children up to the age of 17 are able to enter Austria with no need to quarantine if accompanied by fully vaccinated or recovered adults.
What are the processing options for the application for a Health Declaration Form?
You can get three customized options for the processing for the application for a Health Declaration Form with iVisa.com:
Standard Processing Option: Pay a basic amount

USD 20.00

and receive your document in

24 hours

.
Rush Processing Option: Pay a higher fee

USD 35.00

and get your document a bit earlier

8 hours

.
Super Rush Processing Option: Pay the highest amount

USD 60.00

and obtain your document as soon as possible

4 hours

.
Navigate Here to Learn More about can I transit through Austria during COVID.
What are the essential items to apply for a Pre-Travel Clearance Form?
You must have some items to apply for a Pre-Travel Clearance Form:
A scan of your valid passport.
A valid email address.
Mode of payment such as a credit/debit card or a PayPal account.
Is iVisa.com a reliable option?
Yes, iVisa.com is a reliable option to Obtain a Pre-Travel Clearance Form as we utilize advanced security systems to store your data safely.
How can I clear my doubts?
To clear your doubts, you can contact our customer care executives or visit our website.
iVisa.com Recommends
Visiting Austria gives you an opportunity to see different places with a cultural mix of values and lifestyles. Along with these breath-takingly beautiful places, you can also enjoy the amazing local food items of Austria. We have picked a few food recipes that you must try when in Austria. Wiener Schnitzel is a deep-fried and breaded meat dish that is usually prepared using veal. To give this relishing recipe a crispy texture, the veal is butterflied and beaten with eggs and bread crumbs. Mostly this recipe is served with kopfsalad or potato or cucumber salad. Another finger-licking recipe that you cannot miss during your trip to Austria is Wiener Wurstchen, which is a unique Viennese sausage and is served as a fast-food item in the country. These thin, long, and tasty food items are truly delicious. And when you visit Austria, you must try these recipes.