Austria is a wonderland for winter lovers. Beautifully located in Central Europe, bordering eight different countries in the area is a great destination for winter sports and activities. There are about four hundred ski resorts in the country where visitors can stay and enjoy the scenery and practice some sports such as skiing or snowboarding.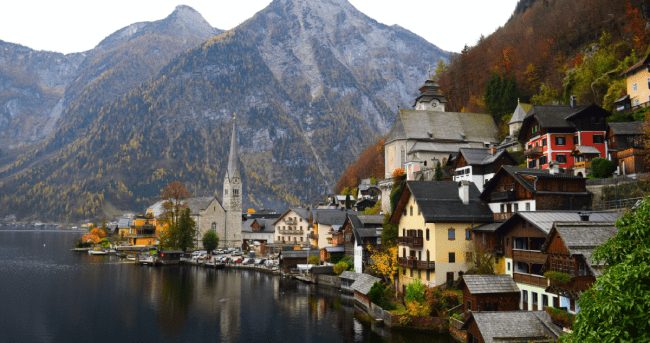 From practicing some ice skating in one of the various lakes, doing some winter hiking while admiring the spectacular scenery of the alpine summits, enjoying a ride in the railways that go through the Alps between mountain flanks past glaciers and through flower-freckles meadows, or visiting the Christmas markets and partaking in some of the Austrian Christmas traditions, there is more than enough to help visitors make the most out of the winter months.
To visit this amazing destination you will need to apply for an Austrian Schengen Visa, scroll down to read vital information about the Schengen Visa and how you can get yours without much effort through iVisa.com
Frequently Asked Questions
What type of visa will I need to travel to Austria?
Austria is one of the twenty-six European countries that are part of the Schengen Area. Citizens from certain countries that are not part of the Schengen Zone or the European Union, will need to apply for a Schengen Visa to enter Austria. This visa allows you to travel to Austria and also to move freely inside of the Schengen Area visiting multiple countries if you wish, this includes all of the twenty-six member countries.
How can I confirm if I am eligible for an Austrian Schengen Visa?
To confirm if you are eligible to apply for a Schengen Visa to visit Austria, you can use iVisa.com's Visa Checker Tool. Please remember that most citizens from non-European countries will need a type of permit to enter the Schengen area. You can confirm if you are eligible for a Schengen Visa by using the tool mentioned at the beginning of this paragraph.
How long can I stay in Austria with my visa?
The Schengen Visa will allow you to stay in Austria or the Schengen territory in general for a maximum of ninety days, this time can be spent in one single country or multiple countries inside the territory. If you would like to know more about this specifically, do not hesitate to reach out to our customer agents they will gladly give you more information.
What is the process to obtain my Austrian Schengen Visa?
iVisa.com has a smooth and secured process set for you to obtain your Schengen Visa. This process can be completed in only about ten minutes by following three simple steps:
First, fill out the application form with the required information.
Second, revise all of the fields in the form and confirm that your information is correct.
Third, you will also need to provide specific details and documents, after that, you will be ready to submit your application.
What documents will I need for my Austrian Schengen Visa application?
To apply for your Schengen Visa, you will need to complete the application form and also provide the followings:
A valid email address where you will receive official information and your electronic document (ETIAS).
A scanned copy of your current passport
A payment method. You can choose from a credit/debit card or PayPal.
What are the processing times and prices for the Schengen Visa application?
You can find three options on iVisa.com, times and prices in them vary. All three are great and you can select on your application form the option that works better for you according to your needs:
Standard option, to pay an affordable price and wait a considerable time.
Rush option, you can choose to pay a bit more and wait a bit less.
Super rush option, if you can pay a higher rate to enjoy a minimum waiting time.
Why should I use iVisa.com to apply for my Schengen Visa?
You can read our customer's reviews to learn about their great experiences using our services to process their documents. We have also listed a few reasons why we consider you should use iVisa.com to apply for your Schengen Visa:
You will save time and effort. Our team handles the boring part for you!
We have an entirely online process. Apply comfortably from wherever you are.
Your information and documents are treated under a greatly secured system.
There is a team of excellent customer agents ready to help.
Where could I find more information about the Schengen Visa for Austria?
If you are planning your trip to Austria and want to find more information about the Schengen Visa or any other travel documentation, you can get in touch with our customer service agents. They are available 24/7 and will give you all the information that you might need.
Visiting Austria soon? Apply here for your Schengen Visa.