If you want to experience a place full of baroque architecture, imperial history, and alpine terrain, then Austria is your best option. But if you have a Serbian passport, soon you need to apply for an Austria ETIAS before entering this country.
If you are wondering how you can obtain this document, don't worry, you'll be relieved to know that you can receive it through a safe and simple online process. Also, in this article, you can read other important details about the Austria ETIAS for the Citizens of Serbia.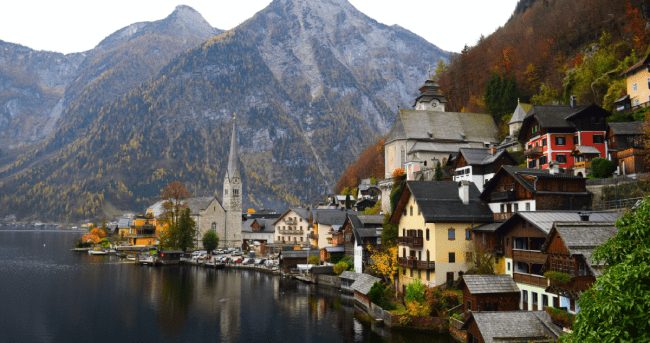 Security might be an important topic for you, especially if you enter personal information through an online form. Therefore, you should know that iVisa.com has official authorization to deliver the Austria ETIAS the fastest way possible without risking your security. The difference between iVisa.com and the official ETIAS web page is that iVisa.com allows you to get the document by simply completing an effortless online form that won't require a lot of time.
We recommend you give yourself a few minutes to read the following FAQs so that you have everything ready for your next adventure to beautiful places like Vienna and Salzburg.
Frequently Asked Questions / FAQs
What is the meaning of Austria ETIAS?
ETIAS is the acronym used for European Travel Information and Authorization System, so it's not unique to Austria, but to various countries in Europe. This system will offer a travel authorization that will be required by citizens of at least 62 visa-free countries, including Serbia if they're planning to enter the Schengen Area.
With the ETIAS, the immigration authorities will be able to manage the entry of travelers into the Schengen Zone, and they'll be able to control illegal entries by checking information of every traveler through their databases.
This document will be mandatory by 2022, so we recommend you consider it if you're planning an upcoming trip to Austria because Austria is part of the Schengen Area.
Is the ETIAS the same as a Schengen Visa?
The ETIAS application form can be confusing, so we prefer to inform you at once that this document is not the same as a Schengen Visa. You can use the ETIAS only if you want to enter the Schengen Zone. But, if you want to work, study or live for more than 90 consecutive days in a Schengen country, then you'll require another document and not the ETIAS. In this case, you'd probably need a Schengen Visa.
The Schengen Visa can be also necessary if you're not from a visa-exempt country. You can choose from any of the following Schengen visas: Uniform Schengen Visa, Limited Territorial Validity Visa, Schengen Tourist Visa, and National Visa.
We suggest you consider this information before planning your trip. If you want to know as soon as possible if you're eligible for the ETIAS or not, then just use iVisa.com's Visa Tool. Once you're on the website, choose your nationality from the drop-down menu and then pick any Schengen country as your destination, which can be Austria in this case.
How many countries are part of the Schengen Zone?
The Schengen Zone has 26 members at the moment, and these are: Austria, Belgium, Luxembourg, Netherlands, Germany, France, Spain, Portugal, Sweden, Finland, Denmark, Lithuania, Latvia, Estonia, Poland, Slovakia, Hungary, Slovenia, Italy, Greece, Czech Republic, Malta, Iceland, Liechtenstein, Norway, Switzerland. You will be able to use the ETIAS in any of these countries.
What's important to remember is that if you decide to travel to Austria first on a tour of countries, then you should select "Austria" as the destination when you're applying online for your ETIAS, whether you apply on the ETIAS official website or iVisa.com's online form. If you follow this recommendation, your ETIAS will be valid and you'll be able to enter Austria first and then other countries in the Schengen Zone.
You should also remember that this document has a 90-days limit unless you apply for a different document or you ask for an extension to your time abroad.
In other words, if you decide to visit more than one country in the Schengen Zone, then you'll need to select the first one you will arrive in on the ETIAS application form.
What requirements do I need to apply for Austria ETIAS?
Since iVisa.com has a user-friendly online system, the application form is quite simple and you'll only need a short list of requirements:
A valid passport with a copy of the information page.
A valid email address
A credit/debit card or Paypal account to pay the fees.
What are the prices and processing times?
The ETIAS application form was recently launched, so it's not possible to give you the exact price because it can differ from nationality to nationality. However, at iVisa.com we acknowledge that you might need to identify at least a standard cost, so we can provide you with information about our processing options:
Standard Processing Options: Standard waiting (probably a few days or even a day in some cases) and the least expensive price.
Rush Processing Options: It has a higher price because the processing takes less time.
Super Rush Processing Options: This is the most expensive option because your document is ready in the fastest time possible.
How can I apply for my ETIAS?
With iVisa.com you'll be able to get your ETIAS through a simple method that won't take you more than 20 minutes:
First, you need to fill the application form with your personal details and choose your processing time
Second, you need to review your information and then pay for the service.
Third, you need to provide a valid email address and attach the documents required so you can send the online form.
Always remember that we don't charge you anything unless you authorize us. It means that you won't need to pay anything until you know the exact cost. If you have doubts about it, you can get in touch with our customer service center.
Click on this link if you're ready to apply.
Is it safe to use iVisa.com?
The system that iVisa.com created maintains your information totally protected. All the data you give can't be leaked, and we're an authorized company to offer you the ETIAS of each country. Read our reviews if you have any queries about iVisa.com's service.
Where can I find more information about this document or other travel documents?
You might have more questions about this online method, which is why we remind you that you can contact our customer service center if you want personal attention. But, you can also visit iVisa.com's webpage if you'd like to read other FAQs and useful tips about more travel documents.