Understand why so many tourists want to visit Austria by walking through their maze of Baroque buildings and art museums. Its historical residencies and royal palace complexes are classically kept to share with locals and foreign visitors their culture and part of their history.
But, Austria is not all about music and architecture; it also amazes everyone with its breathtaking lakes and whimsical mountains. Its landscapes are just as enjoyable if you go during the summer or winter, when the only changes (other than the temperature) are the activities. You can choose between going for a cruise ride across the lakes and skiing down the highest Austrian Central Alps.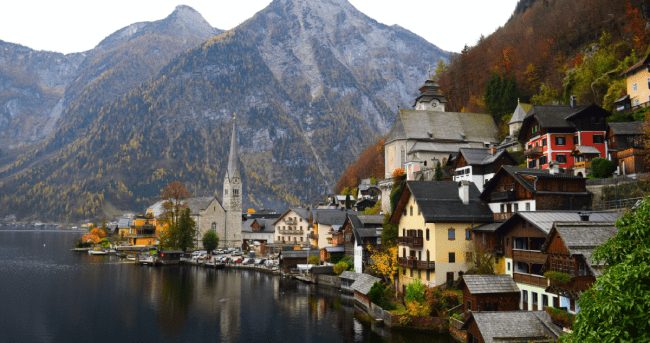 All of these great ideas of discovery and adventure will still be available for visitors in Austria with the additional condition that they will soon require an ETIAS document. The ETIAS is a travel authorization that will analyze beforehand the passengers' information to be sure that they are not a threat to the Schengen countries. This document will only be requested for and available to citizens from Schengen visa-exempt countries.
Now that you know you will need an Austria ETIAS to visit the Schengen region, you must also confirm if the country of destination requests a Health Declaration Form from your home country or not.
Before applying for ETIAS, read these FAQs where we include everything you need to know about the Austria ETIAS requirements so you can understand every detail about it.
FREQUENTLY ASKED QUESTIONS
Why do I need ETIAS to visit Austria?
Travelers that want to visit any of the Schengen Zone countries will have to apply for an ETIAS authorization before arriving. The digital document is part of the new security enforcement and reflects the new measures that they want to use in the region.
Do children need ETIAS?
All foreigners that plan on visiting the Schengen region must apply for an ETIAS despite their age. What may vary is the payment fee for for travelers under the age of 18 and over the age of 70.
What should I consider when applying for ETIAS?
Your application form, once submitted, is sent to be analyzed by ETIAS; this means going through a thorough revision between international immigration databases and verifying the information you provided.
In your application form for the Austria ETIAS you should follow the suggestion of double-checking your details to ensure there is no mistake in writing and that everything is updated.
When active, the ETIAS will be an improvement on the current border management and security measures through the Schengen area.
How can I apply for ETIAS?
Numerous systems and databases have been put together to make the Austria ETIAS application process accessible and straightforward. To submit a filled form with iVisa.com, you only need to follow these steps:
Fill in your ETIAS application form with your personal information, as shown on the passport. If needed, add any other details requested, for example, any last name you've had before. You will also be asked to select a processing speed for your application form.
To fill in the form, you will have to specify which Schengen state you will start your trip in, as well as give details on past work experience, and education history.
Then, revise that the information given above is accurate. Once the revision is made, make online payment of ETIAS.
After this, you must only submit the form and wait for the results to come back.
For how long is the Austria ETIAS valid?
The validity of your Austria ETIAS is determined by the analysis results of your application form through the ETIAS database. Once approved, it is likely that the validity time be for the duration of your planned travels or it could be given for up to 3 years.
With your approved ETIAS, and during its validity, you can visit any of the Schengen countries, with a multiple entry condition. The only limitation is that you don't stay more than 90 days in 180 days in any of these countries.
How frequent are the ETIAS application rejections?
Although there are no current statistics about this, there is a possibility that some applications will be declined. If an ETIAS application is rejected, the applicant will receive a message that specifies the reason.
With this, the applicant can appeal on the ETIAS results or apply again for the ETIAS once you have modified the mentioned information.
Do I need many documents to apply for the Austria ETIAS?
To start your Austria ETIAS application you only require a passport, an email address, and a credit or debit card.
Additionally, you should consider the following specifications:
*The passport should be readable by machine, which means it must be biometric and have two lines below the page with your photo, which shows symbols, numbers, and letters.
Having a passport with electronic chip may be a benefit, but not as crucial as needed to be machine-readable.
You are likely to be asked to upload a digital photo that is not the one on the passport itself.
Do I need an ETIAS if I have a Schengen Visa?
If you have a Schengen visa, it means your country of citizenship is not on the visa-exempt list. The ETIAS authorization document will be needed by foreigners who are nationals from any of the Schengen visa-exempt countries that want to visit the Schengen region.
When your visa expires, you can check again if the ETIAS conditions have changed and if they now include your country of citizenship.
How secure is my data on the iVisa.com web?
Knowing that the internet can be confusing and not very secure, iVisa.com uses the most updated security software on the website and databases to keep your data safe. Your personal information will be kept protected from any digital threat during the application process, and once it's complete.
You can see what some of our clients have said about our services on the iVisa.com website.
Where can I read more about the ETIAS?
For more info about the ETIAS, you can email us at help@ivisa.com with any doubts so a representative can help you out. You can also find more details about ETIAS on the iVisa.com website.