Austria is famous for an impressive medieval past. Visit the most important medieval castle in Austria, the Burg Hochosterwitz, that dates back to 860 AD. Although it's a private site belonging to the Khevenhüller family, it's open to the public with amazing views of the chapel and church built in 1570 and 1729, respectively. Travel to Austria and review the entry regulations established by the European Union.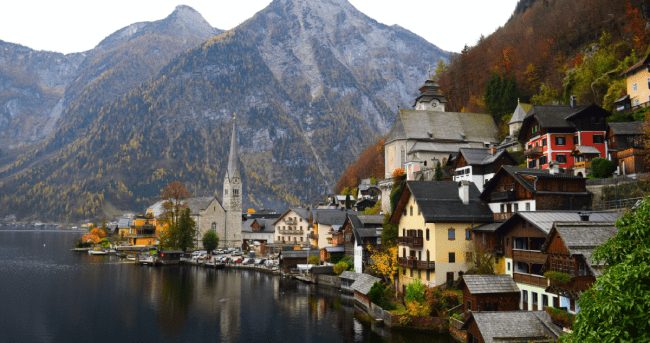 ETIAS is the new electronic form required by citizens of all countries that don't need a visa to enter the Schengen area. This includes Grenada, which means citizens of Grenada are expected to have an ETIAS before traveling to Austria.
iVisa.com can support you with the ETIAS process and you just need to relax and trust our simple, fast, and reliable product.
Keep reading about Austria ETIAS below.
Frequently Asked Questions (FAQs)
What is ETIAS?
ETIAS is the new entry requirement for visitors from countries exempt from the Schengen visa. ETIAS means European Travel Information and Authorization System.
The main reason behind the implementation of ETIAS is security. Due to high crime rates and illegal immigration, the EU created this new process to gather further information from non-EU travelers. This will allow better control of European borders.
Begin the ETIAS application with iVisa.com!
Can Grenada citizens apply for ETIAS?
Yes, citizens of Grenada can apply for Austria ETIAS. Grenada is among the visa-free countries with access to the Schengen zone, for this reason, ETIAS is going to be a mandatory document.
Go to the application page and find out how to get your ETIAS today!
Is Austria ETIAS a visa?
No, ETIAS is not a visa. Visas have a more complicated process, from interviews at the embassy to long waiting periods. ETIAS is very easy and even easier with iVisa.com, you just need an Internet connection and the time to start an online form.
Also, ETIAS is required for countries exempt from a Schengen visa, therefore, you don't need to worry about going through a visa process. Citizens of Grenada will only need an ETIAS, not a visa.
Austria is ready for you! Come prepared with your ETIAS!
Is the ETIAS only valid for Europe?
ETIAS is a procedure established by the European Union and it applies for the 26 countries in the Schengen area. So, it's valid for Europe but only for the Schengen countries which include Austria.
Confirm if you need an ETIAS or another travel document with our Visa Checker.
For more information, connect with iVisa.com support team.
How long is ETIAS valid?
ETIAS is valid for a maximum of 3 years in which you can travel as many times as you want. However, you can only stay in the Schengen area up to 90 days in a 6-month period.
Apply now and get to know Austria soon!
What documents are requested?
[ETIAS] requires the next information:
A passport scan.
An email address that should be valid in order for you to receive your document.
Payment alternatives, use your Paypal account or pay with a credit/debit card. iVisa.com charges a minimum fee to give you a professional service.
You must answer all the questions in the electronic form that refer to the name, address, and parents' information, among others. Provide further details about any criminal record, medical conditions, and past trips to risky countries. All the information will be cross-checked with international databases like Interpol, so answer with honesty.
Which are the procedure times to get the ETIAS?
iVisa.com knows time is relevant in the process, for this reason, you can select the best alternative for you:
Standard option, a moderate processing time to get your ETIAS soon.
Rush option, a quicker method for a higher fee.
Super rush option, if your trip is happening very soon, then get this service for the highest price.
What is the Austria ETIAS process?
The process is fast and simple, just complete the following steps:
Fill out the online questionnaire and choose a processing time (Standard, Rush, and Super Rush).
Review your information and correct any mistakes. Select a payment option between a *credit/debit card or a Paypal account**.
Upload the documents required.
Visit Austria with your ETIAS!
How will I receive my response once I apply?
You will receive your ETIAS document in your email inbox. Make sure to give iVisa.com a valid email address so you don't have issues receiving your ETIAS authorization. Show the document to airport officers upon arrival.
How secure is iVisa.com with the Austria ETIAS?
iVisa.com is incredibly safe! Systems and teams are aligned with the highest security standards and your information is kept safe within the platform. Read about our customers' opinions for more information.
Ready to get your ETIAS with iVisa.com? Then start here!
How can I obtain more info?
Explore the main page for more information about iVisa.com and travel documents. Connect with customer support for any questions you might have, or send an email to help@ivisa.com.
ETIAS are easy to get, find out more now!