Austria is often called one of the most beautiful places in the world, both in terms of natural and cultural diversity. It is a must-visit destination for anyone looking for a complete holiday experience. The variety of experiences, be it outdoor sports or a trip to one of the many historic sites, it leaves you with an enriched and fulfilling experience. Whatever interests you, Austria has it all on offer. To know more, keep reading about how you can get an Austria ETIAS to accompany your ticket to Europe in just a few clicks with iVisa.com!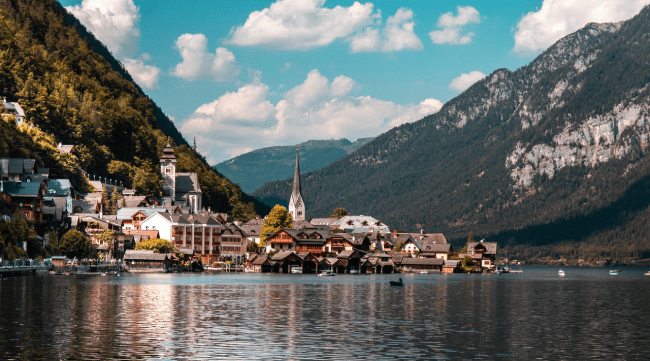 Invest a little time to go through our FAQs below and prepare to experience a dream destination and a must-visit country called Austria, after filling out iVisa.com's online form. We'll help you with all the information you would require to get the ETIAS, quickly and safely.
Austria and all its treasures of experiences await, ahoy let's set sail!
Frequently Asked Questions (FAQs)
WHAT IS THE ETIAS AND DO I NEED IT TO ENTER AUSTRIA?
Due to the recent improvements in technology and safety measures, Austria has introduced an EU visa waiver scheme which will require non Europeans to apply in advance for a travel authorization.
For all practical purposes, this would be like a regular visa, only easier. You would just need to fill out an online application! Easy isn't it? This new system is called the European Travel and Information Authorisation System or ETIAS and will be in effect from 2022 onwards.
ETIAS is a new necessity for citizens from countries exempt from the Schengen visa. Citizens of Moldova would require an ETIAS to visit Austria. Continue reading further, in order to understand how or check out the iVisa.com application form in a simplified manner.
APPLICATION PROCESS FOR THE ETIAS AND HOW TO GO ABOUT IT
For a clear understanding of whether or not you can apply for the Austria ETIAS, click iVisa.com's Visa Checking Tool on the iVisa.com homepage.
Once you are certain you need the ETIAS, we at iVisa.com will guide you through the 3 quick and simple steps to get you there easily.
Firstly, fill out the application form and select the procedure time you prefer (more on this below).
Secondly, confirm the information you entered into your application and use your credit/debit card or your Paypal account to pay the mentioned fees.
Thirdly, simply upload the required documents related to your nationality and submit.
DOCUMENTS REQUIRED FOR THE AUSTRIA ETIAS
The information required is quite basic and is asked mainly to strengthen procedures, to reduce the waiting period, and address security concerns of tourists. Do answer all questions honestly, to avoid any red flags that may lead to further manual interrogation or rejection of your application.
In addition to the basic background questions, the only other things you will need are:
A valid passport
A digital photograph
An e-mail address
And voila, you are ready to begin Click here and complete your online application or scroll down to understand more!
WHAT IS THE FEE & PROCESSING TIME EXPECTED?
Given below is some information to give you some clarity about our 3 types of prices and processing time:
Option1: The "Standard" option gives you all the basic services for a moderate waiting period.
Option 2: The "Rush" option allows you a quicker option for a relatively higher price.
Option 3: The "Super-Rush" option is useful if your journey needs to begin soon and you require a fast-tracked process.
Need more information and quickly? Feel free to contact our customer agents.
TIME REQUIRED TO RECEIVE THE ETIAS AND ITS VALIDITY
If all the information in your online application is correct and you have all the documents required, your ETIAS should get approved within 15 minutes. In case of any dispute, give it 2 weeks time at the latest. Once you receive it, the ETIAS will be valid for 3 years or until the end of the validity of the documents used in the application, whichever comes first.
Apply Here and get to know Austria now!
IS IT SAFE TO USE IVISA.com TO GET MY ETIAS?
Following strict foolproof online travel procedures, iVisa.com has the most sturdy and reliable systems in place to protect your personal information, while simplifying the cumbersome process of filling out online applications.
Don't believe us, check out our client reviews and see what is in store!
HOW DO I GET FURTHER DETAILS?
We would be more than happy to help in case you do have any further inquiries or questions in mind Contact us to clear any doubts about anything and everything.
You could either contact our customer care representatives at any time or check out iVisa.com's webpage for more info.
Looks like you are good to go! Apply for your ETIAS form via iVisa.com and get ready to set sail to your dream destination... Austria.