Austria offers many sites for international tourism. Visit the Dachstein Salzkammergut region, a UNESCO World Heritage site, and explore the picturesque town Hallstatt. Around this area, you can explore the Dachstein Caves which can go over 1,100 meters deep. Visit Austria but first check on the new entry guidelines.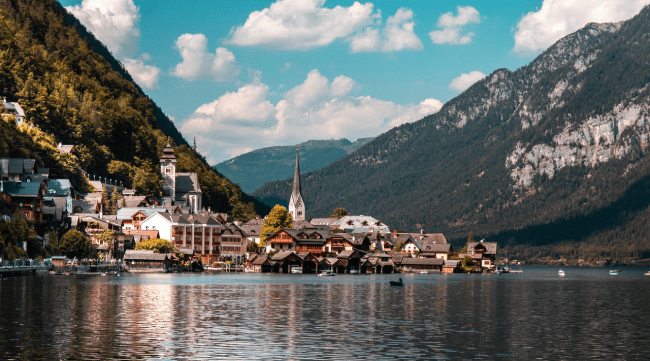 Citizens of Colombia should be aware of the new electronic form ETIAS. This is the new entry requirement for countries that don't require a visa to the Schengen area, including Colombia.
iVisa.com is making available the Austria ETIAS, through a fast, simple and reliable service.
Get more information about ETIAS in the following FAQs.
Frequently Asked Questions (FAQs)
What is ETIAS?
ETIAS is the European Travel Information and Authorization System that is required for visa-free countries to the Schengen area. Citizens of Colombia don't need a Schengen visa, therefore, if they decide to travel to Austria, an ETIAS is required.
The main reason behind ETIAS is security. The rise in illegal immigration is pushing the EU to reinforce its entry control which means further requirements, like ETIAS. The new electronic system will collect information from non-EU travelers to detect and stop potential criminal activity.
Start the application with iVisa.com today!
Is ETIAS complementary to a visa?
No, visas and ETIAS are two separate processes that apply to different countries, they don't complement each other. If a country is eligible for a Schengen visa, then an ETIAS is not necessary. On the other hand, if the country doesn't require a Schengen visa, like the Colombia case, then an ETIAS is required. Besides the process is also different, a visa demands long waiting periods and appointments at the embassy. ETIAS is done through an electronic form that you can easily find at iVisa.com platform.
Continue planning your trip to Austria and apply today!
Can I travel to other European countries with the Austria ETIAS?
Yes, ETIAS is valid for the 26 countries in the Schengen space which includes Austria. However, be mindful of the countries you decide to visit because not all countries in the European continent belong to Schengen. Not sure if you need an ETIAS or another document for all the countries on your itinerary? Go to iVisa.com Visa Checker and clarify any doubts.
iVisa.com gives you the option to contact the support team for any specific questions.
How long is Austria ETIAS valid?
The ETIAS document can be used for 3 consecutive years and there are no limits to the number of trips during that time. Still, you can only stay in the Schengen area for up to 90 days.
Apply now and visit Austria soon!
What information is requested?
You should complete the online form with personal information about name, address, parents' info, among others. The questionnaire might request details of criminal background, health state, and previous trips to specific countries. Answer with honesty because your data will be checked against international databases like Interpol.
Requirements:
Passport scan showing your photo and details.
A valid email address.
Payment methods, iVisa.com offers you two alternatives, whether pay with your Paypal account or use a credit/debit card. iVisa.com's fee is minimum for getting your ETIAS done in the best way.
Which are the processing times?
Standard alternative, the typical option with the lowest price.
Rush alternative, iVisa.com will work faster for your requirement.
Super rush alternative, in case you can't wait to have your ETIAS.
Ready to start? Get your ETIAS here.
How is the process?
The process is simple and you only follow the next steps:
Fill out the online questionnaire with your information and pick a processing time option.
Review the form in case there are any mistakes. Pay with a credit/debit card or with a Paypal account.
Upload your passport scan and apply it!
Go [here] and start your Austria ETIAS.
How will I get the ETIAS?
You should receive an email from iVisa.com with your ETIAS document. Please make sure your email address is valid so your email arrives safely. You must show the ETIAS document to the airport officers at your arrival. Your final admission depends on border control, so keep your ETIAS document ready with you.
How secure is to get ETIAS with iVisa.com?
It's 100% secure. iVisa.com handles thousands of applications and keeps strict control of traveler information. Be confident your requirement is safe with iVisa.com and you can review customers' comments for further information.
I have some inquiries, where can I get more information?
Keep searching for more information on the iVisa.com's main page or contact directly our amazing support agents who are more than willing to help you. You also have the email help@ivisa.com for any questions.
Apply and start your journey with iVisa.com!