Are you planning a trip to Europe? Have you considered visiting the hidden beauties of Austria? If that's the case, you'll be interested to know that from 2022 it'll be mandatory to have an ETIAS to visit this territory. The good news is that applying for an ETIAS won't be as difficult as you might think.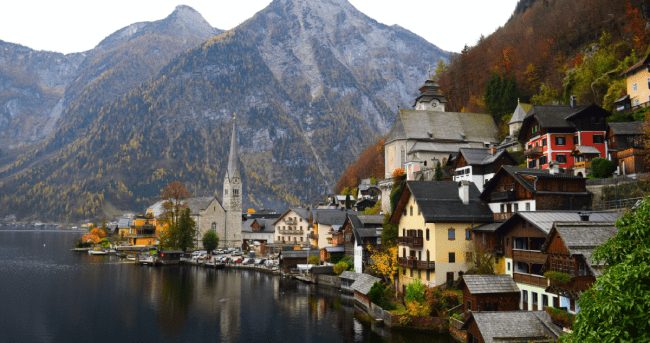 This procedure can be done entirely online, without having to go to any embassy. Therefore, we have detailed in this article everything you need to know about the Austria ETIAS for the citizens of Taiwan.
There may be more information still to be confirmed, but that's why we invite you to be attentive to what we publish on iVisa.com because we're a company that works hard to facilitate your trip by giving you an excellent option to obtain your ETIAS without any hassle.
Frequently Asked Questions / FAQs
What is the meaning of ETIAS and how does this document work?
ETIAS is the acronym for European Travel Information and Authorization System, which will provide an obligatory travel document by 2022 for improved border control of all the tourists that travel to the Schengen Zone, because many of them don't have to apply for a paper visa to enter. This travel authorization also permits the official authorities to obtain a better record of unauthorized migration.
Similar to the U.S. ESTA, the ETIAS is also an online system that gives you electronic authorization to enter the Schengen Zone.
Since this document is for visa-exempt nations, you can use it for business or leisure plans, but don't forget that if you need to study, work or remain in the country for more than 90 consecutive days, then you'll probably need another type of visa.
How many countries can apply for the Austria ETIAS?
Keep in mind that the ETIAS is a European system, so it is not just exclusive to Austria, but also required for other nations in Europe as well. You can use the ETIAS in any country that's part of the Schengen Area. Nevertheless, not everyone can get this document because it's accessible only for 62 nations. These countries are currently visa-free, but they will soon require the ETIAS authorization to travel to the Schengen Area. Taiwan is part of these countries, so if you have a Taiwanese passport, then you will likely need to apply for the ETIAS before entering Austria or other Schengen countries.
What documents do I require to get the ETIAS?
If you apply with iVisa.com, you'll be able to avoid a long list of documents and a tedious process. As you can guess, iVisa.com simplifies the ETIAS process a lot, and you can confirm that with the following list:
Your valid passport with a scanned copy of the information page so you can offer your basic details.
Your current email address to obtain this document and more important information about this process.
Your debit/credit card or your Paypal account to pay for the service while finishing the online form because this process isn't free.
In case you decide to apply with iVisa.com's service, you'll just require the previously listed documents, but if you decide to use ETIAS official website then you might require other documents.
What are the prices and the processing times with iVisa.com?
Unfortunately, we cannot provide you with all the details about the total price for this document because it's so new that this information isn't available yet. What we can tell you is that with iVisa.com you can choose one of 3 processing alternatives. Each of them has different processing times and also costs, so remember that when you decide to apply:
Standard Processing Alternative: This is the standard option and also the least expensive.
Rush Processing Alternative: You can get your Austria ETIAS quickly this time, but it'll be more expensive.
Super Rush Processing Alternative: This alternative is the most expensive because it is also the fastest one.
How can I apply?
To apply with iVisa.com you only have to follow these easy steps:
First, fill in the online form with your basic information. Also, don't forget to select a processing alternative from the ones we mentioned above.

Second, verify the information entered in the previous step and pay for the service.

Third, upload your documents and click on 'submit' to finish the application process.
Do you want to start? Then click this link. After you're finished with that, you'll just have to wait for your ETIAS and nothing more. Please remember that if you need help, you can reach out to our support service 24/7.
What if I made a mistake while filling in my online form?
We suggest you complete the online form very carefully which is why we remind you to check the information before sending the application form. But, in case you made a mistake while filling in the online form, please don't delay to contact us via chat or via email at help@ivisa.com.
Please note that this is possible only if your ETIAS isn't issued. As soon as your ETIAS is issued, it'll be difficult to correct any typo.
Which countries belong to the Schengen Area?
The countries that belong to the Schengen Area are Austria, Belgium, Luxembourg, Netherlands, Germany, France, Spain, Portugal, Sweden, Finland, Denmark, Lithuania, Latvia, Estonia, Poland, Slovakia, Hungary, Slovenia, Italy, Greece, Czech Republic, Malta, Iceland, Liechtenstein, Norway, Switzerland.
Please remember that you cannot enter any EU country with the ETIAS, you can only enter the Schengen Area with this document. For other EU nations, you might need another type of requirement that's not the ETIAS.
Is it reliable to apply with iVisa.com?
Since iVisa.com has a trusted work team and a high-quality system, you can feel confident when applying with its service. The system we have in place prevents unauthorized access to your personal information. If you still have questions about it, then you can read our reviews.
Where can I receive more information?
To obtain personal attention, don't forget that you can reach out to iVisa.com's customer service center You can also read more FAQs and other important travel tips on iVisa.com's website.