You might not know, but Austria has the largest system of ice caves in the world! The system is called the Eisriesenwelt. This site with over 30,000 square meters has been open to the public since 1912. Explore the Ice Gate, which is a 1,775-meters high ice wall, or the amazing Ice Palace. The spectacular sights will be unforgettable. Get to know Austria and review the new entry requirements.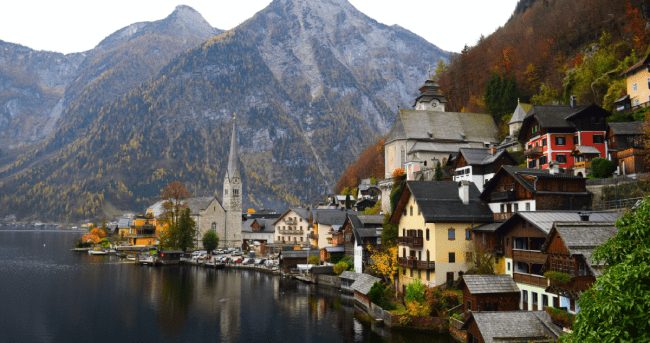 The European Union has created a new electronic system refer as ETIAS, and Austria, as part of the EU, is requesting this application to international travelers. One of the countries eligible is El Salvador.
Make sure to complete your ETIAS with iVisa.com. As we are offering a simple, fast, and 100% reliable product.
Do you want to explore more of Austria? Then keep reading about the ETIAS.
Frequently Asked Questions (FAQs)
What is an ETIAS?
ETIAS is an authorization document established by the European Union to gather information from non-EU visitors. ETIAS is the acronym for European Travel Information and Authorization System. The application is 100% online and you only need some minutes to complete and get it in your email.
Give iVisa.com the chance to help you by applying here!
I'm a citizen of El Salvador, should I get an ETIAS?
As a citizen of El Salvador, you need an ETIAS to enter Austria. Countries that are exempt from a Schengen visa, have to apply for an ETIAS. In this case, El Salvador is one of those countries.
You should know ETIAS is valid for the 26 countries in the Schengen area. By applying for the Austria ETIAS you get access to 26 countries in Europe part of the Schengen agreement.
Ready to start your European journey? Then start here.
Is Austria ETIAS valid for several trips?
The ETIAS doesn't establish a limit for trips to the Schengen space, but take into consideration the next two parameters:
The ETIAS is valid for 3 consecutive years.
90 days is the maximum stay you get in the Schengen countries in a 6-month period.
Start your ETIAS now.
What is the required information?
The electronic form will require information about your name, address, date of birth, employment history, among others. Besides, you could answer questions about any criminal past and previous trips to risky countries. Remember this information will be reviewed with other databases just to confirm the veracity.
Make sure you also have the following:
A passport scan.
Email address that will be used to send you the ETIAS.
Payment options, iVisa.com provides the next options, whether you pay with a Paypal account, or using a credit/debit card. You will pay a small fee for the service provided by iVisa.com.
Not sure you have the right docs? Contact the customer service team to clarify if you have the right documentation.
What are the processing times?
According to your needs, select the best option for you:
Standard, typical service chosen by most of our customers.
Rush, a quicker option in case you can't wait much time.
Super rush, for the highest fee you get your ETIAS as soon as possible.
Which are the steps for the Austria ETIAS?
Answer the information required in the electronic questionnaire and select a processing time (Standard, Rush, or Super Rush).
Double-check your answers and correct mistakes. Pay using a credit/debit card or a Paypal account.
Attach your passport scan and any other documents required.
Start now your ETIAS and travel to Austria soon!
What will I receive in my email?
iVisa.com will send you an email with your ETIAS document. Take your ETIAS and all the necessary documents with you so that you can enter Austria. We are sure EU immigration officers will request your documents.
We want you to have a smooth entry so start by applying for your ETIAS.
I have children in my group, do they also need an ETIAS?
Yes! Children and each person in your travel groups need an ETIAS. There are no exemptions to the application, so start applying for your children's ETIAS soon!
Can I trust iVisa.com with the ETIAS?
iVisa.com is a 100% trustable company. We have a professional team working behind our platform to bring you the best service following strict security regulations.
We want you to feel confident choosing iVisa.com, so explore our customers' reviews.
Who should I contact for further info?
Write to our iVisa.com support team who is available 24/7. They will be happy to help you with any inquiries. You can also send an email to help@ivisa.com, or keep exploring our iVisa.com main page.
Apply with iVisa.com and travel to Austria and the 26 countries of the Schengen area!