Austria offers tourists and business travelers with spare time on their hands some incredible historical sites like the Klosterneuburg Abbey. In this beautiful complex, you can find St. Leopold's Chapel dating from the 12th century where Leopold III, the great Austrian ruler, is buried. Continue your visit by exploring the Verdun Altar, a masterpiece from medieval times. Austria can be your next destination, but visitors should be aware of new entry guidelines.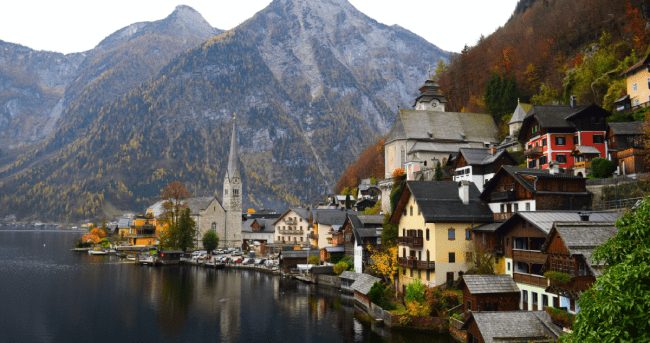 Austria and other countries forming the Schengen zone are requesting that in future entrants must complete a new electronic form called ETIAS. This is a requirement for countries that don't need a visa to travel to the Schengen zone. Georgia is one of those countries.
iVisa.com can help you with this process, start by finding out more about the ETIAS here. Enjoy a fast, simple, and trustable service with iVisa.com today!
Discover more about Austria ETIAS in the next FAQs.
Frequently Asked Questions (FAQs)
What does ETIAS mean?
ETIAS means European Travel Information and Authorization System and it's a 100% online requirement. The document will give authorization to 62 countries that are currently visa-free to the Schengen area. One visa-exempt country is Georgia, which means citizens of Georgia will need an ETIAS to enter Austria in the future.
The main purpose of the ETAIS is to collect information about international travelers so the European Union can use it to detect and stop potential criminals. Hopefully, this will reduce crime rates, irregular immigration, and terrorism.
Are ETIAS and a visa the same thing?
No, these are two different processes. Visas are more extensive procedures that include lots of paperwork and interviews at the consulate. ETIAS just requires a stable Internet connection to fill out a simple online form.
Besides, visas and ETIAS are required for different groups of countries. Countries that require a Schengen visa don't need to apply for an ETIAS. On the other hand, countries like Georgia that are exempt from the Schengen visa, need to have an ETIAS to travel to Europe.
Get your Austria ETIAS with iVisa.com!
Is ETIAS required for each European country?
No, once you get the ETIAS document, this is valid for the 26 European countries part of the Schengen agreement. You don't need to make an individual ETIAS process for each of those countries.
But not all countries in Europe are Schengen, therefore, verify with the iVisa.com's Visa Checker if you need an ETIAS.
Get your Austria ETIAS and travel to Europe!
How long is the Austria ETIAS valid?
3 consecutive years is the maximum validity of the ETIAS. When in the Schengen countries you can stay a maximum of 90 days in a 180-day period.
Austria is ready for you, start by applying here!
What info do I need for Austria ETIAS?
Make sure to complete the electronic questionnaire with truthful information, as this will be checked with other international databases. Answer questions about your name, address, parents' info, and employment history. Continue by explaining further about any criminal record, previous trips, and medical conditions.
Have these items ready:
A scan of your passport with a clear view of your photo.
A valid email address.
Payment options, iVisa.com provides two choices for payment, either using a Paypal account or a credit/debit card.
Not sure if you have the correct info? Then get in touch with our amazing support team.
Which are the procedure times?
Taking into consideration time and budget, decide between the next options:
Standard service, choose an average waiting time to get your ETIAS.
Rush service, when in a hurry go for a quicker option.
Super rush service, your trip is very soon, then this is the right option.
What steps do I need to follow?
Three simple steps:
First, fill out the electronic form and choose a processing time (Standard, Rush, or Super Rush).
Second, check your answers and try not to leave blank spaces. Use a credit/debit card or Paypal for payment.
Third, upload the documents required, such as the scan of your passport.
Connect with iVisa.com support agents in case you have doubts during the process.
How will I receive the ETIAS?
During your application, iVisa.com will request a valid email address. This is how you will get your ETIAS document. It will arrive at the email address you detailed in your application. Be sure to have the email to hand upon your arrival in Austria or in any other Schengen country.
Do children need an Austria ETIAS?
Yes! All travelers entering Austria that come from countries that don't require a Schengen visa will need an ETIAS. This also includes children or elderly people, as there are no age exemptions.
How safe is ETIAS with iVisa.com?
iVisa.com's processes are super secure. iVisa.com works very hard to uphold the best safety practices within its systems and teams. Check our customers' opinions for further info.
How can I get more info?
Contact our customer service team that is available 24/7 or keep exploring iVisa.com main page for more information about travel documentation.