In January 2017, Azerbaijan implemented the ASAN system, a system that allows Brazilian travelers to obtain an electronic visa. While the program is somewhat new comparing to other countries, it has enjoyed a lot of success since its implementation. Currently, 93 nationalities have access to an Azerbaijan e-visa. However, that list is still growing, and soon, more and more countries will join the ASAN program.
Brazilian are part of this list and thanks to that they can apply for an e-visa to visit Azerbaijan. iVisa helps Brazilian in this process, check this article for answered questions on the inquiry.
Frequently Asked Questions
What is an Azerbaijan e-visa for Brazilian?
An e-visa is a travel document that authorize visitors to travel to Azerbaijan. The e-visa is electronically linked to your passport.
What do you need?
As you can imagine, you need a few documents to get started. This is almost no different than going to the embassy. However, iVisa requires very little of you so that your efforts are minimal. Here is a list of what you need to provide:
Valid passport – getting a passport is quite easy these days, and it does not take very long. If you do have one, though, make sure that it is valid and remains to be so for at least another three months from your date of departure to Azerbaijan. An expired passport can leave you without an approved visa.

Digital copy of your passport – scanning your passport is easy, and make sure to do it before you start filling in your application form. You will be required to upload it before submitting it.

E-mail address – e-visas are linked to the passports electronically, but you still need a hard copy. iVisa will send you the document via e-mail in PDF format, which is why it is essential to insert a valid e-mail address. Check the spelling twice before you submit your application.

Means of payment – you have several options when it comes to payment. You can either use a credit or a debit card, and if you have an account on Paypal, you can use that as well.
What are the processing time and fees for Brazilian?
Cost is one of the most common concerns when it comes to electronic visas. iVisa provides its services at pretty competitive prices for Brazilian, which is why it has thousands of satisfied customers. Keep in mind that each processing time has its price, and the faster you want your visa, the more you have to pay. Here are you choices:
Standard – this is the least expensive option you have, and most people go for it. It takes 4 Business Days for your application to be processed, and you need to pay USD 45.00 for it.

Rush – this option will cut in half the waiting time, which means that your Azerbaijan evisa will arrive in 2 Business Days. However, you need to pay more if you choose this processing time. The cost is USD 75.00.

Super Rush – if you want your visa as fast as possible, this is the option you should choose. Your application will be processed within 6 hours. As you can expect, this is the most expensive processing time, which means that you will be charged USD 105.00.
How's the iVisa application form?
The application form for Brazilian to obtain an Azerbaijan e-visa could not be simpler. It is broken down into three easy steps, but if you need any help completing it, iVisa has a fantastic support service that you can call 24/7.
The first step will ask you to fill in your general information like name, address, email address, passport info, and so on. You also need to choose the processing time from the options mentioned above.

The second step will ask you to revise step one and make the payment. Revision is crucial because any mistake could lead to a invalid e-visa!

And the last step consists of a personal questionnaire and photo upload. It is at this point when you need to upload your passport scan. Other documents may be required as well, but it depends on personal circumstances.
After you are done, you submit your form and wait for your visa to arrive.
What is the validity of this e-visa? How many entries am I granted?
This e-visa is valid for 90 days after issued. You're granted a Single Entry. This means that you can only enter one time.
How long can I stay in the country?
You can stay a maximum of 30 days Total in the country.
Can I extend my stay?
You may apply for an extension with the State Migration Service of the Republic of Azerbaijan. Unfortunately, we cannot help with this process.
Should I staple my e-visa to my passport?
No. You do have to present both your passport and e-visa but do not stick it together.
Do I need to get an e-visa if I am transiting through the country?
No. If you just have a layover in Azerbaijan and will not leave the international transit area, you don't need it.
Can I apply for family and/or friends?
You sure can. If you have all the documents for each traveler and have their personal information, you can.
How does an Azerbaijan e-visa look like?
Here we show you an example: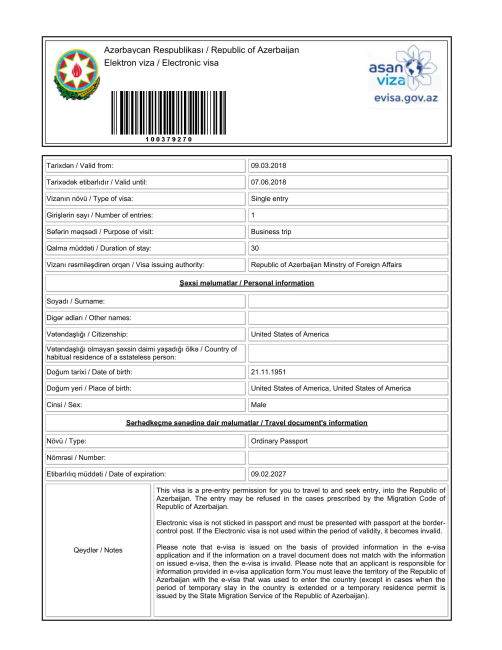 Where can I look up more information?
You can contact our customer support for a more private chat or you can click here for more FAQs.
As you can see, obtain the Azerbaijan e-visa for Brazilian is really simple, and iVisa will help you along the way so you can start your adventure quicker!