In the month of January 2017, 92 countries joined this electronic system, among them is Azerbaijan. Happily, South Africans can acquire their digital visa. Moreover, the nations of Lithuania and the United Arab Emirates are expected to be able to belong to this kind of system to obtain a virtual visa for Azerbaijan.

Frequently Asked Questions
What is an Azerbaijan e-visa for South Africans?
It is an electronic permission that visitors can use to travel to Azerbaijan.
What documents are required for South Africa?
Before starting your application, meet all the requirements such as:
Valid passport – your passport must have a validation of 3 more months from the date that you arrive in Azerbaijan.

Digital scan of your passport – we only need the page where all your personal information appears.

Valid e-mail address – this requirement is very important because once we have any details about your visa, we'll send you by this email. So, if you receive your visa, just print it out.

Means of payment – if you have a credit or debit card, you can make the payment without any inconvenience.
What fees and processing times does ivisa offer?
Our company give different types of procedure times:
Standard processing time –the cheapest and the most commonly used option. This is for only USD $84.99 and you have to wait for 3 Business Days to get your e-Visa.

Rush processing time – your eVisa will be concluded around 2 Business Days. The processing fee is USD $126.99.

Super Rush processing time – for emergency cases, this is the recommended choice. You will get your Azerbaijan e-visa for South Africa in 6 hours. It costs USD $173.99 as processing fee.
Do not forget that you must apply for your visa 2 days in advance regardless of the procedure time you choose.
How's the application form?
With your documents in hand, fill out the form and if you have any concerns, ask our customer service.
Now, just follow the process that we will show you below:
At the beginning of the form, the processing lapse must be chosen and then introduce your data.

The next step involves revision and payment. Traveling South Africa must put your info accurately and carefully to prevent any issue.

Complete questions about yourself and submit the requirements. In the event that you are planning to travel with your children and the other parent is not present, you must send an authorization from that progenitor. After that, just wait for your visa.
What is the validity of the e-visa? How many entries am I granted?
The validation of this e-visa is for 90 days after issued. Additionally, this type of visa only grants you a Single Entry.
How long can I stay in Azerbaijan?
You can be in Azerbaijan only for 30 days in Total.
Can I extend my stay from that limit?
YES, you can. You have to request this extension in the State Migration Service of Azerbaijan.
Should I stick together with my e-visa to my passport?
Your passport and visa must remain separate.
Do I need to get an e-visa if I am just transiting through the country?
In that case, you won't need an eVisa. Of course, make sure that you stay in the international transit sector.
Can I apply for family/friends?
Yes, absolutely. All you have to do is put together the documents and start completing the form for each applicant.
How does an Azerbaijan e-visa look like?
Look at this sample: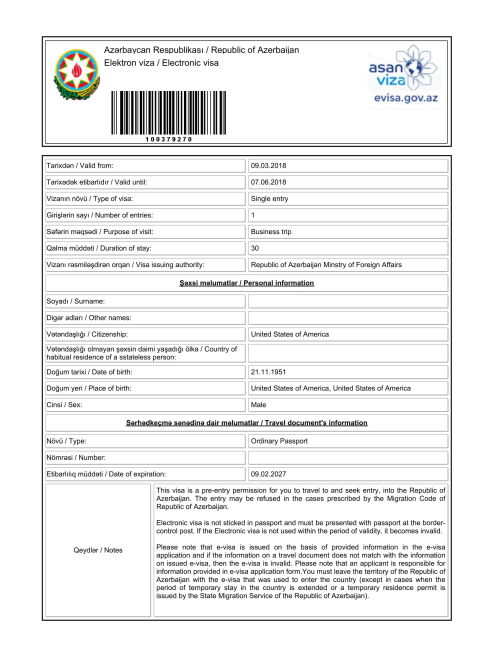 Where can I look up more information?
Enter here and talk with one of our super agents. In addition to that find some answers to your questions here.
This Azerbaijan eVisa for South Africa is uncomplicated and we are here to assist you with the whole process.