Last January 2017, Azerbaijan joined the digital visa system. It is called the ASAN system. South Africa and 92 other nationalities can now apply for iVisa through the web. At this time, there are negotiations with Lithuania and the United Arab Emirates. Gradually, more and more nationalities will be able to acquire an Azerbaijan e-visa.
Frequently Asked Questions
What is an Azerbaijan e-visa for South Africans?
An e-visa is a travel document that authorize visitors to visit Azerbaijan. The e-visa is electronically linked to the passport.
What documents are required for South Africa?
Before starting to apply, we recommend that you put together all the documents you are required to provide. This is a short list, and chances are, you already have everything you need.
Valid passport – you need a passport when you travel to other countries. If you already have one, make sure that it is valid and remains so for at least another three months from the departure date to Azerbaijan.

Digital scan of your passport – have a scanned copy of your passport first before filling in the form. It is required that you upload it before you can submit your application. While the information page is the most important, scan the entire passport.

Valid e-mail address – while the e-visa will be linked to your passport electronically, you will be asked to show a printed copy of your e-visa at the immigration office. To be sure, print several copies and place them in different bags. That way, you can be sure you are not going to lose your visa.

Means of payment – other than credit or debit card payment, PayPal payment is also being accepted.
What fees and processing times does ivisa offer?
iVisa gives three excellent options:
Standard processing time –the cheapest and the most commonly used option. This is for only USD 45.00. It takes 4 Business Days to process. It is recommended that you apply 6 days before departure because while delays almost never happen, it is best to be on the safe side. The '2 days in advance' rule applies to all processing times.

Rush processing time – the next option will enable you to get your Visa within 2 Business Days. The processing fee is USD 75.00.

Super Rush processing time – for emergency cases, this is the recommended option. You will receive your Azerbaijan e-visa for South Africa in 6 hours. However, as you can expect, this is also the most expensive option. It costs USD 105.00 as processing fee.
How's the application form?
Once the documents are prepared, you may now fill in the application form. It is easy to understand, but in case you need assistance, customer service is available 24/7.
The form is divided into three easy steps.
First step will require you to fill in your personal information like name, address, email, passport info, and so on. At this point, you will also be needed to select processing time. Bear in mind that your choice will determine the service fee.

The next step involves revision and payment. Traveling South Africa needs to insert your information accurately and carefully to avoid confusion or loss of your document.

The last step will ask you to upload additional information and answer a few personal questions. As for the former action, not everyone needs to upload the same sporting documents. For example, if you travel with your minor child and without the other parent, you will need an authorization letter from the said parent. Then, you hit submit and wait for the visa to arrive in your email inbox.
What is the validity of the e-visa? How many entries am I granted?
This e-visa for South Africa is valid for 90 days after issued. You're granted a Single Entry. This means that you can only enter once.
How long can I stay in Azerbaijan?
You can stay a maximum of 30 days Total in the country.
Can I extend my stay from that limit?
You may apply for the extension in the State Migration Service of the Republic of Azerbaijan. Unfortunately, we cannot help with this.
Should I stick together my e-visa to my passport?
No. You do have to show both your passport and e-visa but do not staple or stick it together.
Do I need to get an e-visa if I am just transiting through the country?
No. If you just have a layover in the country and will not leave the international transit area, you do not need it.
Can I apply for family/friends?
You sure can! If you have all the documents for each traveler and have their personal information, you can.
How does an Azerbaijan e-visa look like?
Here we show you a sample: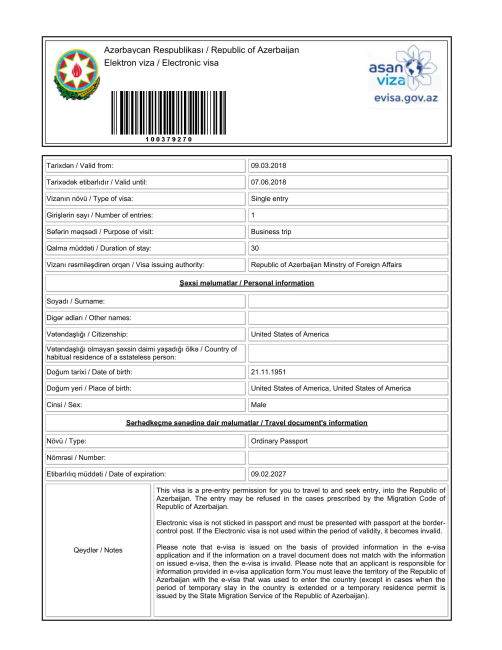 Where can I look up more information?
You can contact our customer support for a faster and more private chat or you can go here for more answered questions.
As you can see, obtain the Azerbaijan e-visa for South Africa is really easy, and iVisa will help you along the way so you can start your big adventure!