Along with traditional visas, you can also get an Azerbaijan eVisa if you enter iVisa.com. However, you might also apply for an Azerbaijan Visa on Arrival, but that will depend on your nationality.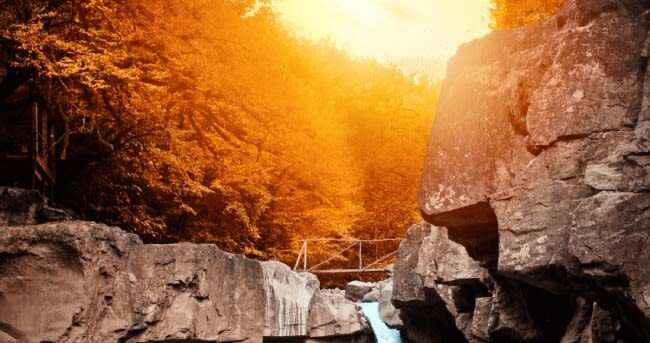 The Azerbaijan Visa on Arrival is a convenient and fast way to obtain a traveling permit, but there are a few things to keep in mind. One advantage is that you can receive it at any international airport in the world. That means you don't have to visit a local embassy to receive it. However, not all nationalities qualify for the Azerbaijan visa on arrival as many of them only need the Azerbaijan eVisa.
The best of all is that you can apply for the eVisa on our website, meaning that you wouldn't have to search for other complex web pages or access portals. We offer a reliable service that will help you save time. You can learn more about this process and the Azerbaijan Visa on Arrival by checking the information we've written below.
Frequently Asked Questions
AM I ELIGIBLE FOR THE AZERBAIJAN VISA ON ARRIVAL?
You probably know that visas allow citizens from different nationalities to stay in the country for a short period. In the case of the eVisas, you can use it to stay in a country for 30 days in Total or 90 days at most. That doesn't change with the Azerbaijan eVisa, as it'll probably offer you a 30 days in Total maximum stay or 90-day maximum stay.
As for eligibility, keep in mind that most nationalities only need to apply for the eVisa, and not to apply for an Azerbaijan Visa on Arrival. We say this because to get the visa on arrival, you have to spend a lot of time at the airport or you'd have to ask for more information at the embassy. On the other side, with the Azerbaijan eVisa, you only need to complete an online form that we'll explain below.
If you want to check if you're eligible for the Azerbaijan eVisa, enter our visa checker page.
WHAT CAN I DO IF I'M NOT ELIGIBLE FOR AN AZERBAIJAN EVISA?
If you're not eligible for an eVisa, you are required to get a traditional visa by attending a diplomatic meeting in your state.
WHAT IS AN AZERBAIJAN EVISA?
An Azerbaijan eVisa is an official document that allows you to visit Azerbaijan and it's electronically linked to your passport. Citizens from over 80 countries can apply for this type of visa, which was introduced by the Republic of Azerbaijan in 2017.
HOW LONG CAN I STAY IN AZERBAIJAN WITH AN EVISA?
If you have the Azerbaijan eVisa on hand you can enter Azerbaijan for a maximum of 30 days in Total and you will get a Single Entry.
Don't forget that this e-visa has a validity of 90 days after issued, meaning that you can use it to travel at any time within this 90-day period.
What Are the Azerbaijan Visa Requirements?
An Azerbaijan visa will require a valid passport with 3 month validity left, a passport scan, an E-mail address, address destination, and a method of payment. Here are the full list of details to complete the online form:
Valid passport: this is a basic requirement to travel, so ensure that it has a 3-month validity upon arrival.
A passport scan
E-mail address: you'll receive the eVisa via email inbox, so you have to offer us a valid email address while applying.
The address of your destination: we will ask you the destination location name and street address.
Means of payment: iVisa.com accepts multiple methods of payment such as credit and debit cards.
WHAT ARE THE PROCESSING TIMES AND PRICES?
The Azerbaijan eVisa isn't free on iVisa.com because we make sure that you receive your document in less than a week by simply filling in an online form. Since we have to do the rest of the process, we have to ask for a small fee so you can get your document safely. It might be different by using other websites, but remember that in that case, you'd have to do the entire process yourself.
As for the prices, they vary depending on the processing times, which are:
Standard processing: you'll get your document in

6 Business Days

, and the price is

USD $87.99

(service fees included).
Rush processing: with this processing time, you'll receive your eVisa in

5 Business Days

. As for the price, it'll be

USD $139.99

(service fees included).
Super rush processing: this option is great if you're in a rush, as it only takes

4 Business Days

, but that's why it has a price of

USD $202.99

(service fees included).
HOW LONG DOES IT TAKE TO APPLY FOR AN AZERBAIJAN EVISA?
You only need to complete an application form with your basic information, so it'll probably take you less than 10 minutes. Then, iVisa.com will take care of the rest.
HOW CAN I APPLY FOR AN AZERBAIJAN EVISA?
The application for this eVisa has only three easy steps:
The first step is based on the first questionnaire, so you only have to fill it in with your basic information. After that, you'll have to choose the processing time from the options mentioned above. Check to make sure the information you entered is accurate.
The second step will ask you to review the information you gave in the first step and make the payment using your preferred payment method.
The last step is to attach your documents if necessary, after that you'll be ready with the application.
If you have questions while applying, you can reach out to iVisa.com's support service.
WHAT DOES THE AZERBAIJAN EVISA LOOK LIKE?
This is how it looks: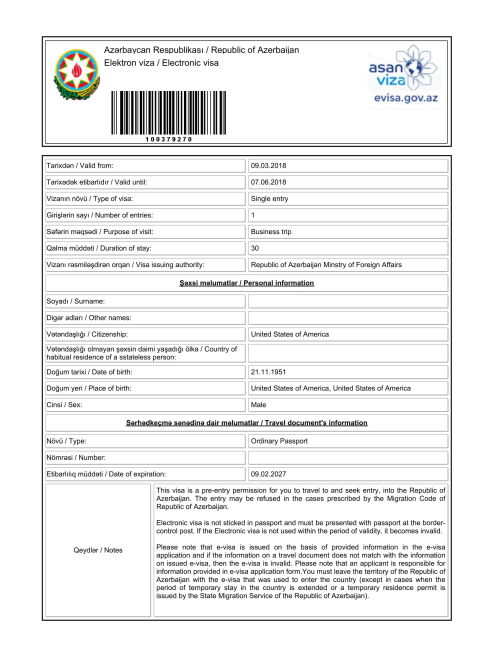 IS IT SAFE TO USE IVISA.COM TO GET MY AZERBAIJAN EVISA?
We work as a third-party company that issues eVisas round the clock, but that doesn't mean that we don't safeguard our database. We have powerful software that will never allow any unauthorized access to our databases, meaning that your personal details are completely safe.
WHAT IS ASAN VISA?
Azerbaijan introduced eVisas in January 2017. The official electronic visa portal of the Republic of Azerbaijan is called an ASAN visa. The visas issued through the ASAN portal are for a single-entry visit up to 30 days. The advantage of using iVisa.com over ASAN is that we offer a simplified visa application, three options for processing time, and a 24/7 helpline to answer all of your e-visa questions.
I HAVE MORE UNRESOLVED QUESTIONS, WHERE CAN I FIND MORE INFO?
You can click here to start chatting with one of our customer service representatives if you have doubts. But if you prefer to read other facts about the Azerbaijan Visa on Arrival or the Azerbaijan eVisa, then click on this link.