Tourism is an important part of Azerbaijan's economy. They started having visitors in 1980, but it stopped after the fall of the Soviet Union and the Nagorno – Karabakh War in the 1990s. Fortunately, it has resumed in the 2000s and continues to grow as the government has declared tourism a top priority. That is why they changed their visa policy and made it more accessible. Nowadays, you can even get a visa online.
However, not all nationalities have access to an e-Visa to this country. But in this article, we will explain you what to do if you want to know Azerbaijan, especially all the things related to its Visa Policy.

Frequently Asked Questions (FAQs)
How do I know if I can apply for an Azerbaijan e-Visa?
You can check that easily with iVisa. What you have to do is to enter iVisa.com and use a tool called Visa Checker. In this part, you select your nationality, then you insert Azerbaijan as your destination and that's all!
If you are eligible, the screen will show everything you have to do in order to get your visa. If not, you will be told that you need a tourist visa. If you have the second option, then all you're left to do is to visit an Azerbaijan Embassy in your region to apply.
What are the requirements to get an Azerbaijan visa?
The general requirements have nothing special in particular. You are required to have a passport that has at least another three months of validity after your visa expires. If that is not the case, your visa will be declined, and you need to renew your passport. Also, you need to make sure that you have enough blank pages in your passport. However, that is a requirement many countries implemented.
To check what are the required documents properly, here's a list we made for you:
Last Page of Passport (if applicable)

Passport Personal Details Scan

Selfie holding the physical credit card used for the transaction. Only the last 4 digits of the credit card must be visible in the picture. (if applicable)
Remember that this can vary a lot from country to country, so we always recommend to check your elegibility first.
What is an Azerbaijan Visa on Arrival?
Please note: Azerbaijan no longer offers visas on arrival to certain countries, it only offers e-Visas
There are many countries in the world that can provide a visa upon arrival. Azerbaijan used to be one of them, but now this country no longer asks for this type of visa, it only asks for an electronic visa.
This document used to be available only to citizens from thus 14 countries: Bahrain, China, Indonesia, Israel, Japan, Kuwait, Malaysia, Oman, Qatar, Saudi Arabia, Singapore, South Korea, Turkey, and United Arab Emirates. But just as the other countries, they have to apply for an e-Visa as well.
How do the Azerbaijan e-Visa works?
In January 2017, Azerbaijan allowed the release of electronic visas to the citizens of 66 countries and EU citizens (93 countries in total). This was possibly their smartest move since people tend to want to do everything online these days. That is why there are many companies, such as iVisa, that can help you get your visa online following a few simple and quick steps. The system implemented by Azerbaijan is called the ASAN visa, and the document is valid for 30 days with a single entry.
The processing time usually takes up to three days, but iVisa can also get it for you in less time. Once you receive the e-visa, you print it out, and you present it at the border check together with your passport. The rule that your passport needs to maintain its validity for another 3 months after your visa expires still stands.
The best thing about the online system is that Azerbaijan is still working on facilitating the process of getting a visa. At the moment, the Azerbaijan Government plans to reduce the number of required documents that justify your trip's purpose, and they envision the implementation of multiple entries.
For now, that is only valid for countries in the European Union (except Denmark, the UK, and the Republic of Ireland), but surely you can see that this is just the beginning. That is how all things grow. Little by little. There is no doubt that Azerbaijan will continue to improve its already acceptable visa policy for the development of their tourism. It is a good strategy that will bring people from all over the world.
What are the prices and also the amount of days I have to wait to get an Azerbaijan e-Visa?
This is something that depends on your nationality, but iVisa offers you three options so you can get your e-Visa as soon as you want. These are the options you can select:
Standard: The most affordable, but also the longest. You'll obtain your visa in 3 Business Days, only paying USD 45.00.

Rush: With this choice you receive your visa in less time, in 2 Business Days, but you have to pay USD 75.00.

Super Rush: The last option allows you to get your e-Visa as soon as 6 hours. However, the price is higher, of course. You have to pay USD 105.00.
How do I apply for an Azerbaijan Electronic Visa?
We know that application forms are tedious, but we also ensure that our case is different. iVisa has created one of the easiest application forms you can complete.
The best thing is that it's divided into two single steps:
In the first step you have to fill in general information like name, address, passport info, etc., and also you select the processing time.

In the second step you simply take some minutes to make revision of step 1 and proceed with the payment. You hit the submit button and start relaxing about this visa.
As you can probably see, getting an Azerbaijan e-Visa is quite straightfoward. There is almost no extra work on your part, and you only need around 15 minutes.
But if you do need some extra help to fill in your application, iVisa has a fantastic support service that you can call 24/7.
Is there a sample of this e-Visa?
Yes, there is: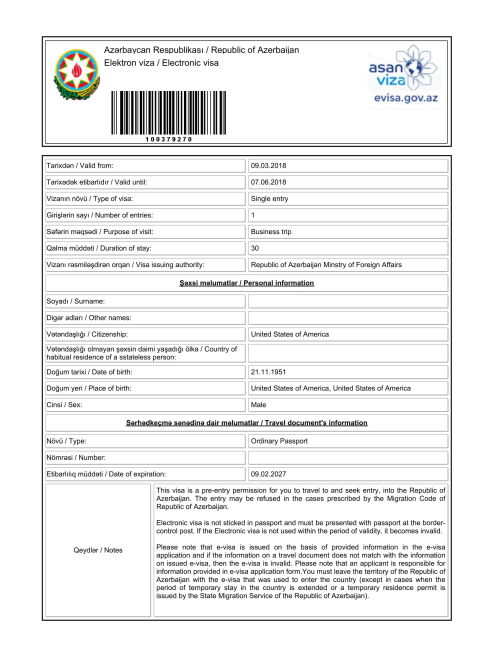 How many times can I enter Azerbaijan with an Electronic Visa?
It mostly depends on your nationality. However, the average is to have a 30 days in Total visa.
Where can I read more info about Azerbaijan Visas?
Do you still have doubts? In case you have them and also keep thinking about this country and the whole process of getting an e-Visa, then you can enter here and read more FAQs and other details about this country and its visas.
Or if you prefer, you can contact our customer service center, especially if you have an specific question.
With iVisa you're just one click away from traveling to a magical country like Azerbaijan. iVisa really simplifies the process to apply online for an Azerbaijan e-Visa, and the best thing is that it counts with a 9.5 'Excellent' rating from thousands of reviewers on Trustpilot. Contact us today!