Azerbaijan is a beautiful country where many travelers go to know ancient ruins and modern buildings. The state has many things to offer, which is why tourism is growing. However, one of the most important things that you need to know is that you cannot cross the border unless you have a visa.
Luckily, for some people there is the option of applying for an Azerbaijan e-visa. This process is provided by iVisa and is entirely online.
That's why we will explain to you through this article what are the main requirements for this e-Visa.

Frequently Asked Questions
What is an Azerbaijan Visa?
This visa is an official document that provides authorization to travelers who want to enter Azerbaijan.
What are the first visa requirements?
First of all, you need to check your eligibility. Unfortunately not all people can apply. Your citizenship is key here.
You can check that easily. All you have to do is access iVisa.com and use a tool called Visa Checker. You select your nationality, then you insert Azerbaijan as your destination and that is pretty much it.
If you are eligible, the screen will show everything you have to do in order to get your visa. If not, you will be told that you need a tourist visa and you have to go to the Azerbaijan embassy in your region to apply.
The next step applies to people who are eligible. From here on now everything is plain sailing. The website will tell you what you need to do to apply for An Azerbaijan visa . The information is complete and broken into steps easy to comprehend.
What are the following requirements to apply?
Just because the process is online, that does not mean you do not need a few papers to get started. A good thing is that iVisa asks for very few documents to make the process as convenient as possible. Chances are that you already have them. All you need to do is put them together and make a few scans. Here is what you need:
Passport – it goes without saying that a country that requires a visa upon entry also requires a passport. Make sure that the passport is valid and will continue to maintain its validity for at least another three months after your electronic visa expires. If that is not the case, you need to renew it. Otherwise, your visa will be declined.

Digital copy of your passport – all you have to do is a scan so that you can submit it to iVisa during your application process.

Means of payment – when it comes to payment, you have multiple options. You can use a credit or debit card, but you can also use a Paypal account if you have one.

A valid e-mail address – the Azerbaijan e-visa will arrive via email in the timeframe you choose during the application process. That is why it is essential for your e-mail address to be spelled correctly.
Keep in mind that if your stay in Azerbaijan exceeds 10 days, you are also required to register your visit at State Migration Service of the Republic of Azerbaijan. However, you can ask about this at the front desk of your hotel, and you will be informed of what you need to do.
As for requirements, the information above is all you need. As long as you can check everything off the list, you are eligible for an Azerbaijan electronic visa. As mentioned before, it doesn't take very long, the e-visa will arrive fast, and most importantly, you can do all that from the comfort of your home.
What are the processing times and prices for an Azerbaijan e-Visa?
It will also depend on your nationality, but iVisa offers you three options in order to get your e-Visa as fast as you want. These are the options you can choose:
Standard: The most affordable yet the longest. You'll receive your visa in

6 Business Days

, only paying

USD $81.99

.
Rush: With this option you get your visa in less time, in

5 Business Days

, but you have to pay

USD $135.99

this time.
Super Rush: The last option allows you to have your e-Visa as fast as

4 Business Days

. However, the price is bigger, of course. You have to pay

USD $202.99

.
How can I apply for an Azerbaijan visa?
When application forms cross your mind, you start to think of something challenging to do, right? But that doesn't happen with our services. iVisa has created one of the simplest forms you can complete.
It only has two easy steps:
The first step is just to fill in general information like name, address, passport info, etc. In this step you also select the processing time.

The second step is to have a revision of step 1 and proceed with the payment. You then hit the submit button and start packing.
As you can probably notice, getting an Azerbaijan e-Visa is very effortless. There is almost no extra work on your part, and it takes little of your time.
In case you need some help to fill in your application, iVisa has a fantastic support service that you can call 24/7.
How does an Azerbaijan e-visa look like?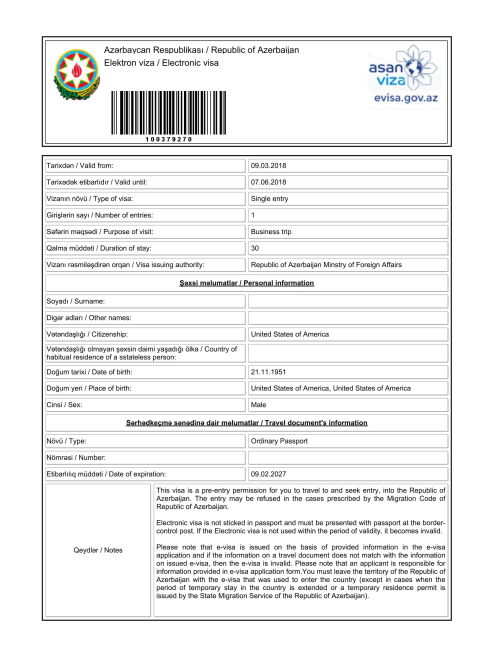 How many times can I enter Azerbaijan with my e-Visa?
Depends on your nationality, but most of them can stay 30 days in Total.
Is it safe to use iVisa to get my Azerbaijan Electronic Visa?
We totally guarantee you that it is. There are some people strongly believing that online information leaks easily, but we provide a professional service that keeps your personal date 100% safe.
As a prove, you can check what thousands of happy customers say about our process here.
Where do I read more info about Azerbaijan?
If you still have some doubts about this country and the whole process of getting an e-Visa, then you can click here and read more FAQs and other interesting details about this country.
You can also talk to one of our customer service agents if you have doubts about the application form.
With iVisa you're just one click away from traveling to Azerbaijan. iVisa makes it quite simple to apply online for an Azerbaijan e-Visa, and the best thing is that iVisa has a 9.5 'Excellent' rating from thousands of reviewers on Trustpilot. Contact us today!