Azerbaijan - Open for Tourism, here's what you'll need
Azerbaijan - Open for Tourism
7,250+ Travel Documents processed by iVisa
Trustpilot recommended. We lead the industry in innovation and reputation
Learn More: eVisa
Last updated: September 2022
Get Your Azerbaijan Visa in the comfort of your home!
Azerbaijan's capital, Baku, was once an off-the-beaten-track destination only known to the most adventurous backpackers and business travelers. But nowadays, it is a fascinating destination where East literally meets West. In January 2017, the Republic of Azerbaijan introduced an electronic visa for more than 70 nationalities.
The Azerbaijan e-visa is a travel document required for most visitors to enter Azerbaijan for tourist purposes. This new e-visa system makes traveling to Azerbaijan much easier, as there is no need to visit the Azerbaijan embassy to obtain the document. Apply for your Azerbaijan visa in a few clicks with iVisa.com.
What is the Azerbaijan e-visa?
The Azerbaijan e-visa is an official document authorizing travel to this Middle Eastern country and is electronically linked to your passport. This visa is a pre-entry authorization to enter the Republic of Azerbaijan.
This system is also called ASAN Visa and issues single-entry visas for up to 30 days stay in Azerbaijan. You will not receive a sticker or paper visa in your passport.
Who is eligible to apply for the Azerbaijan Electronic Visa?
Nationals from over 70 countries can apply for an Azerbaijan visa online on iVisa. If you have any doubts about what document you need to enter Azerbaijan, you can use our visa checker tool at the top of this page to find out more.
How long is the Azerbaijan Visa valid for?
After the e-visa has been issued, you must enter Azerbaijan within 90 days after issued. It is a Single Entry visa, meaning you can only enter one time within this period and stay in the country for up to 30 days in Total. If you leave Azerbaijan after a week, for example, you will need to obtain a new e-visa to re-enter the country.
If you plan to stay in Azerbaijan for more than ten days, you will need to register with the State Migration Service of the Republic of Azerbaijan during your trip. This registration can be done at your hotel. Please ask, and they will assist you.
Entry requirements and documents needed to apply for the Azerbaijan eVisa online
To apply for a visa to Azerbaijan, you will need to provide personal information and details about your trip. With iVisa.com, you will not have to fill out endless paperwork, as we believe you should take that time to plan and get excited about your trip.
Below are the Azerbaijan visa requirements:
Valid passport: The general requirement is that your passport must be valid for three months after arrival in Azerbaijan.
E-mail address: You will receive your visa confirmation via email when you apply with iVisa.com, so make sure you use one you can always access.
Proof of accommodation: You will have to provide the name and address of the accommodation or hotel.
Means of payment: To pay for the government fee and visa fee. Multiple payment methods such as credit and debit cards are accepted.
Once you have filled out the form and paid the e-visa fee, you will receive a confirmation email. If you do not find it in your inbox, it may be in SPAM.
Do I need an Azerbaijan Visa if I'm transiting through the country?
No, any traveler who does not intend to stay in the country and only keeps to the airport's transit area will not need to obtain any electronic visas.
How do I apply for the Azerbaijan Visa online?
Applying online for your visa with iVisa.com is easy and affordable. Our experts will review your visa application for accuracy, and process your order depending on the options you prefer.
Simply follow the following three steps to start the application process for any e-visas:
Step 1: Fill out your basic data, such as name, date of birth, and passport information. You will also have to select the preferred processing time, depending on your needs.
Step 2: Review your details and make sure all information is spelled correctly, complete, and up-to-date. Then, pay for the tourist visa fees with a credit or debit card.
Step 3: In the last stage of the process, you will be asked to answer a series of personal questions, such as the purpose of your trip and so on, and you have to upload the required documents.
The total process should not take longer than 10 minutes. Our experts will review your application form and the required documents. Once the visa is approved, you will receive a copy via email.
If you want to enter Azerbaijan smoothly, make sure that your Azerbaijan visa is printed and saved on a mobile device to present to the immigration authorities.
What are the costs and processing times of the Azerbaijan e Visa?
It is possible to choose from three processing options that include a service fee to apply for the Azerbaijan electronic visa online.
All options are subject to the USD $26.00 government fee:
Standard Processing: This option takes

6 Business Days

for a service fee of

USD $51.99

.
Rush Processing: For those who are traveling soon, the rush option is perfect, as it only takes

5 Business Days

for a service fee of

USD $98.99

.
Super Rush Processing: If you need your visa to Azerbaijan fast, choose this option, as it only takes

4 Business Days

for a service fee of

USD $144.99

.
Note: Please be aware that you will not receive any service fee refunds if your application is rejected, but rest assured as an e-visa rejection is very unlikely in any case when choosing iVisa.com.
Do minors need to apply for an Azerbaijan Visa?
All passport holders must have an e-visa to enter Azerbaijan. Parents must complete this form for their children. In addition, if the child is not traveling with their parents, a legally notarized and signed letter of authorization must be included.
View a sample of the Azerbaijan e-visa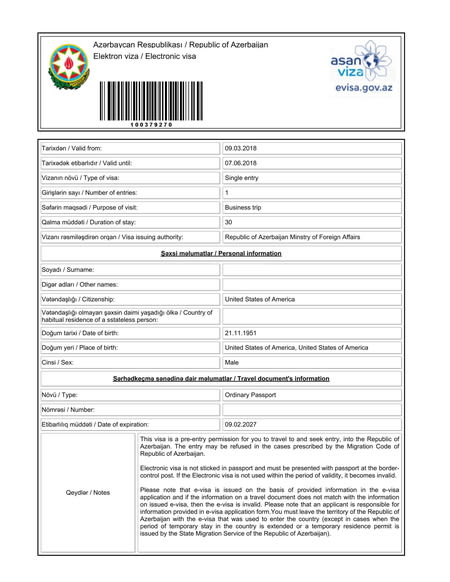 COVID-19 requirements to enter Azerbaijan
There are no longer Covid-19 entry requirements.
Where can I learn more about Azerbaijan visas and requirements?
If you have any questions about the Azerbaijan visa or any other travel document, feel free to contact our customer support team online at any time or email [email protected].
Required Documents to Apply
Passport Scan

Last Page of Passport (if applicable)
Important Instructions
Applications must be submitted at least 72 hours before traveling to Azerbaijan.

Travelers from the following countries can enter Azerbaijan: Albania, Argentina, Australia, Austria, Bahrain, Belarus, Belgium, Bhutan, Brazil, Brunei, Bulgaria, Cambodia, Canada, Chile, China, Colombia, Costa Rica, Croatia, Cuba, Cyprus, Czech Republic, Denmark, Dominican Republic, Ecuador, Egypt, El Salvador, Estonia, Finland, France, Georgia, Germany, Greece, Guatemala, Hong-Kong, Hungary, Iceland, India, Indonesia, Iran, Ireland, Israel, Italy, Japan, Jordan, Kazakhstan, Kuwait, Laos, Latvia, Lebanon, Lithuania, Luxembourg, Macedonia, Malaysia, Maldives, Malta, Mauritius, Mexico, Moldova, Mongolia, Montenegro, Morocco, Myanmar, Nepal, New Zealand, Norway, Oman, Pakistan, Panama, Paraguay, Peru, Philippines, Poland, Portugal, Qatar, Romania, Russia, Saudi Arabia, Serbia, Singapore, Slovakia, Slovenia, South Africa, South Korea, Spain, Sri Lanka, Sweden, Switzerland, Tajikistan, Thailand, The Netherlands, Tunisia, Turkey, Turkmenistan, UAE, Ukraine, United Kingdom, Uruguay, USA, Uzbekistan, Venezuela, and Vietnam.

Travelers can only enter Azerbaijan by air at the moment as land border crossings are closed.

The Azerbaijan e-Visa must be used within 90 days after issued, it becomes invalid after that period.

The Azerbaijan visa grants a Single Entry and for a maximum stay of 30 days in Total.

You must leave the territory of the Republic of Azerbaijan with the e-Visa that was used to enter the country (except in cases when the period of temporary stay in the country is extended or a temporary residence permit is issued by the State Migration Service of the Republic of Azerbaijan).

The validity period of the ordinary passport should be at least 3 months beyond the e-visa planned date of authorization/issue.

The electronic visa is not stamped in your passport and must be presented along with your passport at border control.

You do not need a visa if you are not planning on leaving the international transit area.

Your e-Visa application should be submitted before your planned date of travel. Even if you are eligible, you cannot obtain a visa upon arrival at the border checkpoint of the Republic of Azerbaijan.

You can apply if your purpose of travel is: tourism, business, medical treatment, humanitarian, sports, culture, education, science, business trip, personal trip, or education.

In case of rejection of an e-Visa application, foreigners and stateless persons may re-apply for a visa at a relevant diplomatic representation (usually the embassy) of the Republic of Azerbaijan.

Travelers with dual or multiple citizenships must choose the country of nationality in accordance with the passport to be used for their trip.