If you are a Canadian citizen, chances are you've thought of taking a vacation somewhere with warm weather and exotic landscapes, especially if you want to take advantage of the summer months. That's why the Bahamas always draws attention in these cases, even with the current COVID-19 pandemic. Now, the good news for you is that in this article you'll know how citizens of Canada can enter the Bahamas during coronavirus.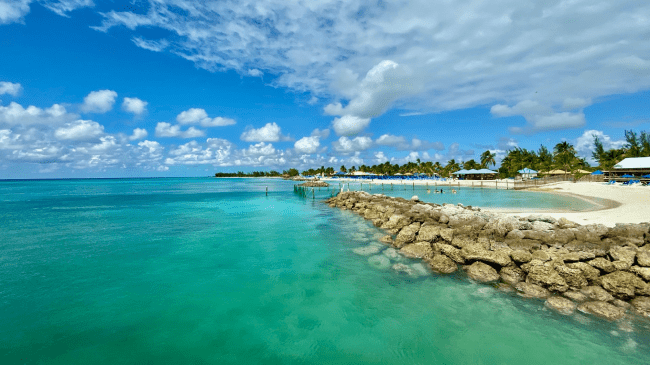 The first thing you should know is that you need a Travel Health Card before entering the Bahamas. This document makes official your commitment to follow the regulations that the government of this country has demanded to control COVID-19, including a 14-day quarantine.
If you are wondering how to obtain this document, don't worry, you will know this by reading the FAQs below.
Frequently Asked Questions (FAQs)
You might be ready with your luggage and even your tourist guide, but without the Bahamas Travel Health Card, your trip is only half completed. The process to obtain this document is way too easy, but you need to read these questions first.
What is a Travel Health Card and why do I need it?
The Travel Health Card or Health Declaration is an authorization that allows you to travel to the Bahamas as long as you accept all the regulations related to the COVID-19. The 14-day quarantine tends to be the most important requirement, in addition to others like social distancing and the use of masks.
It's essential to apply for this declaration because it's been enabled by the Government of the Bahamas. For your convenience, you can receive this document through a simple online process, so you don't have to go to an embassy to apply for it. For this, you can use iVisa.com's service and save a lot of effort while completing an online form.
What documents do I need to apply for the Travel Health Card?
Even with an online process, you still have to get a few documents to make the process faster. Since iVisa.com has updated software that offers you the Travel Health Card, you'll only need these documents:
A passport with a visible scanned copy
A valid email address to receive the Travel Health Card.
Payment options to pay iVisa.com's fee. You can choose from a credit/debit card or a Paypal account.
This list of requirements can vary according to new regulations that the government of the Bahamas declares. However, in case that happens, you can always check the information on iVisa.com's website.
What is the price for the Bahamas Travel Health Card?
There's no official page of the Government of the Bahamas to obtain this document for free, although, it may be an option in the future. Even so, if this option appears, you may have to wait a long time for the requirements that the government demands, and you might also have to follow other guidelines that will surely take time. That is why iVisa.com is committed to offering you a fast, simple, and safe service. But for this, it is necessary to pay a fee.
The good thing is that these fees vary according to how fast you need your Travel Health Card. Your options are:
Standard Processing Option:

USD 80.00

-

3 Business Days

.
Rush Processing Option:

USD 95.00

-

2 Business Days

.
Super Rush Processing Option:

USD 120.00

-

1 Business Day

.
Why does iVisa.com charge these fees?
As you read before, there is no free service with the government, at least not for now, and if it is, you'll have to follow all the necessary steps to obtain the document, including a long wait if required.
For iVisa.com to offer you a trustworthy document authorized by the government through a safe and fast system, it is necessary to pay a fee. These fees also include our customer service that can help you at any time.
As you will see, you pay for a professional and immediate service.
How can I apply with iVisa.com?
You can get your Bahamas Travel Health Card with a top-notch software that works with a reliable security system. The best part of it is that if you have questions or doubts, you can contact iVisa.com's support center to obtain personal attention.
Here's the list of steps:
First, complete all the information required in the first questionnaire and select your processing time too.
Second, review your information and pay for iVisa.com's service using your credit/debit card or your Paypal account if you prefer.
Third, upload the scanned copy of your passport and then attach it to the online form. After you confirm that everything is well-written, send the form to finish all the process.
The last thing to do is to wait for your Travel Health Card. Take note that all the information about this process will be delivered via email, so double-check the spelling of your email address, it must be a valid one.
How will I get the Travel Health Card?
Among your Travel Health Card, you'll get other important steps to follow via email. Please, take note of everything you need to follow once you receive this email. When you land on the Bahamas, the Immigration officer will review your information as usual and will ask you for the Travel Health Card. After you pass the check-out, you might need to follow a 14-day quarantine to get ready to enjoy your stay. We recommend you to always follow the instructions at the airport.
Is it safe to apply with iVisa.com?
In iVisa.com, safety is always or focus. Therefore, we created a top-notch software that allows you to receive a reliable product for an affordable price. We work hard with all the valid requirements to maintain your safety, so all the information you see and offer on our website can't be leaked. Do you want to read opinions about our service? You can check our reviews on this link.
Where can I obtain more info?
Are there more questions you need to solve? Don't worry, we're ready to help. You can contact us anytime or you can also read more information on iVisa.com's website.
Get ready for your trip! Start your online application for the Bahamas Travel Health Card now! You'll surely be ready in a few minutes and you'll just have to worry about the rest of the trip!