Although there are beaches in the United Kingdom, they're not usually the favorites for lovers of summer vibes, and that's why destinations like the Bahamas become somewhat more attractive. Nowadays, in the face of the COVID-19 pandemic, it seems to be difficult to visit this country, but nothing is further from reality than that, since a Travel Health Card is already available and it'll allow you to enter the Bahamas as long as you follow all the measures required by the government. If you want to know how citizens of the United Kingdom can enter the Bahamas during Coronavirus, we recommend you continue reading this article.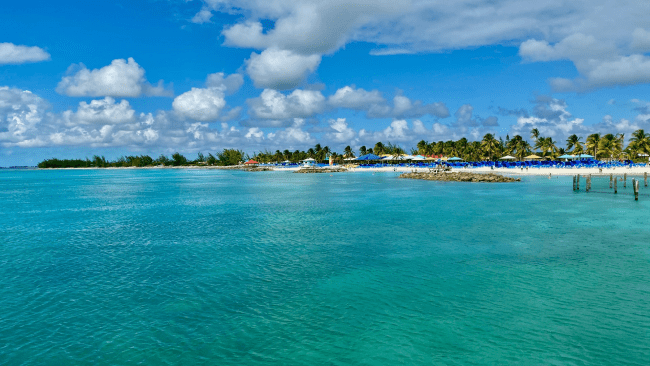 As you read before, you need to obtain a Travel Health Card while the COVID-19 pandemic lasts. This document must be shown at the airport, and you'll also have to complete the 14-day quarantine once you land on the Bahamas.
A great alternative to get this document is to apply with iVisa.com. This way, you'll just have to spend a few minutes finishing an online process and nothing!
You can read more details about this document with the following FAQs.
Frequently Asked Questions (FAQs)
No matter if you have your luggage and your ticket ready, it's important not to overlook the Travel Health Card to have all the planning of your trip ready.
What is the Bahamas Travel Health Card?
The Bahamas Travel Health Card is a requirement that all foreign citizens who wish to visit this country must have, at least while the COVID-19 pandemic remains in effect. With this document, you agree to follow the health recommendations on COVID-19. These recommendations include the 14-day quarantine, the social distancing, the use of masks, and constant hand washing.
Remember that the Government of the Bahamas launched this document to avoid the increasing of coronavirus cases. For your convenience, you can receive this document through a simple online process with iVisa.com and avoid going to an embassy.
What documents do I need to apply online?
You need to have some documents on hand before applying online for the Travel Health Card, but these documents aren't difficult to meet. This list is based on the current requirements to apply for the Travel Health Card with iVisa.com, so keep in mind that it can change according to other demands that the Government of the Bahamas could declare. In that case, we suggest to constantly check iVisa.com's website to verify if there's any change on the list.
You only need the following by now:
A passport with a visible scanned copy of its information page.
An email address so you can easily receive the Travel Health Card.
A credit/debit card or a Paypal account as a valid payment option to pay for iVisa.com's service.
What are the processing times and prices for this document?
Keep in mind that there's not an official website to apply for the Travel Health Card. That's why iVisa.com designed a solution for that by giving you 3 processing options with different prices according to how soon you want to get your document. These options are:
Standard Processing Option:

USD 80.00

-

3 Business Days

.
Rush Processing Option:

USD 95.00

-

2 Business Days

.
Super Rush Processing Option:

USD 120.00

-

1 Business Day

.
How can I apply for this document?
You can obtain your Bahamas Travel Health Card with a top-notch software that works with a reliable system. Take note that in case of doubts or questions, you can reach out to iVisa.com's support center any time.
Here's the list of steps you should follow:
First, complete the initial questionnaire with all the information requirements and select your preferred processing time.
Second, verify that all your information is well-written and pay for iVisa.com's fee with the credit/debit card or the Paypal account.
Third, upload and attach the scanned copy of your passport. Lastly, take your time to check the last details to confirm that everything's ok and only after that, you can send the online form by clicking the "submit" button.
That's all you have to do! You're ready to receive your Travel Health Card according to the processing time you selected. Remember that all the information will be delivered via email, so always check the spelling of your email address before sending the online form.
How will I receive the Travel Health Card?
You'll obtain the Travel Health Card via email. Keep in mind that it's recommended to download all the information related to this document and have it on hand before entering the Bahamas. All the details about this process will be delivered via email, including the steps to follow once you arrive at the airport.
Do children need a Travel Health Card too?
Remember that this document is a requirement for both adults and minors. This means that children must also apply for their Travel Health Card. If you have any questions about this point, you can contact us and we will be happy to help you.
Is it safe to apply with iVisa.com's service?
Yes, it's totally safe. In iVisa.com we created a modern software that offers you an authorized document for an affordable price. You can have peace of mind by knowing that all the information you see and provide on our website won't be easily leaked. You can check other opinions about our service by taking a look at our reviews on this link.
Where can I find more information about this process?
If you still have questions, then we're ready to help you with different tools for your convenience. First, you can reach out to our customer service anytime to receive the personal attention, and second, you can check our website to read other information related not only to this document but to other travel tips and authorizations, including if you need visas to certain destinations.
You're closer to your dream trip today! Start your online application for the Bahamas Travel Health Card and get ready in a few minutes. After that, you'll just have to worry about your luggage and your tourist guide!