White sands, an intense turquoise sky, and crystal clear waters are just some of the descriptions that characterize the Bahamas. For a U.S. citizen, this destination is usually a favorite on summer vacation. Despite the current pandemic, many travelers are still keen to find an escape here. For this reason, you'll be able to learn how the citizens of the United States can enter the Bahamas during the Coronavirus with the following information.
You need to obtain a Travel Health Card while the COVID-19 pandemic lasts. You'll have to show this document at the airport.
An excellent option to obtain this document is to apply with iVisa.com. This way, you'll just have to spend a few minutes completing an online application and that's it!
You can read the steps of this process in the following FAQs.
Note: Since June 20th, 2022, the Bahamas Travel Health Card is no longer necessary to enter the country.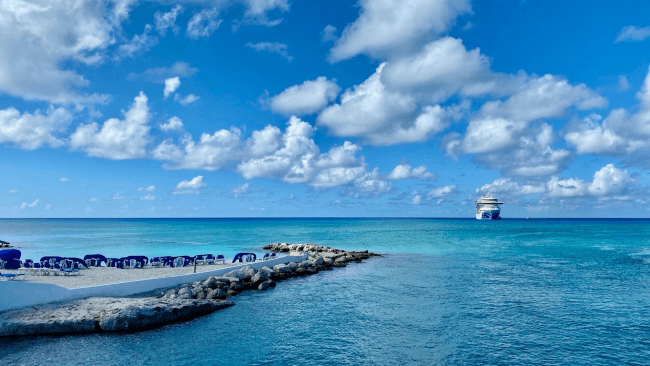 Frequently Asked Questions (FAQs)
Even if you have your luggage ready, your trip is half complete if you don't have your Travel Health Card ready. That's why you should read these questions to know how to get it.
What is the Bahamas Travel Health Card?
The Health Declaration, also known as Travel Health Card, is an important travel authorization that allows you to enter the Bahamas as long as you agree to follow the health recommendations on COVID-19. The social distancing, constant hand washing, and the use of masks could be important requirements once you arrive there.
You must apply for this document because the Government of the Bahamas launched it to avoid increasing the spread of the coronavirus. For your benefit, you can get this document through a simple online process. This way, you won't have to go to an embassy. You can use iVisa.com's service to apply online and save a lot of effort and time.
What documents do I need to apply for the Travel Health Card?
There are some documents that you need to have on hand before applying online, but these aren't difficult to get. Remember that this list is based on the current requirements to apply for the Travel Health Card with iVisa.com, this can change according to other demands that the Government of the Bahamas could have. In that case, we recommend you to always check iVisa.com's website to verify if there's any change.
By now, you only need the following:
A valid passport and a scanned copy of it
An email address to obtain the Health Card.
A credit/debit card to pay for iVisa.com's service.
Do I need a COVID vaccine or vaccination certificate to enter the Bahamas?
COVID-19 vaccination certificates are not mandatory to enter the Bahamas. Since information may change quickly, we advise you to follow up on the latest Bahamas travel updates and/or contact your local embassy.
Accepted vaccines are Pfizer, Moderna, Johnson & Johnson, AstraZeneca, Sinopharm, Covaxin and Sinovac.
Do I need to take a COVID-19 test to travel to the Bahamas?
COVID test prior to arrival: PCR test within 72 hours.
COVID test exemptions: Children under 12 and fully vaccinated travelers.
Do I have to quarantine once I get to the Bahamas?
Quarantine requirements: There are no quarantine requirements in the Bahamas.
What are the processing times and prices for this document?
iVisa.com created a solution by offering you 3 processing options that will have different prices according to how fast you want to have your document. These options are:
Standard Processing Option: this is an excellent option if you're not in a hurry (

24 hours

), and it has the best price (

USD 80.00

).
Rush Processing Option: this time, you'll get your document a bit faster (

4 hours

) by paying a bit more than before (

USD 95.00

).
Super Rush Processing Option: this option is recommended only if you're in a rush (

1 hour

) and you need your document as soon as possible (

USD 120.00

).
Why does iVisa.com charge these fees?
Since there's no free service with the government to obtain the Travel Health Card, it's important to pay a fee so you can obtain this document fast with a safe service. Remember that iVisa.com offers you a reliable service with an updated system that allows you to get a high-quality product (in this case, the Travel Health Card). Also, these fees include our customer service ready to help you anytime.
How is the application form?
You can receive your Bahamas Travel Health Card with the highest-quality software that works with a trustworthy system. Don't forget that in case of doubts or questions, you can contact iVisa.com's support center.
Here's the list of steps:
First, write all the information required in the first form and choose your processing time as well.
Second, check that your information is correct and pay for iVisa.com's service with the credit/debit card.
Third, attach the scanned copy of your passport to the online form. Take your time to review the last details and then send the form to finish all the process.
After that, all you have to do is to wait for your Travel Health Card. The information about this process will be delivered via email, so double-check the spelling of your email address because it must be valid.
How will I get the Travel Health Card?
You won't only receive a Travel Health Card, you'll also receive other important information via email. There could be some documents that should be downloaded and have it on hand, but we'll always inform you about that via email.
Is it safe to apply with iVisa.com?
Safety is always an important matter for iVisa.com. Therefore, we created a reliable software that offers you an authorized document for a great price. You can be sure that all the information you see and offer on our website won't be leaked. If you want to read other opinions about our service, you can take a look at our reviews on this link anytime.
Where can I receive more info?
Do you still have unresolved questions? Then you'll be happy to know that we're ready to help. You can reach out to our customer service anytime or you can also receive other important information on our website.
Don't lose the chance to explore the beautiful beaches in the Bahamas! Start your online application for the Bahamas Travel Health Card now! You'll be ready in a few minutes and you'll just have to worry about your luggage and other important aspects of your trip! Forget about paperwork with iVisa.com.