Brazilian Citizens who want to visit Bahrain have the chance to apply for a Bahrain eVisa simple and easy. Nowadays, you don't need to visit Bahrain's embassy to have your visa in your hands, how can I do it? Simple, apply with iVisa's and you will have your visa in your e-mail as fast as 5 Business Days.
Learn more, you can find extra information in this article:

Frequently Asked Questions / FAQs
I am a Brazilian citizen, do I need a visa to enter Bahrain?
Yes, you require an e-Visa to visit this amazing country. You can get a consular visa by visiting the embassy, but the way to obtain it is more demanding.
What is a Bahrain eVisa document?
An eVisa is a new type of visa which format works electronically, with this system your visa will be linked to your passport. It permits you to travel to Bahrain as same as any other visa.
How long is the period in which I can stay in Bahrain?
You can visit this country and stay there 30 days Per Entry.
What requirements are needed to get an evisa?
While the iVisa's service could not be simpler, you still need a few requirements to get started. Here you can know what you need to provide:
Passport Personal Details Scan

Return Ticket

Proof of Accommodation

Most recent 3 months bank statements (if applicable)

Last Page of Passport (if applicable)

Justification Letter (if applicable)

GCC Residence Permit (if applicable)

Travel Authorization by Employer or University (if applicable)
Before you submit your application, is required to make the payment. It will cover the cost of the visa and the services provided by iVisa. You are able to pay with acredit or debit card and also can do it with a Paypal account. Remember to provide us an *e-mail address with correct spelling** to avoid any confusion or delay and receive all the information related to your eVisa.
How long is the eVisa validity?
Your Bahrain eVisa has a validity of 30 days after issued.
What are the fees and processing times in iVisa?
The processing time is always relative to the service price. Ivisa has three options available. However, you need to know that the faster you desire your eVisa, the more you visa will cost. Here are the options:
The Standard process: the cost is

USD 130.99

and you will get the eVisa in

7 Business Days

(the prize will cover the service fee and visa cost).
The Rush process: the cost is

USD 187.99

but you will have your e-visa in

6 Business Days

two days before the previos option.
The Super Rush process: the fastest option you will have and also most expensive, but it totally worths. You will have your e-Visa in just

5 Business Days

after the payment, that is

USD 229.99
How long is the application process to Bahrain e-Visa?
20 minutes or even less to you will need to apply for a Bahrain eVisa.
How is the application process for this evisa?
The iVisa online form is very simple and easy to complete. You just need to follow three simple steps and if you need assistance, you can always call iVisa's support service 24/7.
In the Step one of the online form you need to fill in all your basic information and select one of the processing times provided. Keep in mind that the processing time you choose will affect the cost of the Bahrain eVisa.

In the second step you need to do a quick revision and then the payment. In this part, you have to make sure that all the information provided is accurate. Once the application is processed, you cannot make any corrections.

In the last step you have to answer a personal questionnaire and upload a document. Any additional documents depend on the particular case of every applicant. After that, you're ready to wait for your eVisa.
Really easy! Isn't it? the process is not challenging. Start with the application form here.
How many entries do I have to visit Bahrain if I'm from Brazil?
Your Bahrain e-Visa allows you a Multiple Entry and it expires30 days after issued.
My e-Visa can be extended to stay longer?
If you want to extend the Bahrain e-Visa then you have to go the General Directorate of Nationality, Passports & Residence (NPRA) so they can assist you with this process.
Is there a sample of my future e-Visa?
Here you can see one: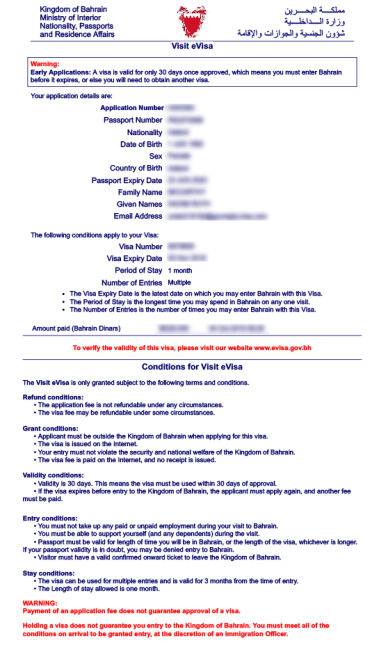 Do I need to enter to the country on the exact date specified in the Bahrain e-Visa application?
It is not necessary since the e-Visa counts from the date specified in the approved e-Visa. You can visit Bahrain on any date within this validity period.
How safe is to make an application with iVisa?
Definitely safe! iVisa is a high rate in security and has also modern methods for ensuring all customers' accounts are safe. Don't worry about, your personal data won't be leaked, trust in iVisa's security system. We will protect you.
You can revise all our testimonials if you have any doubts about our services.
Where can I find more information about this eVisa?
If you still have doubts or unresolved questions, that's completely normal. Click here to know more info about this eVisa. On the other hand, if you want a personal assistant, you can talk to one of our customer service agents staff click here, they 'll be happy to guide you.
As you see, it is not difficult to obtain a Bahrain eVisa. The whole process is quite straightforward, but if you need any assistance in your application, iVisa has an amazing support service that will be pleased to help you 24/7.