Bulgarian citizens who want to visit Bahrain, now can apply online for a Bahrain eVisa. In other words, you don't have to go to the embassy to obtain a consular visa.
iVisa's services are available to help you in your online application to Bahrain eVisa. It's quite easy to apply with the online form created by iVisa.
We'll show you the most important things to consider before your application. Learn more in this article.

Frequently Asked Questions / FAQs
Do I need a visa to visit Bahrain If I am a Bulgarian citizen ?
You do, it is mandatory to apply for a Bahrain e-visa. You have also the option to get a consular visa, but it will be more stressful and demanding.
What is a Bahrain e-Visa?
It is an electronic visa linked to your passport. This document allows you to visit Bahrain.
How long can I be able to stay in Bahrain?
This document allows you to stay in country for 30 days Per Entry.
What are the requirements?
Applying for a Bahrain eVisa is easy and fast. However, it is necessary to meet some documents or information to get you started. Here is what you need to provide:
Passport Personal Details Scan

Return Air Ticket

Proof of Accommodation

Most recent 3 months bank statements (if applicable)

Last Page of Passport (if applicable)

Justification Letter (if applicable)

GCC Residence Permit (if applicable)

Work Certificate (if applicable)
While the visa will be linked to your passport electronically, you still need a hardcopy that will be requested at the immigration office. Don't worry once your visa is approved, iVisa will send you a copy by e-mail in PDF format. In that way, you can print it. As the delivery is made by e-mail, please make sure that you provide us a valid e-mail address.
Remember that you need to make the payment for the visa and iVisa's services. For that procedure you may use a debit or a credit card, but also if you prefer you can do it with a Paypal account.
How long is the eVisa validity?
The validity of your Bahrain eVisa is of 30 days after issued.
What are the processing times and fees?
With iVisa you can choose betwen three options. However, remember, the faster you want your eVisa to be ready, the more you need to pay. These are the options:
Standard: Your eVisa will cost

USD 114.00

, you'll get it in

7 Business Days

(service fee and visa cost included).
Rush: If you choose this one, you'll obtain the e-Visa in

6 Business Days

, in this time you will pay

USD 144.00

Super Rush: This is the fastest but most expensive choice. It totally worths it. You will get your eVisa just in

5 Business Days

paying

USD 179.00

.
How long does it take to apply for the Bahrain e-Visa?
You'll need 20 minutes or less to apply for you Bahrain eVisa.
How can I make my application?
The online form designed by iVisa is straightforward. There are three steps that you need to follow, are quite simple but if you need guidance, please call iVisa's support service. Someone will be available 24/7.
Step one: the application form must be filled with your basic information. It is so easy that it should take you about five minutes. Then you need to select a processing time.

The second step: the application process needs to have a quick revision from your part and then to make the payment. Make sure that every information provided is accurate. Once the application is processed, you cannot modify or do any corrections, the cost is non-refundable.

The third step: the application process needs you to answer a personal questionnaire and upload some documents. These additional documents depend on particular cases, maybe yours or not, so it is not the same for everyone. You will be informed if it is the case.
Clearly, the process is not challenging. If you're ready to start your online process, click here.
if I'm from Bulgaria how many entries to Bahrain do I have?
Multiple Entry, with your e-visa you can visit Bahrain as many times as you want. It also has a validity of 30 days after issued.
Can my e-Visa be extended to stay longer?
You can extend your stay of your Bahrain e-Visa, but you'll need to visit the General Directorate of Nationality, Passports & Residence (NPRA) so they will help you with this new process.
Can I see a sample of my future e-Visa?
Of course, here you have one: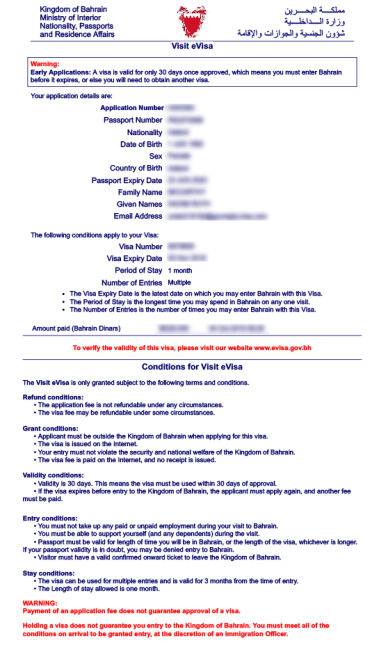 Is it necessary to travel to Bahrain on the exact date specified in the e-Visa application?
You don't need to enter on the same date as your eVisa. Remember that this document is valid for a month, so you can visit Bahrain on the date you prefer within this validity period.
How much security do I have with iVisa's services?
iVisa is a highly rated company in data security and also has updated methods to guarantee that every customer's accounts are safe. Do not worry, your information won't be leaked, you can trust iVisa, we will always protect you.
Review our testimonials to verify our security and customer satisfaction.
Where can I find more information about this eVisa?
It's ok, do not worry if you have more questions or any doubts. Click here and you will get more information. As a second option, we also provide you the possibility to talk to one of our customer service representatives. If you prefer this option, then click here, we'll be happy to help you.
As you see, it is so simple to get a Bahrain eVisa. The process is fast and effective, and also if you need any assistance in your application, iVisa has an amazing support service available for you 24/7.