Egyptians who want to visit Bahrain, now can receive their visa online. The visa is needed to enter to the country, the good news is that now is not a requirement to visit the embassy to get one. You have better options.
Now you're able to use iVisa services and receive your visa by e-mail in almost no time. Do you want to know how is this possible? Keep reading this article to find out more.

Frequently Questions (FAQs)
Do I have to obtain a visa to visit Bahrain if I am an Egyptian passport holder?
If you have an Egyptian passport, you need one. To enter this country, it is a requirement for all foreigners including Egypt. Luckily, now you are able to make your application electronically.
Do I need to visit the embassy for Travel Arrangement?
It is not necessary. As we told you it exists a better way to visit Bahrain and avoid this stressful procedure. As usual, the embassy manages all travels and approves visas. However, having the assistance of a professional visa company is the best decision you can take. Regarding this, we suggest counting on iVisa.com since it is well known as the fastest company in processing visas. You can get your visa in less time than visiting the embassy and also avoiding the effort to go there.
How much time my e-Visa allows me to be in the country?
Once you enter to the country, you can be there for 30 days Per Entry.
What requirements do I need?
The service provided by iVisa is really simple, but we need you to provide some things to begin the processing, properly. Here is what you need:
A Valid passport document – passport for Egyptians is a familiar document nowadays. Obtaining one is really simple, but if now you have yours, please verify if it is valid and make sure it remains valid for at least six months from your departure date.

A Valid e-mail address – It is necessary that you provide a valid email to receive your visa. Make sure to check the spelling. It must accurate, otherwise, you won't be able to have your visa. The reason we need your email is that the Bahrain Electronic Visa is issued online so it is necessary to have also an online way of communication.

Return flight ticket – Bahrain e-Visa for Egyptian gives you a maximum stay of 30 days Per Entry in the country. By all this time, the immigration officers require some documents to prove that you will return to your original country. Your flight ticket is the best option for this assurance.

Means to support yourself during your stay – A usually requested document by the immigration offices all over the world is the means of subsistence. You need to provide a bank statement or any other document as proof that you are able to support yourself during your stay in the country. Consequently, you cannot be suspected of seeking illegal work in Bahrain.

Means of payment – Before you submit your application, you will have to make the payment for the visa, as same as for the iVisa's services. In order to do it, you can use a credit or debit card.
To keep it simple, here's a list with the most important things requested by the Bahrain Government:
Passport Personal Details Scan

Return Air Ticket

Proof of Accommodation

Most recent 3 months bank statements (if applicable)

Last Page of Passport (if applicable)

Justification Letter (if applicable)

GCC Residence Permit (if applicable)

Work Certificate (if applicable)
How Long is my eVisa validity?
This eVisa has a date of expiration, so it will be available for 30 days after issued. Once this period is gone, you won't be able to use it.
What are fees and processing times for this e-Visa?
The cost of this visa is related to the processing time. We provide you with three options. The election of each option changes the cost. Anyway, have in mind that the faster you wish to get your visa, the more money you need to pay for it. Here you can see the options:
Standard processing – this is the cheapest option, for only USD 114.00, your visa will arrive within 7 Business Days as you see this is the longest processing time for your application Even so, it is an perfect solution if you want to plan ahead.

Rush processing time – this time, cuts the time of waiting in half, so your application will be processed within 6 Business Days. It is fast, isn't it? true this is why the cost is USD 144.00.

Super Rush processing time – If your case is that you are in a hurry, choose this processing time. It is the fastest available. The visa will ready for you, within only 5 Business Days. As you can probably expect, the price will cost more than the previous options. The price is USD 179.00.
Delays are not usual, but it is better for you to be one step before and apply for your Bahrain eVisa with anticipation. Let me show you an example, if you choose the Rush processing time, it is better if you apply 7 days before your departure date. If something happens you will be notified of any delay.
How much time takes to process an application for a Bahrain eVisa?
In only 15 minutes or less time, you'll be done with your Bahrain eVisa.
How can I make an application for this evisa?
We know that you probably imagine that application forms are something difficult to complete. iVisa makes it simple, forget about that belief. We created one simple process you just need to follow three steps:
In the first step you will need to fill in general information: name, address, passport info, phone, etc. Also, you will need to select the processing time of your preference.

In the second step you will make a review of all the information you'll send to iVisa, please do it carefully, any mistake can invalid the application.

Finally you will make payment. Once it is done, you will click on the submit button and just start planning your trip without any pressure.
How many entries my Bahrain eVisa allows me to have?
With your Bahrain eVisa you're able to have Multiple Entry, which means you can visit the country more than once to the country. Just keep in mind that the visa expires 30 days after issued.
Can I extend my stay in Bahrain?
In case you want to extend your stay with your Bahrain e-Visa, then you have to visit the General Directorate of Nationality, Passports & Residence (NPRA) so they can help you.
Can I see a sample of my future eVisa?
Of course, this is what it will look like: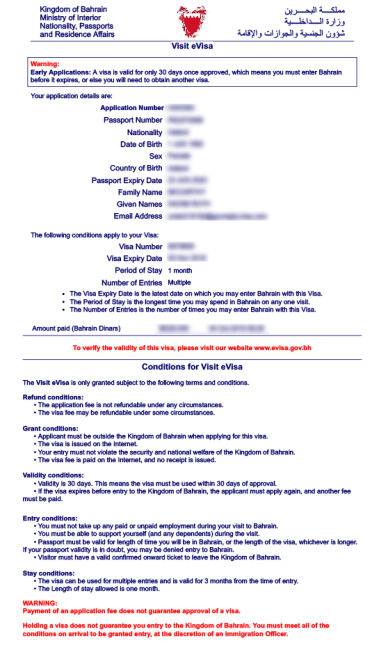 Is it necessary to enter Bahrain on the exact date specified in my application?
Not at all, remember that your Bahrain e-Visa counts from the specified date in your approved eVisa document. That means that you can enter Bahrain on any date within this validity period.
How Secure is the iVisa Application Process?
It's quite safe since iVisa.com has a high rate of security and has top-notch methods for ensuring all user accounts are private and secure. If you're worried about your personal information being exposed, you can trust our services.
If I already have a valid Bahrain e-Visa, can I make an application to get a new one ?
You are unable to do it. It is better to get a new one until your current eVisa is expired. If for any reason you lose the passport that contains the valid and current Visa. You have to apply again for a new Bahrain eVisa, just pay the relevant fee once more.
Where can I access more information?
Don't worry if you have more questions or doubts. Click here and learn more about Bahrain, including its tourism. On the other hand, if you want to make a call, you are able to do it by contacting our customer service agents, just click here. They will be glad to assist you.
As you see, you don't have to make any effort to obtain an Egyptian electronic visa. The procedure is very simple, and if you feel that you need some help with your application, do not hesitate to contact iVisa support service. This excellent team is available 24/7. You will receive a visa in PDF format, and you need to print it out, but at the same time, it will be linked to your passport electronically.
Remember, you can stay in country for a maximum of 30 days Per Entry and have Multiple Entry.