Kenyans who selected Bahrain as a destination for their travel can now acquire the visa online. You need this document to cross the border, luckily you don't need to visit Bahrain's embassy to get a visa anymore. As a better option, you can use iVisa and obtain the Bahrain visa by e-mail as fast as you want.
In this article, you'll get easily informed about what to do to get this travel document.

Frequently Questions (FAQs)
Is it necessary to get a visa to visit Bahrain If I am from Kenya?
It is, as a Kenyan citizen, you have to apply for an evisa. The good news is that now you can make your application online.
Is it a requirement to visit the Bahrain Embassy for Travel Arrangements?
It is not at all, you don't have to go there anymore – you have available better options to visit Bahrain and avoid dealing with the authorities. The Bahrain embassy only manages the visa approval. All the previous steps may be handled by you, but don't worry you count on a professional visa company like iVisa.com that makes completely sure that no foreign embassies visit is necessary.
What is an electronic Bahrain Tourist Visa?
It is a special and authorized document that gives you permission to travel and enter Bahrain. The Bahrain Tourist e-Visa is totally electronic.
What do I need to apply?
iVisa's services could not be simpler, we only need some things to get started. Here is a list of what is needed:
Valid passport document –This is a common document. Obtaining one is simple and easy. If you have one already, please make sure of its validity and that it remains for at least another six months from your date of departure.

Valid e-mail address – iVisa make all the processes online, so we need an electronic channel as well to provide your Bahrain evisa properly. To ensure this we need you to provide us with a valid e-mail address. Make sure that it has the correct spelling. It must be as accurate as possible, otherwise, you won't be able to receive your visa.

Two-way flight tickets – The Bahrain evisa for Kenyan allows you to stay inside the country for 30 days Per Entry maximum, this is why the authorities require some proof that ensures the return to your country until your visa expires. This flight ticket provides that assurance.

Financial capability – means of subsistence is a regular requirement at the immigration offices. You will need to provide a bank statement or any other document that proves you can support yourself during your trip. In that way you can't be suspected of going to Bahrain seeking illegal work.

Payment method – You will require to make the payment, before submitting your application. The payment covers the visa, as well as the services provided by iVisa. You can opt for a credit or debit card.
What are the processing times and the fees?
The price of the evisa solely depends on the lapse of processing. You can opt between three options available on iVisa. Be aware, that the faster you want to get your visa, the more money you will need to pay for it. Here you can see the options:
Standard processing lapse – for a wait of 7 Business Days, this is least expensive option you have available. This is the longest time you will wait for your application, and you have to pay USD 129.99 for it. Still, it is a good solution if you like to plan with anticipation.

Rush processing lapse – It cuts your waiting time in a half. The application will be processed in 6 Business Days, 2 days before the previous option, this is why the price is USD 175.99.

Super Rush processing lapse – you can choose for this processing time if you are in a hurry as it is the fastest option available. The visa for Kenyan will be approved within only 5 Business Days. As you probably expect, you will need to pay more. Exactly USD 207.99.
While delays rarely happen, it is better to apply for your Bahrain e-visa ahead of time. This is an example: if you choose the Rush processing lapse, it will be better if you apply 7 days earlier from the date of your departure. But don't worry, we will notify you of any delay if it occurs.
How much time does it take to make an application for the Bahrain visa?
It takes 20 minutes or less time, and you'll be ready to proceed with your Bahrain e-Visa.
How should I apply for the Bahrain e-Visa?
After you have all the documents needed, you can continue the process by filling in the application form. Even if it is an effortless process, you can get in contact with iVisa's excellent support service that is available 24/7 if you require extra assistance.
The process to get this e-Visa has three easy steps:
The first step will ask you to provide your general and basic information like your name, e-mail address, address, passport info, and others.

The second step is about the application process itself, and it consists of revision and payment. It is a must for you to insert necessary information as accurately as possible. At the moment your visa is linked to your passport, you cannot do any change.

Lastly, the third step will ask Kenyan citizens to complete a questionnaire and upload any extra documents. The questions asked are very simple and easy to answer, but the additional documents are case-to-case basis, so consider it with caution.
How many entries do I have to enter Bahrain with my Kenyan passport and the visa?
If you travel with yout Kenyan passport and your Bahrain e-Visa, you'll be able to have a Multiple Entry access. This mean that luckily, you can enter Bahrain more than once.
What should I do if I want to travel with my kids?
If this is your case, It will be required an authorization letter signed by the other parent (or a death certificate if the person is deceased.) After you finish all this process, you are able to submit your application and wait for it to arrive in the timeframe you prefer.
Am I able to apply for an extension to stay more time in Bahrain?
If you want to extend your Bahrain e-Visa the validity, then you must visit the General Directorate of Nationality, Passports & Residence (NPRA) in this way they can assist you in the process.
How could I realize if my Bahrain Tourist e-Visa is ready?
Immediately after you finish the application form, we will send you an email as soon as the Bahrain Government approves it.
How does my Bahrain Electronic Visa look like?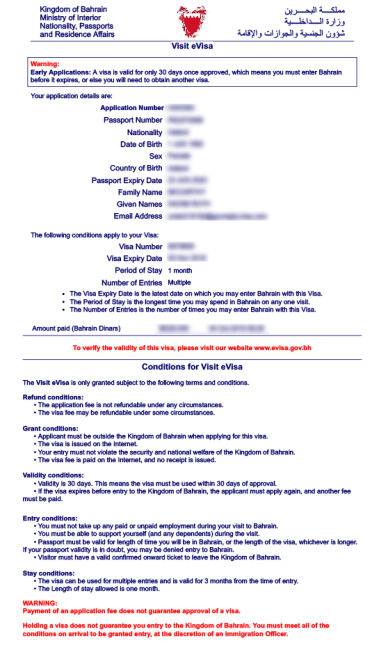 Do I have to visit Bahrain on the exact date specified in the Electronic Visa application?
No, it's not a must. Just don't forget that the valid period of your Bahrain Tourist Visa will always count from the date you specified in your approved e-Visa document. To keep it simple, you can visit Bahrain on the date of your preference as long as it is in the validity time.
How safe is it to make an application with iVisa?
iVisa.com is a company highly rated in security and also has a top-notch method to make sure that all customer's accounts are totally safe and private. Do not worry, your personal info won't be leaked. You can trust in iVisa`s security system to protect your data properly.
Where can I have more info about Bahrain?
If you want to have access to more info or have unresolved questions. You can always do it by clicking here. In this way, you can know more about Bahrain's electronic visas, or even more about tourism. Additionally, if you want another way to get more info, just contact us by a call or chat directly with one of our customer agents, to do it just click here, and we'll be glad and pleased to guide you.
As you notice, this process is so simple. The Bahrain visa for Kenyan Citizens is valid for a great amount of time. Leave all the hard parts of the process for iVisa. It's time for you to get relaxed and only worry about the rest of your trip!